Nikon Unveils 45.7MP Nikon D850: Full Frame DSLR with Speed, Resolution & 4K Video (Hands-On Photos)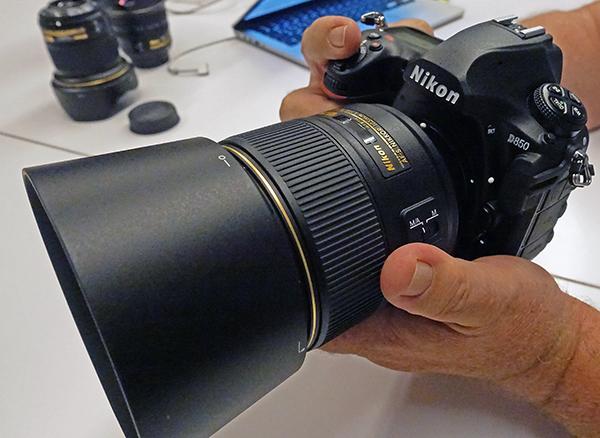 It's finally official: Nikon just unveiled its new 45.7-megapixel D850 full frame DSLR. With the D850, Nikon has not only boosted the resolution from its predecessor, the D810 from 2014, it's ramped up the speed and the multimedia features.
The D850 is Nikon's first DSLR with an FX-format (aka full frame), back-side illuminated CMOS sensor with no low pass filter, which is designed to shoot high quality images and video even in low light. Speaking of video, the D850 can capture 4K UHD at 24/30fps that's output at a full frame width of 16:9, allowing wide-screen 4K clips at a true field of view.
The new Nikon D850 is powered by the EXPEED 5 processor and can shoot up to 7fps at full resolution, which is two frames faster than its predecessor, the D810. Add on the optional battery grip (MD-D18) and EN-EL18a/b battery, and the D850 shoots at 9fps with a 51-frame buffer for 14-bit lossless Raw images, which aims this camera at a range of photographers including sports shooters and photojournalists; outdoor, wildlife and landscape photographers, and commercial and studio pros looking for an alternative to medium format.
Other Nikon D850 features include a 153-point, multi-cam 20K autofocus system with 99 cross-type sensors; a wide ISO range of 64-25,600 (expandable down to ISO 32 and up to ISO 102,400), and a tilting, 3.2-inch LCD touchscreen on back.
Nikon announced in July that the D850 was coming and images and info about the camera have been widely leaked on the Internet over the last few weeks so none of this is really surprising. Shutterbug did, however, get some exclusive hands-on time with the camera prior to tonight's launch and we've included a few hands-on images with this story to give you a sense of what it looks like in real life.
As far as the design goes, the Nikon D850 features a more comfortable, deeper handgrip and a lower profile across the top of the camera since the pop-up flash on the D810 has been eliminated with this model. The tilting, 3.2-inch touchscreen also changes the design of the D850 but, otherwise, it looks similar to its predecessor.
The Nikon D850 will go on sale in early September 2017 for $3,299.95. The MB-D18 Multi Power Battery Pack will sell for $399.95, while a new ES-2 film digitalizing adapter will go for $149.95.
Here's a rundown of the key specs of the Nikon D850 from Nikon USA's press announcement tonight.
High-Speed Capture: The D850 is capable of shooting up to 7 fps at full resolution, with full AF/AE, or 9 fps at full resolution with the addition of an optional battery grip (MB-D18) and EN-EL18a/b battery (Buffer approximately 51 frames of 14-bit lossless RAW capture / 170 frames of 12-bit lossless).
Wide ISO Range: The D850 offers a wide ISO range from 64-25,600 (Expandable down to ISO 32, up to 102,400).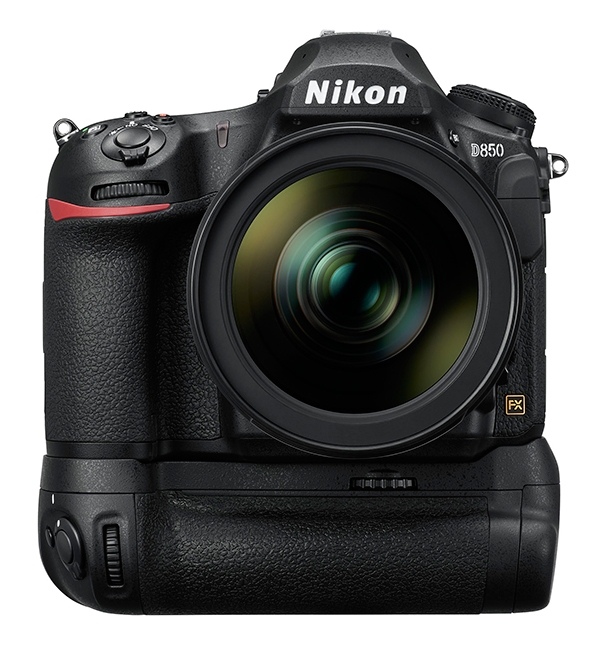 Flagship Focus System: The D850 uses the Nikon D5's 153-point, Multi-Cam 20K AF system, which features 99 cross type sensors, 15 of which are sensitive to f/8.
EXPEED 5: Nikon says the EXPEED 5 is company's most powerful engine yet, allowing for fast data readout and swift image processing, improved low light performance, high speed shooting, full-frame 4K UHD video capture and greater power efficiency for longer battery life.
Tilting LCD Touchscreen: The 3.2-in., 2359k-dot, LCD monitor offers Nikon's most extensive touch functionality yet.
Silent Shooter: The D850 offers the ability to operate with an electronic shutter in Live View. When in this mode, users can shoot in complete silence, which is designed for weddings, ceremonies and events where the shutter sound is discouraged. The electronic shutter operates at up to 6 fps (AF/AE locked) at full resolution, while an additional mode enables 8.6-megapixel capture in DX image area mode at up to 30 fps.
Radio Flash Control: Like the D5 and D500, the D850 also supports Radio-controlled Advanced Wireless Lighting with the optional SB-5000 Speedlight and WR-A10 and WR-R10 accessories.
Raw Processing: Users can choose from three sizes of Raw files, including Large (45.4-MP), Medium (25.6-MP) and Small (11.4-MP). Additionally, the D850 lets users batch process Raw files in camera, to help save time in post-production.
Nikon's Widest and Brightest Optical viewfinder: The 0.75x viewfinder magnification is the highest ever for a Nikon DSLR, and offers a wide and bright view of the frame to easily track and compose subjects.
Battery Performance: Up to 1,840 shots at full resolution or approximately 70 minutes of video on a single charge. Users who opt for the additional control and handling benefits of the optional battery grip can expect up to 5140 shots (CIPA standard).
Dual Card Slots: The D850 features dual memory card slots: XQD for high-speed capture and transfer, as well as the more common SD media.
Illuminated Buttons: Some of the D850's buttons light up at the turn of a dial to increase visibility and allow for easier shooting at night or in low-light scenarios.
Focus Stacking: Designed for macro, product and landscape photographers, the Focus Shift Photography feature of the D850 is designed as "high resolution meets high magnification." This feature lets the user automatically shoot up to 300 shots at adjustable focus step intervals to infinity, which can be assembled into a focus-stacked image using third party software.
Negative/Positive Scanning: With the optional ES-2 Film Digitizing Adapter and compatible Micro-NIKKOR lens, the camera enables high-resolution digitizing of 35mm slides or negatives and converts them in-camera to positives.
Durable Construction: The D850 has a rugged and weather-sealed magnesium alloy body.
Square shooter: Photographers can choose from five formats, including FX-format, 1.2x, DX, 5:4, or 1:1 square with viewfinder shading.
Built-in Wi-Fi & Bluetooth Connectivity: Users can send images to their compatible smart devices through an always-on Bluetooth Low Energy (BLE) connection or through Wi-Fi. Nikon SnapBridge also gives the ability for remote capture and preview.
Full-frame 4K UHD at 24/30 fps: The D850's FX BSI CMOS sensor allows 4K UHD output at a full-frame width at 16:9.
Slow Motion: Creators can also capture Full HD 1080p at up to 120 fps (4x or 5x) for slow-motion video capture.
Focus Peaking: When shooting Full HD or in Live View for stills, focus peaking can be enabled which highlights in-focus subjects in the frame to ensure sharpness.
8K / 4K Time-lapse: Users can create 4K UHD time-lapse videos in-camera, or can use the built in intervalometer to capture images for an ultra-high resolution 8K time lapse that can be assembled in post for those who want the ultimate in video quality.
Zebra stripes: The D850's highlight display mode uses zebra patterns to quickly spot overblown highlights. The zebra patterns come in two varieties, selectable according to the patterns and textures of the subjects.
HDMI output: Using HDMI, users can record uncompressed, broadcast quality 4:2:2 8-bit 4K UHD footage, directly to an external digital recorder while simultaneously recording to a card.
Audio Control: The D850 features an onboard stereo microphone, as well as inputs for headphones and microphone. The camera also features a new audio attenuator to regulate sound levels.

FEATURED VIDEO