Nikon P90: 24x Optical Wide Angle Zoom
As part of the flagship Performance Series of COOLPIX cameras, the P90 offers new features that include a 24x Optical Zoom, a new 3.0-inch vari-angle LCD monitor with tilt function and anti-reflection coating; and 15 frame-per-second (fps) high-speed capability (up to 45 frames). The key to the versatility of the P90 is its 24x Optical Wide Angle Zoom-NIKKOR ED Glass Lens. This lens offers wide angle (26mm) to super telephoto coverage (624mm).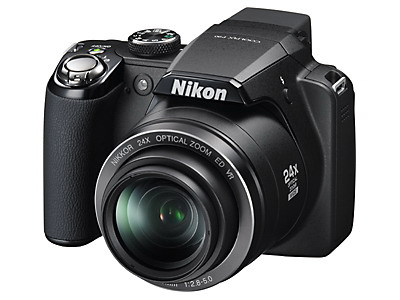 Additional features of the P90 include a 12.1 megapixel sensor and a 3.0-inch Vari-Angle High Resolution LCD and Electronic Viewfinder. The new LCD, with anti-reflection coating, can tilt as much as 90 degrees upward or 45 degrees downward. This enables photographers to shoot from higher angles or from the hip, and thereby make the best use of the reach and range of the 24x zoom lens. The incorporation of the high-resolution electronic viewfinder enables consumers to see through the lens in any lighting condition.

The 4-Way Vibration Reduction (VR) Image Stabilization system compensates for the effects of camera shake by moving the image sensor, producing clearer, sharper results in lower lighting or unsteady conditions. Motion Detection automatically detects moving subjects and adjusts shutter speed and the ISO setting to compensate for camera shake and subject movement. High ISO 6400 capability creates new opportunities to take sharper, more natural-looking photos in lower light conditions (ISO 3200 and 6400.) Nikon's original Best Shot Selector (BSS) automatically takes up to 10 shots while the user presses the shutter, and saves the sharpest image. Program, Shutter Priority, Aperture Priority and Manual Exposure modes give ultimate control over images. The D-SLR-type mode-dial on the top of the camera offers consumers greater personal and creative control, in any type of lighting condition.

The New Sport Continuous Scene Mode for shooting at up to 15fps (up to 45 frames) helps photographers stay ahead of the action. A Smart Portrait System includes In-Camera Red-Eye Fix, which automatically fixes most instances of red-eye, Enhanced Face-Priority AF, which can detect up to 12 faces from a variety of angles, including straight on, from the side, or even in a multitude of three-quarter positions, Smile Mode, which automatically detects when your subject smiles and releases the shutter and Blink Proof, which automatically takes two shots and saves the one in which the subject's eyes are open.

The P90 will be available nationwide in March 2009 and will retail at $399.95. For more information on the P90 and all COOLPIX cameras, please visit www.nikonusa.com.