Nikon Intros Small & Lightweight 24.2MP D3500 DSLR for Entry-Level Photographers (Hands-On Photos)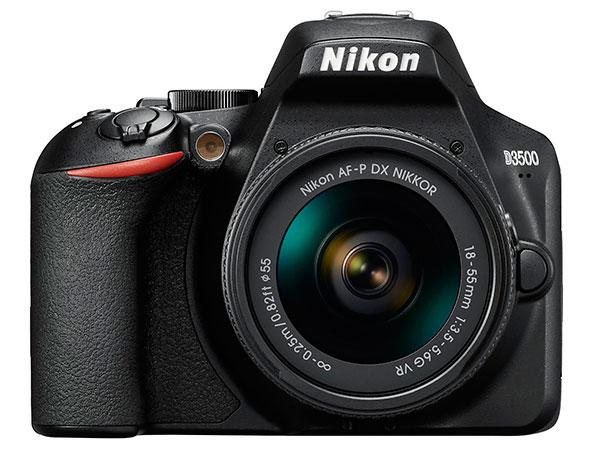 Nikon introduced a new entry-level DSLR this morning: the small, lightweight and portable Nikon D3500. Weighing just under 13 ounces (camera body only), and with dimensions of 4.6 x 3.9 x 2.8 inches, the 24.2MP Nikon D3500 is designed to be a highly portable camera for first-time DSLR users including "parents, travelers and photo enthusiasts," Nikon said in a press announcement today.
In particular, Nikon said that this APS-C (DX-format) sensor-based DSLR is aimed at those who are looking to move up from their smartphone cameras.
"The Nikon D3500 is ideal for consumers who are looking to easily capture the kinds of images that their smartphone simply cannot match, and share them seamlessly with family and friends," said Jay Vannatter, executive vice president, Nikon Inc. "The D3500 reaffirms our commitment to releasing convenient DX-format DSLR options for those just discovering photography."
We got our hands on an early, pre-production version of the Nikon D3500 and have included a couple photos (above and below) of it with this story. As you can see, this Nikon DSLR is smaller than most mirrorless cameras (including the just announced Nikon Z 7 and Z 6) while still being ergonomic. The design of the D3500 with its surprisingly deep grip resembles a slimmed down version of the Nikon D5600, which is the step-up DSLR model.
The Nikon D3500's new design also features what Nikon is calling "a more beginner-friendly and intuitive control layout, with a larger playback button and the most frequently-used controls all relocated to the right side of the camera's LCD where they are easiest to access."
Nikon says that battery life has improved with the D3500, which replaces the popular D3400 (read our review here.) The new D3500 can shoot 1,550 shots on a single charge and features an updated CMOS image sensor and Nikon EXPEED image processor to help capture "sharp details and vivid colors," Nikon said.
The Nikon D3500 has an ISO range of 100-25,600 and an 11-point autofocus system and can shoot up to five frames per second in continuous shooting mode. It can also captured Full HD 1080p/60p video.
There's a built-in Guide Mode to help beginners shoot better photos and you can use the camera with Nikon's familiar SnapBridge wireless sharing app.
"The D3500 uses Bluetooth to create an always-on connection between the camera and a compatible smart device, making it possible to seamlessly share 2MP images to social media as they are captured," Nikon said. "Additionally, D3500 users will now be able to trigger their camera remotely via Bluetooth using SnapBridge. Nikon SnapBridge users can also access Nikon Image Space, a free online image sharing and storage service that preserves memories in the cloud."
The Nikon D3500 will go on sale in a two-lens kit option, including the AF-P DX Nikkor 18-55mm f/3.5-5.6G VR and AF-P DX Nikkor 70-300mm f/4.5-6.3G ED, for $849.95 in September 2018. A Nikon D3500 single-lens kit with the AF-P DX NIKKOR 18-55mm f/3.5-5.6G VR will also be available for $499.95 in September 2018.
More info about the new Nikon D3500 here.

FEATURED VIDEO