Nikon 1 J3 Mirrorless Camera Review
The Nikon 1 J1 was Nikon's first Compact System Camera (CSC), introduced in 2011/2012. The new J3 has a new image sensor with higher resolution (14MP instead of 10MP) and some additional features. It is still a very compact camera and just about the smallest CSC system now available.
The Nikon 1 J3 has a small mode dial on top used to toggle between standard photo settings and additional modes, like Movie mode or "Motion Snapshot" mode. All other parameters are changed on the screen menu with the help of the control field and the setup wheel that encircles it. Just as in our test of the new Nikon 1 S1 (available online at www.shutterbug.com), the J3 has a clearly structured menu with a few quirks. For example, the ISO setting is located in the basic setup menu instead of being placed in the image and shooting menu like all other image parameters. The camera does allow the user to work with all standard modes such as P, S, A, and M.
The camera has special modes like "Motion Snapshot" and "Smart Photo Selector." In the latter mode it records a series of images and offers the "best" image on screen. This selection of the image is based on algorithms that can analyze facial expressions and more parameters.
The new Nikon can record Full HD video. It creates MOV files with H.264 compression. In addition, it allows the user to shoot slow-motion sequences at up to 1200 frames per second (fps), but with significantly reduced image resolution; for example, 400 fps at 640x240 pixels and 1200 fps at 320x120 pixels.
Image Quality
Color: The automatic white balance system of the J3 did a good job under natural light conditions and tungsten light (standard light bulb). Under fluorescent light it reproduced all the darker gray patterns of the GretagMacbeth chart very naturally. Brighter values, however, show a shift into the greenish and yellowish areas. This is especially noticeable in the portrait test shot.
Skin colors are reproduced very precisely and show only a very little shift into the orange/magenta area, while blue nuances show a very intense look due to a saturation boost and very high magenta rate.
Sharpness: The J3 achieved a good result in our resolution tests. However, this result is a little less pleasing than the results of the Nikon S1 test. The S1 reproduced the ISO 12.233 chart with nearly its nominal sensor resolution (2451 of 2592 lines in picture height) while the J3 achieved 2632 of 3072 lines in picture height. The J3 images also showed a slightly softer look than the S1 images because the J3 anti-noise filtering is a little bit more intense than the filtering in the S1.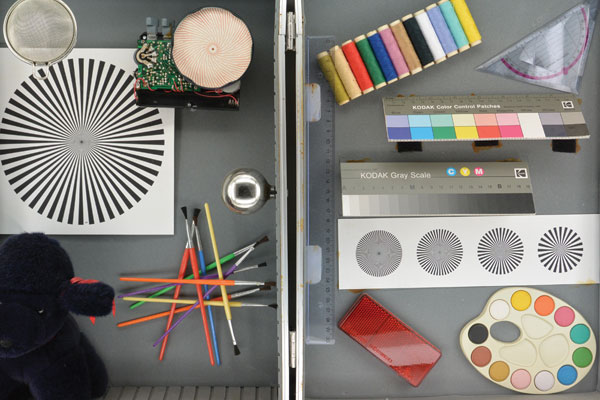 Noise: Even though the camera uses a sensor with remarkably higher pixel density, the noise results in our tests are good. Luminance noise is a little higher than in Nikon 1 cameras with a 10MP sensor, like the S1. Color noise is slightly visible even in images taken with ISO 160 to ISO 400. In higher ISO speed settings (ISO 3200 and ISO 6400) the noise filtering is very intense and while it reduces color artifacts it also reduces image details and creates a softer look in all images.
The camera showed a very good performance in our dynamic range tests. It reproduced the Stouffer 4110 chart with a maximum of 10.6 f/stops.
Scorecard
Pro
+ Very compact system camera with new sensor
+ Easy handling
+ Very fast AF system, very fast continuous shooting mode
+ Full HD video
+ Nice extras like "Motion Snapshot"
Con
- Missing optical or electronic viewfinder (only LCD screen as viewfinder)
- Missing accessory shoe for external flash systems or microphones
The Nikon 1 J3 with the One-Lens Kit (1 Nikkor 10-30mm f/3.5-5.6 VR) has a list price of $599.95. For more information on the J3, visit www.nikonusa.com.
Image Tech
Image Tech is where we publish web-exclusive lab reports on cameras. To read the reports please go to the Shutterbug homepage at www.shutterbug.com and click on the Image Tech tab on the top navigation bar. New reports are published frequently, so check Image Tech for updates.
Lab results and test images by BetterNet, our TIPA-affiliated testing lab. Edited by George Schaub.

FEATURED VIDEO