New Zealand; Land Of The Long White Cloud
Helicoptering over the dramatic Southern Alp mountain range at sunrise. Traversing a glacier filled with mighty cascades of ice tumbling down a valley toward the sea. Tramping on the world's best nature trails. Driving past stunning and magical scenery that constantly changes at every turn. Hanging out in pubs with the world's friendliest people--the Kiwis. New Zealand is a photographer's paradise and every day of my journey was filled with adventures and memorable experiences.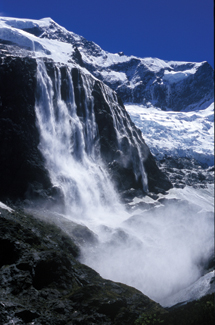 Rob Roy avalanche--After a strenuous three-hour trek on an amazing trail outside of Wanaka, this avalanche occurred right in front of me. Fortunately, since I always have my camera around my neck, I was able to grab the shot just as it happened.
All Photos © 2006, Daryl Hawk, All Rights Reserved
I recently visited the South Island of New Zealand for two weeks for what turned out to be the ultimate road trip. It was always a dream of mine to fly to the other side of the world to immerse myself in a culture and landscapes that seemed so appealing. New Zealand is ideal for nature lovers with its diverse landscapes, all relatively close to one another. It is considered the adventure capital of the world for outdoor recreational activities. With the most extraordinary and beautiful hiking trails, I was able to have a lot of walks in the bush and experience real wilderness and solitude. The main goal was to shoot an in-depth photo documentary of the various landscapes that define this island. My greatest passion in photography is to tell stories about remote and faraway places.
Arthur's Pass--Something magical happens when good light, color, and composition all come together in harmony at a given time--the trick is to know when to click the shutter on your camera.
I packed my backpack with my two trusty Nikon FM3 SLR cameras; 100 rolls of Velvia 100, Provia 100, and Provia 400 film; a 28-200mm and 20mm lens; maps; a tape recorder; and notepads. Flying Air New Zealand from Los Angeles to Tahiti to Roratonga in the Cook Islands to Auckland, the capital of New Zealand on the North Island, and then finally Christchurch, South Island, took about 18 hours from New York. I highly recommend renting a car, as the roads in New Zealand are in great condition and relatively flat. Getting used to driving on the other side of the road for the first time in my life was no problem at all.

The journey began in Christchurch, the capital of the South Island and often described as the most English city in the world outside of England. As a documentary photographer, my style is to photograph anything that captures my eye. Christchurch was a wonderful opportunity to concentrate on the architecture, street scenes, and the people who inhabit this city. Christchurch is also one of the best cities in the world for gardens, and a good part of my time was spent strolling among them, photographing the wide variety of plants, flowers, and trees.
Arthur's Pass--An unexpected sheep mustering my first morning was one of the highlights of my journey. What is most exciting to me when I travel is the element of the unknown coupled with the constant visual stimulation I experience from dawn to dusk.
I was anxious to head to the mountains, so the next day I traveled to Arthur's Pass, the highest altitude town in New Zealand and a handy base for walks and climbs in the national park. I was very excited to see brightly colored flowers filling the landscapes, which I enjoyed including in the foreground in many of my pictures--mostly fields of lupine. After a couple of days of hiking, climbing 9000-foot mountains, and sheep mustering, I headed due west to the rugged coastline and Paparoa National Park. I based myself in Punakaiki, a small settlement and the location of the famous Pancake Rocks--stacks of limestone rocks formed over a million years in time through a layering and weathering process known as stylobedding. The key to getting dramatic shots of water spouting out through the blowholes is timing--be there when the tide is high and the weather is windy.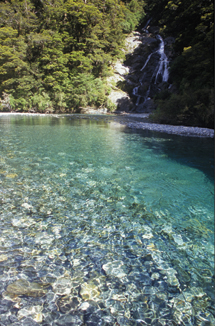 Fiordland--Traveling slowly allows you the luxury to look at life up close. When I see the patterns of nature unfold before me, I am filled with a sense of awe, tranquility, and endless creative possibilities.