Nevada Wier
Traveler With A Camera Page 2
"It is not good to be rude and anyone who travels to different cultures must know you don't just sashay in and people love you. The world does not sit up and say `cheese' for you. They have their own agendas so I must treat them with respect and they have to recognize me respectfully. It's a two-way street and I want to build a relationship with my subjects so I can stay around and be a witness to their life."
Wier sort of parachutes into a situation and knows she is the one who must make choices how to render her subject on celluloid or sensor to establish the atmosphere she wants. Her photographs are her own interpretation and viewpoint, her rendition and composition. Always trying to think how she can take her photographs to the next chapter through her imagination, she works mainly with slow shutter speeds and flash, seeking a transparency that is almost a ghosting of people. The flash in daylight and the low shutter speed (1/15 sec or lower) bring blur within the picture while the flash gives the illusion of stopping the action and highlighting a moment.

The cover of her Adventure Travel Photography book shows a porter carrying pots advancing through the mist. "I noticed him and the little devil in me said walk on by and go catch your plane," Wier recalls, "but I ran back to the top of the mountain, composed myself and reacted. This image was the way I wanted to photograph, more like a painting, not real and in-your-face but rather dreamy. It was the first time I had succeeded and that image became pivotal."

Another photograph shows rare beauty in the bare legs and feet of a woman walking through her own shadow as if seen in a trance.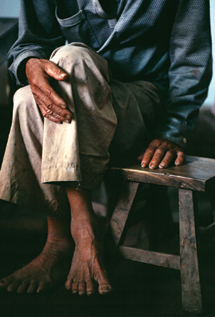 Though Wier still uses film, increasingly her images are captured digitally with her Canon EOS-1Ds, though she uses a Hassleblad Xpan for panoramas.
"I could care less," she says, "film - digital; the only problem is that in many places I travel there is no electricity and that eliminates the digital camera. I bring the same sensibility to digital and it meets my standards as well as film. I like the feedback I get from my Canon. I find I am more creative. Sometimes I see the image and say, `Wow, what if I try that!' Another component I enjoy is getting the instant feedback on the histogram, especially in those situations that are difficult to expose correctly."

Documenting the places she travels has become a long-term project and Wier has no desire to make post card pictures. She is not unaware of the political problems that lie within these countries and feels very involved, but it is obvious her interest lies in photographing what is beautiful in the world.

"I am careful how I portray these remote villages," she says. "I don't want people to think I'm jollying my way and am not aware of what is going on. But I am also not out there photographing the prisoners in chains doing work free for the government or the prostitutes in India. This is not what appeals to me photographically. I do not mythologize the world, however, because we are not all the same. No culture is higher than another. We just manifest ourselves in different ways."
Wier is still doing workshops and leading tours to finance her journeys as well as working in commercial stock photography with Getty (The Image Bank) and Corbis. She is doing fewer magazine articles and says this has liberated her from tradition. She has also produced two books to date, Adventure Travel Photography for Amphoto (1993) and The Land of Nine Dragons: Vietnam Today, published in 1992 by Abbeville Press.
One of Wier's favorite assignments was working on A Day in the Life of Thailand. "The Blue Nile" project in Ethiopia for National Geographic followed and appeared in their December 2000 issue. The Nile project was an adventure Wier had pitched and planned herself. It involved a walk at high tide on the rim of a canyon for over 100 miles along the banks of the river followed by rafting the remaining 400-500 miles. Hopefully there are more books on the way, but Wier finds that when there is no deadline they become "a forever project."

"Travel is perfect for me," she admits. "It's about politics and sociology and I'm not really traveling a straight path. There are so many levels and possibilities that must be seen and it's hard to be able to see with your own eyes in your own way. But it is also a psychological realization, as you have to understand yourself. For me, I get the personal journey and the real journey."

To learn more about Wier, be sure to visit her website at: www.nevadawier.com.

LATEST VIDEO