My Top Ten Favorite Places: What Will Yours Be?
Below is a list of my ten favorite places to photograph in the world. There are still many places that I haven't been, and even though I've been to 83 countries, as of the spring of 2010, I feel like I have hardly scratched the surface. There are so many wonderful places to shoot that in ten life times a photographer would still feel he or she needed more time. All of the places on this list offer such rich photographic experiences that you could return again and again and produce a different body of work each time. They never get old.
India
At the top of my list would have to be India. Never have I been to a place that is as jam-packed with photogenic material literally everywhere you look. On one of the photography tours I led there, my group stopped to photograph sunrise over rice terraces, and on a country road quite far from a major population center, the continual procession of photogenic subjects that passed our parked van was astounding: a jeep stuffed with at least 18 people; a bare-foot peasant carrying a heavy load of farm produce in sunrise lighting; a beautiful young girl with dark skin, huge eyes, and a colorful outfit; a young man riding an elephant; a bus with about 20 people on the roof, and so on.
India is a large country and there are many different and unique regions. It's hard to say if one is better than another from a photographic standpoint because they are all fantastic. Many photography tours visit the desert state of Rajasthan, which is indeed wonderful, but other states also offer a wealth of visual material. For example, I photographed a young child of the Megwar tribe (#1) in the state of Gujarat, and the people bathing in the Ganges River (#2) were photographed in Varanasi located in Uttar Pradesh state. Everywhere you go, you see great pictures likes these.
What makes India so spectacular to visit is that the faces of the people are so compelling. The men, women, and children—all of them—have large, dark eyes and chiseled features. The clothes they wear are brilliantly colored, and there are amazing backgrounds in which to photograph these people. The architecture in India is as good as it gets, and that means that architectural backdrops can add a lot of drama and cultural interest to the pictures. The model I photographed in Agra Fort (#3) is a good example.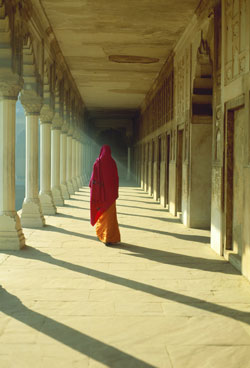 Kenya
The best place for wildlife photography on the planet is East Africa, and Kenya is the epicenter where the highest concentrations of large mammals congregate. Other places in Africa are also superb, but in my opinion Kenya is the best. The tourist infrastructure is excellent, and that makes travel there very comfortable. The wide-open plains are a wonderful backdrop to the world's most exciting animals. The first time I was there, I met a lady who had been to Kenya eight times. I couldn't understand why she kept coming back because there are so many great places in the world. After just 2-3 days of shooting, I understood.
Every day you go out on safari is different. The lighting changes, the animals you encounter vary, the interaction between the animals is constantly changing, and the backgrounds are always different. If wildlife photography is your passion, nothing surpasses the experience of a photo safari in Kenya. In the Landrover or van that takes you through the game parks, you can get surprisingly close to predators (#4), birds, and the countless herbivores that are everywhere (#5). It's thrilling to see these magnificent creatures up close and personal, and it's equally exciting to capture them with a camera (#6).
My two favorite parks are Samburu National Reserve and the Maasai Mara National Reserve. I like the former specifically because the trees along the river are beautiful and this is the best place to spot leopards. Almost all of my best shots of leopards were taken here. The Maasai Mara is a huge park and the game can be spotted easily. If I had to be confined to only one reserve in Africa, this is the place I would choose.
Another great aspect of a trip to Kenya is the photography of tribal people like the Maasai and Samburu (#7). They are willing subjects and very friendly, and the faces, the color, and the earth-toned environments of their villages make great subject matter.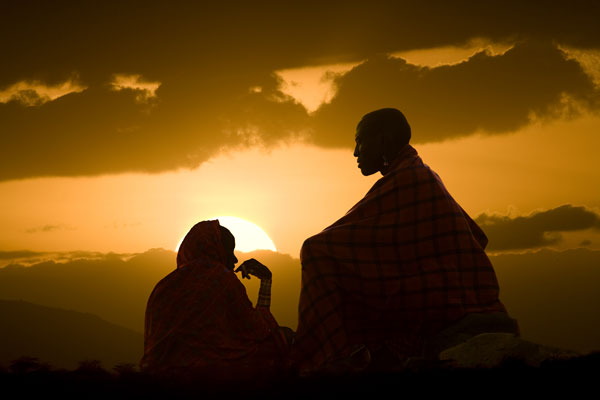 Indonesia
While some people leave their hearts in San Francisco, I left mine in Indonesia. My wife is from Java, the most heavily populated island in this island nation, and I've been there 20 times. The people are extremely friendly, and the photography is tremendously varied. From primitive Irian Jaya, which is the western half of New Guinea, to exotic Bali, you will feel like you've been to many different countries instead of just one. Orangutans live in the jungles of Sumatra and Borneo, the scores of cultures that comprise Indonesia are colorful and intriguing, and the landscapes in some areas will make you think you are on another planet. Situated on the Ring of Fire, Indonesia has 129 active volcanoes. A smoking crater lake on Java, named Kawah Ijen (#8), is one of my favorites.
Indonesia also has ancient ruins. Prambanan (#9) and Borobudur, for example, are just 15 minutes apart from each other in Central Java, and they represent two great religions—Hinduism and Buddhism, respectively—that established themselves here more than a thousand years ago. They are wonderful backdrops to use when shooting traditionally dressed models.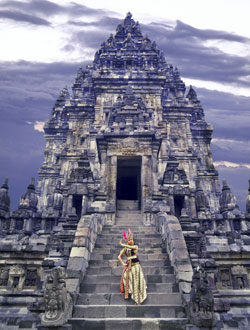 Costa Rica
Nature photographers must visit Costa Rica at least once in their lives. This Central American country is the home of countless exotic species of insects, reptiles, birds, amphibians, and mammals. It is especially well known for butterflies and hummingbirds (#10). Last summer, I researched a photo workshop there specifically to shoot hummingbirds, and it was a fantastic experience to be able to capture these little gems with tack sharp clarity (with a 4-flash setup). Equally wonderful was the chance to photograph Costa Rica's most active volcano in action. Mt. Arenal throws huge molten boulders from its summit, and in the daytime you can hear them tumbling down the steep slopes of the mountain. It's one of the great sounds in nature. At night, however, the trail of fire leaves an imprint on the digital sensor with a long exposure, and it's a spectacular show (#11).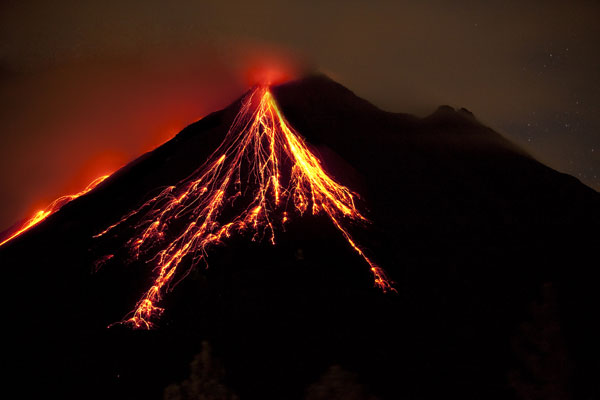 The jungles that cover much of the country are full of amazing sights and sounds. Tropical flowers and plants are everywhere, macaws can be seen flying in mated pairs in the Osa Peninsula, and colorful poison dart frogs can be found if you know where to look. You will need both a macro lens as well as a long telephoto to take advantage of the variety of creatures that live here. Costa Rica, like Kenya, is a place that you can return to again and again and get very different pictures each time.
Carnival In Venice
I do a photo workshop in Venice each year during February, because that's the most exciting time to be in this medieval city. Venice has a rich history, and it shows in the classic architecture that line every canal. During Carnival, the photography is as good as it gets. The color is outrageous (#12), the costuming is brilliant, and when the Carnival participants are photographed with the backdrop of Venice, the results are stunning.
When I first visited Venice for Carnival, I had anticipated that the people who were dressed in the elaborate and expensive costumes would be impatient with photographers. I assumed they'd be tired of being stopped and asked for a picture. I was surprised to learn that the opposite is true. They come out just to be photographed by the thousands of people with cameras (#13). Many of them are in San Marco Square as early as 6:30AM—pre-dawn—because they know avid photographers will be waiting to shoot them. I found myself shooting so much that I expected my camera to start smoking! Never have I taken so many pictures in such a short amount of time. I would recommend that you bring three times the flash card capacity and portable hard drive space that you expect to need.
Turkey
I like shooting in Turkey very much because this area of the world—ancient Asia Minor—was a crossroads between many cultures, empires, and religions over the span of 7000 years. The history here is fascinating, and it is revealed in the countless ruins, works of art, religious monuments, palaces, and ancient battlefields. That makes the photography diverse, which means I'm constantly stimulated. At the same time it's educational because in order to understand what I'm seeing, I have to learn about the intriguing history, whether it is about the Byzantines, the Romans (#14), the Crusaders, ancient Troy, or Turkey's role in World War I.
My favorite place in the country is Mt. Nemrut. It's not convenient to photograph the megalithic heads from the 1st century BC at sunrise, but the pictures are well worth the effort. They are situated on the top of the mountain, and the first light of the day makes them glow (#15).
One of the most exciting cities to photograph anywhere in the world is Istanbul. The hotel I use for my photo tour has an unbelievable view of the Blue Mosque (#16), and within walking distance is 1500 year-old Hagia Sophia as well as a dramatic Byzantine cistern and an obelisk from ancient Egypt. The markets offer fantastic photographic opportunities, particularly the spice market, and it's intriguing to see how modern Turkey is while the backdrop of its architecture is so ancient.
Galapagos Islands
Unique among islands, the Galapagos is like a land that time forgot. Made famous when Charles Darwin visited the archipelago in 1835, it has attracted people ever since. What is remarkable about the wildlife there is that they are not afraid of people. These animals evolved over millions of years in an isolated group of islands with no predators, and the approach of a photographer doesn't frighten them. Unlike Africa, where most of the photography is done from vehicles and where photographers can't get as low as we would like to get, in the Galapagos you can always shoot from ground level. I've laid prone on the ground to shoot a blue-footed booby about 5 ft away, and the bird walked right up to my lens and was about to poke it with its beak until I backed away!
The marine iguanas that are seen in abundance look like they are right out of the age of dinosaurs (#17). If they were about 100 times larger, they would be terrifying indeed! Other creatures that beckon the camera are frigatebirds (#18) especially in breeding season when their red gular pouch is inflated, land iguanas, sally lightfoot crabs, lava herons, tortoises, and albatross.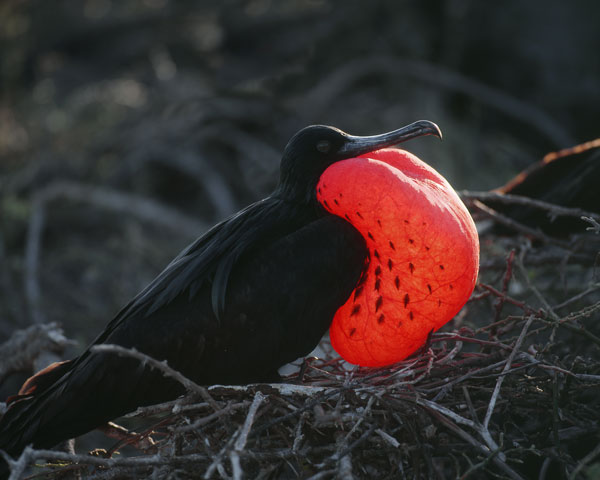 American Southwest
In my opinion, the greatest landscape photography in the world is in the American Southwest. There are certainly incredible landscapes elsewhere, but in this relatively small area the land forms are so diverse and so unique that a nature photographer never gets visually bored with the power, the majesty, and the artistry of the mountains, canyons, mesas, and deserts. The most dramatic national parks are primarily in Arizona and Utah: Bryce Canyon (#19), Zion National Park, Lake Powell, Horseshoe Bend (#20), Canyon de Chelly, the Grand Canyon, and Monument Valley (#21). Additionally, Yosemite National Park in California, White Sands in New Mexico, and the Grand Tetons and Yellowstone in Wyoming are favorites of mine.
In every season, the landscapes found in these parks offer unparalleled photographic opportunities, and when you combine good compositions with beautiful lighting, the results are nothing less than fine art. Having said that, I avoid summer months simply because of the traffic, the crowds, and the higher rates for lodging, food, etc. Spring, autumn, and especially winter are my favorite times to visit the Southwest to shoot.
Namibia
When you think of Namibia, the first image that usually comes to mind are huge orange sand dunes with classic S curves (#22). Namibia has the largest dunes on the planet, and if it had nothing else, that would draw photographers from around the world. The beauty of the dunes is a landscape photographer's dream come true. There is a part of Namib desert called Deadvlei, and this is an ancient dried lake bed with tree skeletons dating at least 500 years. Their stark forms against the orange sand and blue sky make visually compelling photos (#23).
There is a lot more to this southwestern African country than landscapes, and if you invest the time to explore it you will be rewarded with a unique variety of images. One of the reasons that I put Namibia on my top ten list is because of the tribes. There are several indigenous cultures here, and my two favorites are the Himba (#24) and the Bushmen. They are warm and welcoming people, and the photography is always great. The Himba, especially, are unique in the way they dress and how they smear their bodies and hair with a mixture of ochre and goat fat, making them look reddish.
Namibia also has abundant wildlife. The Etosha Pan is a huge area with a large density of wildlife, and at the end of the dry season the concentration of animals at the water holes is amazing. At some of the rehabilitation facilities, you can have close encounters with big cats (#25) and other animals from ground level.
Along the Skeleton Coast, there are many shipwrecks that are buried or partially buried in the shifting sand, and huge fur seal colonies can be found where there are literally tens of thousands of seals on the beach. The unusual desert trees, desert adapted elephants, and unique reptiles add to the list of wonderful things to photograph here. In the south, there is an old mining town that is partially buried in the sand as well. This country keeps me coming back because there are always new things to discover.
Antarctica
There is no where quite like Antarctica. It seems like you've traveled to the end of the Earth or possibly to another planet. The most impressive landscapes I've ever seen challenge you to capture their power and majesty with your camera, but it's almost impossible to convey to family and friends back home what it was like to be there because it's too remarkable. The bird life is amazing. You will see albatross, petrels, cara caras, skuas, and penguins (#26) by the hundreds of thousands. The icebergs (#27) are my favorite subjects because they are like blue sculptures—art in nature—floating on the ocean. Some of them are relatively small, the size of a house, while others are a mile long. You can have close encounters with predators, too. Leopard seals are intimidating with their gaping mouths, and elephant seals, crab eater seals, fur seals and weddell seals relax on icebergs or lava beaches and pose for photographers unabashedly (#28). You will definitely see whales, as you cruise through the islands that surround Antarctica.

FEATURED VIDEO