MonacoOPTIXXR; Professional-Grade Calibration And Profiling For LCD And CRT Displays
MonacoOPTIXXR
Quick Look
· Simple USB 1.1 Connection
· $299 -- $429
· Mac OS X & Windows
Further Information
MonacoOPTIXXR
http://www.ezcolor.com
Once viewed as an expensive luxury, the equipment and software necessary to calibrate and profile a computer display is now priced at a level that is affordable for all users. Whether you are a graphic designer, photographer, artist, or involved in pre-press work, an effective color management workflow is truly a valuable asset. Fortunately, with the right equipment one of the easiest elements to calibrate and profile in a color managed workflow is the computer display.
The Foundation Of Calibration
The ability to make accurate visual assessments of a digital image on a computer display requires that three basic conditions exist. The first requirement would be a good monitor and video card combination that will allow for a quality calibration. Older displays have often lost most of their punch and these "worn" displays are often poor candidates for use in color critical installations. Secondly, an instrument-based calibration and profiling system is required, as it will produce the highest quality profiles. The last component is a program that supports ICC display profiles to accurately display images within the application. Programs such as Adobe Photoshop (Version 5 and up) will use this custom display profile so that your images are displayed with the greatest accuracy possible.
A Calibration Collaboration
MonacoOPTIXXR is a professional-caliber calibration and profiling package that offers tremendous flexibility, power, and stability. MonacoOPTIXXR is a product born from the collaborative efforts of two companies, X-Rite Technologies and Monaco Systems (purchased by X-Rite in 2003). For many years, X-Rite has been synonymous with topnotch imaging hardware such as colorimeters, spectrophotometers, and densitometers. Monaco Systems brought to the table their award-winning color management software technology. MonacoOPTIXXR Pro has an MSRP of $429, and the standard MonacoOPTIXXR package sells for $299.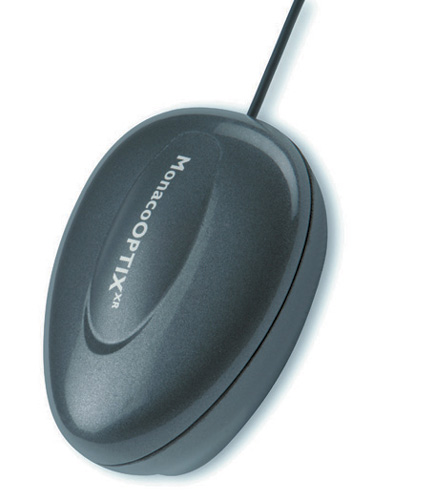 The X-Rite DTP 94 colorimeter is a well-designed piece of hardware capable of highly accurate readings when used with either CRT or LCD displays. Compatibility with Mac OS X and Windows allows users to use the same device in a mixed platform studio.
Hardware
Because accurate calibration and profiling is only possible with accurate measurement data, the new X-Rite DTP 94 is the chosen colorimeter for this task. The DTP 94 is a newly designed unit with capabilities similar to the highly respected X-Rite DTP 92 model that has been on the market for the last couple of years. Both units utilize four-band measuring engines and multiple optical paths for each channel, but the DTP 94 is also designed to work with LCD display technologies.

The DTP 94 only needs a simple USB 1.1 connection, which provides both the necessary power and communications path for the instrument. Calibrating the instrument itself is quick and easy, and is done every time the OPTIX software application is launched. Included with the package are a suction cup attachment that is used when working with CRTs and a counterweight assembly that is used when calibrating and profiling LCD displays. It would be a nice touch if there were a small storage case included or presented as an extra option. In a busy studio with multiple users, some of these small parts would be rather easy to misplace.
Software And Documentation
There are two different versions of the software product. The entry-level OPTIX, and the advanced OPTIX Pro application. This review is based on the OPTIX Pro version because, while the hardware is the same, the Pro version of this software is significantly more powerful and more appropriate for the demanding needs of professional digital photography.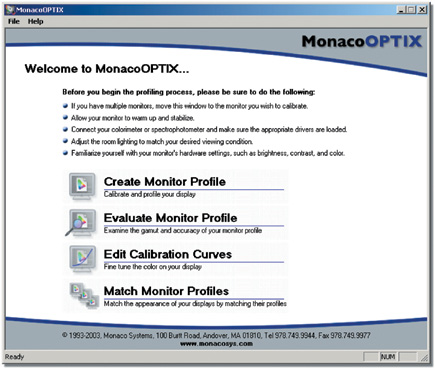 The OPTIX application is simple to follow. Users new to color management will have no trouble getting great profiles. Both the Mac OS X and Windows versions were rock steady and never crashed during three months of testing.
OPTIX Pro has some very powerful options for calibrating and profiling. It is possible to completely calibrate and profile, or to just create a custom profile based on the current calibration. There is also built-in multi-monitor support, which worked extremely well on my OS X system with dual CRT displays. The software gives you options to calibrate to common standards such as D50 and D65, or an almost unlimited number of correlated color temperatures by simply entering a target figure. The option of "monitor native" is very useful for calibrating some LCD displays that can achieve 6500K without correction, such as some of the Apple Cinema Displays. When calibrating and profiling in the expert mode, the end user can also specify target black and white luminance values, although this requires some experimentation to ascertain the best values for your own system. Display calibration is very simple, and because the colorimeter is used to make all of the adjustments, the results are very consistent because there are no subjective adjustments to make.

LATEST VIDEO

SPONSORED VIDEO