Miggo Launches Revolutionary Pictar iPhone Camera Grip with SLR-Like Controls (VIDEO)
Miggo has launched a Kickstarter campaign for the Pictar camera grip—an ergonomic device that enables iPhone users to take mobile photography to a whole new level thanks to an array of SLR–like external controls. The unit includes five user-programmable wheels, and an ergonomic grip for one-handed operation.

The Pictar camera grip features an electronically calibrated shutter button offering a "half–press" to lock focus and exposure, and a full-press for immediate shutter release. A programmable zoom ring is perfectly positioned to fall beneath your index finger—eliminating the need to pinch–and–zoom for the framing you want. You can also click the zoom ring to switch between front and back cameras for shots.

Other key features include a very useful exposure–compensation dial, a customizable "smart wheel," and a standard ¼" tripod mount on the bottom of the device and a cold shoe on top. Pictar will initially be compatible for iPhones 4–6, and support for future models will be forthcoming.
Pictar communicates with the iPhone via a dedicated camera app that unlocks some key imaging features that are inaccessible on the native app to iPhone users.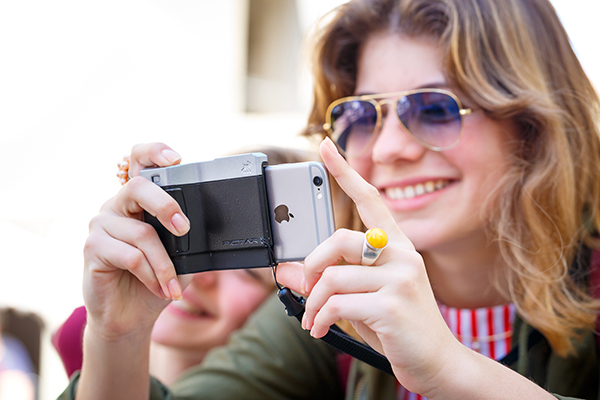 In one of the more clever concepts with this device, Pictar uses "high-frequency dual tone sounds" to control camera functions and settings. Each physical control is assigned a specific tone, and when you turn a dial, press of a button or twist a wheel, Pictar omits a sound that – when detected by the app – generates a corresponding action. The high-frequency dual tone (18,500 – 20,000 khz) is inaudible to the human ear and purportedly increases battery life when compared to Bluetooth connectivity.
The Kickstarter campaign is now live with an introductory price of $90 USD. Full retail availability is slated for December 2016.
In short, Pictar brings new meaning to the old adage, "The best camera you have is the one you have with you."
Check out a short demo video below.

FEATURED VIDEO