The March Of Digital Time; The Death Of Photo CD? Page 2
U Point; U Get
Introduced at PMA 2008, Nik Software's (www.niksoftware.com) Viveza is a Photoshop compatible plug-in that lets you precisely select and control the light and color in image files. Incorporating Nik Software's U Point technology (www.upoint.com), that's also found in Color Efex Pro 3.0, Viveza lets you correct and enhance photographs without creating complicated selections or using layer masks. To make adjustments, you place Color Control Points on colors or objects in an image (such as sky, skin, grass, etc.) then adjust sliders for brightness, contrast, saturation, red, green, blue, hue, and warmth while Viveza automatically selects objects and creates masks. By working directly on the image, selective enhancements can be accomplished in a fraction of the time required by other methods. Viveza is compatible with Adobe Photoshop CS3's Smart Filters that let you fine-tune enhancements after they've been applied, without using additional layers. Viveza also supports pressure-sensitive features and is optimized for Wacom pen tablets.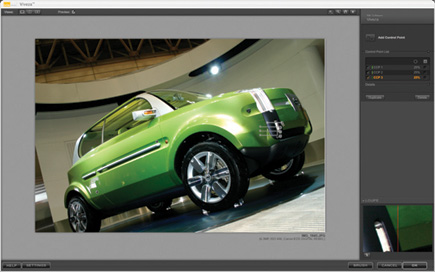 LumaPix FotoFusion 4.2
LumaPix's (www.lumapix.com) FotoFusion 4.2 refines the easy-to-use image layout editing tools found in this affordably-priced photo software. FotoFusion is Windows-only photography studio software that can be used to create wedding albums, class composites, senior portraits, scrapbooks, and other image layouts. It includes power tools to automatically arrange images into multi-page albums, to nondestructively edit those layouts and the images they contain, and output the results at any resolution from e-mail up to publishable formats. New features include cropping options expanded to canvas only, canvas + bleed, canvas + bleed + overhang; zoom-to-fit preview of exported images; and new Album preview themes for e-mail and web options. FotoFusion 4.2 is available for Windows 2000, XP, and Vista. Scrapbook Essentials costs $39.95; Enhanced is $119.95; and the Extreme pro studio version is priced at $299.95. You can download a free trial version to each option to see which is best for you. The upgrade is free to 4.0 and 4.1 users and discounted to Version 3.x users ordered via the company website.
Discrete Photoshop Action
The free "Discrete" Photoshop Action from our old friend Panos Efstathiadis (www.panosfx.com) gives you another interesting tool to make your photographs more visually appealing. What is interesting about this set is that the Action makes use of Photoshop CS3's Smart Filter feature so CS3 users can readjust the amount of blur on the shadow after the Action finishes. This Action gives you the option to modify a number of different visual elements to your preferences and includes two versions that produce different background effects.

LATEST VIDEO