The March Of Digital Time; The Death Of Photo CD?
"I have lost friends, some by death...others through sheer inability to cross the street."--Virginia Woolf
Robert Waxman Camera in Denver made my first Kodak Photo CD on July 7, 1992. That's a long time ago in digital years, which are a lot like "dog years." Back then Photo CD was a simple, inexpensive way for photographers to digitize images captured on film and along the way I've accumulated a stack of these discs. That's why I was surprised to discover the Mac OS version of Adobe Photoshop CS3 would not read the Kodak Image Pac format used on Photo CD. To be fair, Adobe's instructions tell you to manually install the Photo CD plug-in found on the Install disc but with an important caveat: "Photo CD does not work on Intel-based Macintoshes unless you run Photoshop under Rosetta." Rosetta translates older PowerPC applications to work on Intel-based Macs but running Photoshop CS3 in Emulation mode is like driving a Ferrari with four flat tires. One workaround is opening the Photo CD file with Apple's iPhoto and saving it in a format Photoshop can read. That's what I did with the accompanying image of Mary at Walt Disney World that was on that very first Photo CD and is still one of my favorite pictures of her.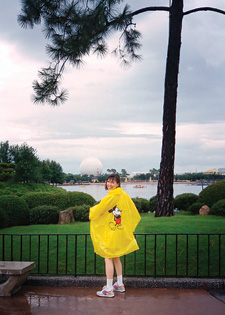 Retouching Software Gets Better
My new favorite Windows portrait retouching software just got better. Anthropics Technology's (www.portraitprofessional.com) Portrait Professional 6 now does its retouching on your computer instead of handing it off to theirs in England. What's more, the entire process seems faster from start to finish even when running on my old sluggish Compaq Presario. Portrait Professional is software that, according to Anthropics, has been "trained in human beauty" and lets you improve your photos just by moving sliders in its clever interface. This Windows-only program can also subtly reshape aspects of the subject's face to make it more attractive, fix skin blemishes, reduce wrinkles, remove shiny skin highlights, adjust lighting, eliminate redeye, and whiten teeth and eyes. The program does all the hard work of portrait retouching and you can prove it to yourself by downloading a free trial version. Portrait Professional 6 costs $59.95, and you can even pay using PayPal. Anthropics tells me a Mac OS version is close to being launched and when it is, I'll put it through its paces and announce it here.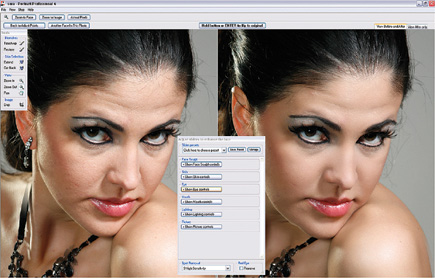 Really Portable Storage
I remember back when 32MB was a common capacity for pen drives; now, Corsair (www.corsair.com) expands its Flash Voyager and Flash Survivor USB 2.0 lines to 32GB capacity. The all-rubber Flash Voyager and aluminum-encased and waterproof Flash Survivor offer added ruggedness and performance not usually found in other storage drives. Corsair 32GB drives provide the capacity to hold more than 16 full-length HD movies, an entire season of G4 TV's "Attack of the Show," or just a heckuva lot of big megapixel image files from your full-sized chip SLR. These high-density drives can also be used as portable back-up devices for critical or sensitive information. Corsair 32GB drives are bootable, which means you can store full versions of operating systems and applications in order to quickly re-create the software environments necessary to troubleshoot system problems. Each drive is bundled with a lanyard, USB extension cable, and pre-loaded security software and driver. The Flash Voyager 32GB costs $229.99, and my fave, the Flash Survivor 32GB, which comes with matching dog tag, is $249.99.
All Memory Cards Are Not The Same
Unlike film, which is an active participant in capturing images, memory cards are passive, but there's more inside than just a lump of silicon, including firmware and a controller. That's why the kind of card you use can make a difference in performance aspects of image capture. Kingston Technology's (www.kingston.com) CompactFlash Elite Pro memory cards help photographers maximize the performance from high-end imaging devices and digital workflow applications by offering transfer rates of 25MB/second (read) and 20MB/second (write). Available in 2-, 4-, 8-, and 16GB capacities, Kingston's CompactFlash Elite Pro card provides plenty of room for capturing and storing high volumes of images in raw, JPEG, TIFF, and other file formats. These cards are also compatible with your camera's Autosleep mode--if it has one--to preserve battery life. Kingston's Elite Pro cards are backed by a lifetime warranty and 24/7 live technical support. Prices range from the bargain basement 2GB card for $62 to the let-me-think-about-it 16GB CompactFlash card that's priced at $308. Being a Goldilocks "just right" kind of shooter, I'm using the 8GB model that costs $154.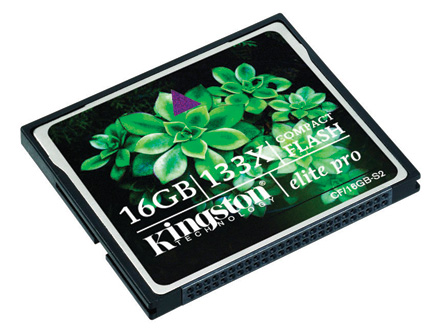 LATEST VIDEO

SPONSORED VIDEO