Manfrotto Unveils Pro Light Photo Backpacks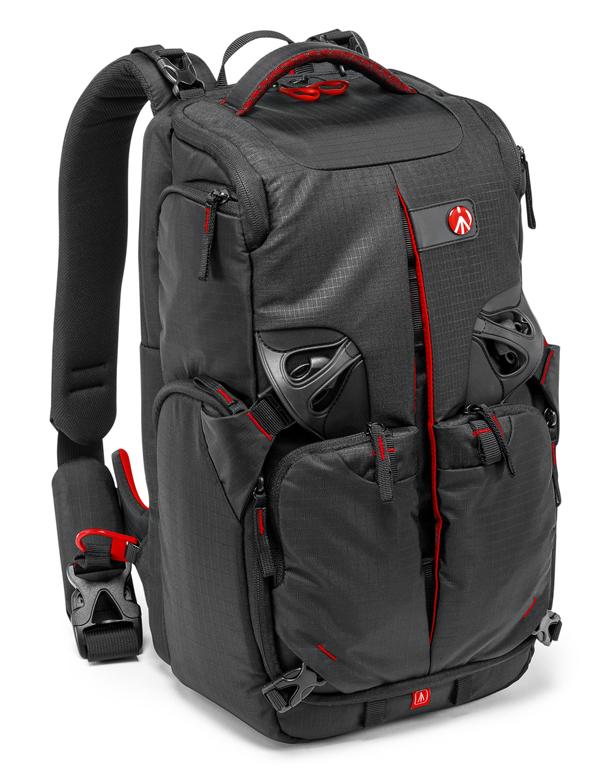 Manfrotto has just unveiled a new photo backpack line called Pro Light. Designed to be versatile, functional and ergonomic, Manfrotto's Pro Light line offers a variety of sizes and styles of bags to fit photographers' needs.
The Pro Light backpacks are crafted from durable, lightweight materials featuring a tough outer layer and the Manfrotto Camera Protection System (CPS). The 3N1 backpacks offer 3 carrying options in 1, morphing from a right sling to a backpack to a left sling to x-position. These backpacks are available in two sizes with quick camera access—simply rotate the bag on the front to access your camera without having to open the whole bag.
The 3N1-25 PL is large enough to accommodate a digital SLR with a battery pack and a mid-range zoom lens attached, 3-4 lenses, a flash, a tablet or an 11" laptop along with your personal items. This bag sells for $220. The 3N1-35 PL can fit a DSLR with a battery pack, a long-range zoom lens attached, 5-6 lenses, a flash, a 15.4" laptop and your personal items for a cost of $265.
The Bumblebee-220 PL backpack is lightweight and features a main compartment large enough to accommodate 2-3 DSLRs, up to 8 lenses, a flash and other assorted accessories. The modular CPS dividers and pouches can be used to custom fit the bag to your gear and the padded slot located on the back of the bag is large enough for a 17-inch laptop. It sells for $310.
The Bug-203 PL backpack is lightweight, compact and features a front opening for quick access to your gear. This design provides separate access to your Pro D-SLR camera with up to a 300mm lens attached with 4-5 lenses and a flash arranged around it. The Bug-203 is also laptop compatible and has a front flap with additional organizer pockets for a cost of $255.
The versatile MULTIPRO-120 PL backpack offers front access, alternative side access or top quick draw. It features multiple pockets for other gear or personal items, a large side pocket for lenses or a flash and can accommodate a D-SLR with a grip and lens (up to 70-200mm) attached, 3-4 additional lenses, a flash and other accessories. A padded slot located on the rear of the bag can fit a 13" laptop or tablet. Retail price is $220.
For more info, visit Manfrotto.

FEATURED VIDEO