For The On-Location Digital Photographer; Travel & Location Photography Page 2
Print It, Then Frame Those Travel Shots
Moab (http://moabpaper.com) announced their 100 percent cotton Somerset Museum Rag, an addition to their Somerset Museum Rag family of papers coated for inkjet printers. The new paper produces deep, rich blacks with a wide color gamut to make a vibrant image pop into life. Somerset is manufactured by England's St Cuthberts Mill, producers of the legendary Somerset Enhanced Velvet paper that was one of the first durable cotton papers coated to be able to handle the broad range of colors necessary for fine art reproduction. The smooth surface, 100 percent cotton Somerset Museum Rag is a 300gsm (grams per square meter) paper made from archival, acid-free ingredients. Somerset is made using a traditional cylinder mould machine to produce a more durable and consistent surface than most machine-made papers. Somerset Museum Rag is available in 20-sheet boxes, including 8.5x11, 11x17, 13x19, and 17x22" as well as 50-feet rolls in widths of 17, 24, 44, and 60".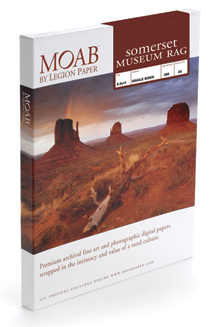 © 2010, Mary Farace, All Rights Reserved
Palazzo Cast picture frames are made from "formulated stone" produced from crushed limestone and quartz and then reconstituted over a lightweight inner core, providing versatility for many applications, including frames. Visit their website (www.palazzocast.com) to see the available shapes and finishes and have a true marble look at a fraction of the cost. They offer several standard plus a variety of custom colors. If your project requires a special color, Palazzo Cast will create it for you so if you create installations of your photographs, here's a way to deliver them in an exclusive package. For your final decision, they will ship color chips free of charge. Palazzo Cast also produces Fireplace Surrounds so you can have your frame match the fireplace it's hanging over!