LIVE From PMA - Day 3
There were only a few new software announcements at PMA this year, but they were good ones. One of the most exciting things I've seen at the show is the new Pixmantic RawShooter Essentials being shown by Corel.


This converter is surprisingly fast and generates very high quality output with batch conversions, full correction controls and support for a wide variety of cameras. The surprising part? It's a free download from www.corel.com/downloads. Oh yea - did I mention it's free?

ArcSoft released PhotoPrinter 5 which is a application that enables you to print picture packages, contact sheets and a variety of other layouts. PhotoPrinter 5 includes basic image correction tools to fix your photos prior to printing. If you're looking for a simple to use program with plenty of printing options, PhotoPrinter 5 is worth a close look.

ColorByte Software was showing the latest version of ImagePrint with support for the HP DesignJet 30, 130, and new 90 series printer. ImagePrint has always had a reputation for quality profiles and black and white output, so this should be welcome news for DesignJet users.




Microsoft is making a big push at PMA to dispel the myth that serious image editing requires a Macintosh. Showing how Windows XP supports a color managed workflow, previews of the upcoming 64 bit version of Windows were also shown. The extra memory and speed in the new OS will be appreciated by those of you working with very large digital image files. For the person that wants prints from an online or local service, the recently added Online Print Wizard will help you quickly select and send images to the site you select.


From One Extreme To Another
The new Pentax *ist Ds is the smallest D-SLR on the market. When the new 40mm SMC Pentax-DA lens, you have a very compact and capable D-SLR that won't wear out your shoulder by the end of the day. Image quality with the Pentax and new lens was very impressive. Along with the reduction in body size, the *ist Ds has simplified the menu options from the original model.


At the other end of the spectrum, I have to show one of those "wow" items. It's not new, and it wasn't for sale but it sure looks impressive - the Polaroid 20x24 view camera. If you've never seen a contact print of this size, it's amazing. And, as you can see by the image below, it isn't something that you'll be putting in the camera bag.


More Printers
The new Epson R1800, a 13x19 version of the very good R800 printer is a major upgrade from the 1280 model. With the new inks common to the R series printers, Epson has increased the color saturation and life span, and added the CD printing capabilities from its little brother. If you've been looking for a new 13x19 printer, I think you'll like this one.




And, it's certainly not for everyone but Canon had the newest large format printers, the imagePrograf 6400 and 8400 printers at the show. These new 24" and 44" printers have a new ink formulation.

The new Canon Pixma MP760 is the first multifunction printer that I've seen designed for photographers, with a scanner that includes film and transparency scanning. The printer portion of the MP760 uses the same print engine as the Pixma iP4000 including the ContrastPLUS inks used in the Pixma line and the i9900 wide format printer.
Olympus was showing an innovative new system with camera, docking station, printer, hard drive, and DVD burner designed to appeal to the non-computer user. The 5 MP camera is point and shoot simple model but what makes this setup appealing is the integration.


Still shoot film, or have film that needs to be scanned? You'll want to check out the new Minolta DiMAGE ScanElite 5400 II. Not only is the scanner about twice as fast as the previous model, it now has Digital Ice 4 (I have to admit that I thought Ice 3, or Ice Cubed, was a much catchier name) with dust, color restoration, grain reduction and shadow/highlight enhancement. A new feature is Pixel Polish which analyzes each scan to optimize color and brightness based on the scene. Even more impressive is the new price - $599. For a 5400 dpi film scanner with a 4.8 dMax, this is a major price reduction. Highly recommended!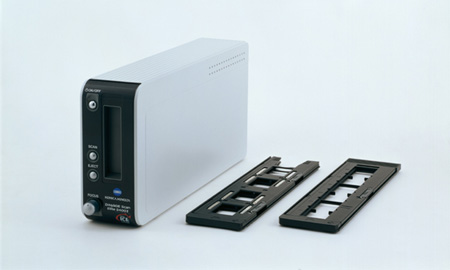 Minolta also had the new DiMAGE Z5 on display. A 5 MP camera, the Z5 includes Minolta's Anti-Shake system that is used in the Maxxum 7D D-SLR, a 12x optical zoom with a 35-420 (35mm equivalent) range.


It's been fun providing these daily reports from the show but I've only highlighted some of the new products on display this year. Some products were too new to talk about on the web, but I will say there are some very exciting things happening in the next few months. Be sure to look for full coverage reports from the rest of the Shutterbug writers in an upcoming issue of Shutterbug magazine.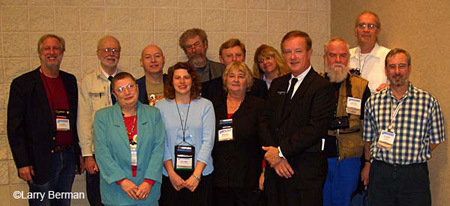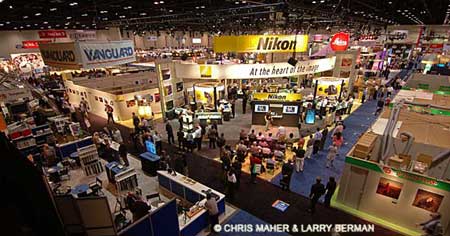 Photo Larry Berman, www.BermanGraphics.com