The Lensbaby 3G; Selective Focus SLR Lens Page 2
What makes the Lensbaby a complete tool is the availability of two auxiliary lenses, without which it might very well remain a toy. The lenses come in a 0.6x wide angle and a 1.6x telephoto. As far as I can tell the focal length of the Lensbaby when mounted on a full-frame 35mm format film camera is approximately 50mm. That means the wide angle is equivalent to 21mm and the telephoto is equivalent to 80mm. For my food photography I made extensive use of the wide angle. An 80mm lens is an ideal focal length for portraiture. (If you are using a digital camera with an extension factor, say 1.5x, first multiply 50mm by 1.5x = 75mm, then by the appropriate extension factor of the wide or telephoto lens [e.g., using the Lensbaby telephoto multiply 75mm x 1.6 = 120mm].)
#4 Rhododendron close-up using the +4 diopter.
The Lensbaby also accepts 37mm filters. An accessory kit containing +4 and +10 close-up diopters is available. The +4 allows focus to be as close as 10" (#4), as measured from the film/sensor plane, and the +10 can be focused as close as
7" (#5).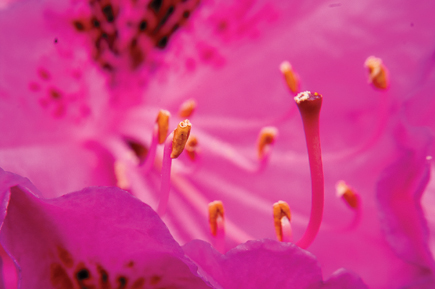 #5 Rhododendron close-up using the +10 diopter.
To install the filters or the auxiliary lenses, tip the lens skyward and turn the focus ring as far as it will go counterclockwise. This will bring the lens to the end of the focusing barrel where it is a simple matter to screw the accessory into place.

The Lensbaby is definitely just the kind of tool you would want to have in your kit if you were a wedding photographer. It would allow you to offer your clients an easy to produce, on location special dream effect that would appeal to many people (#6).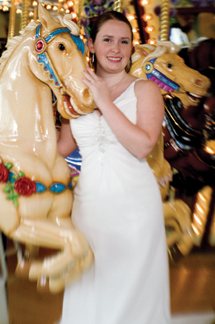 #6 Vicky Wilson, bride to be, photographed with the Lensbaby at the Salem River Park Carousel.
Portrait and fashion photographers could also make great use of this tool. Focusing on the eyes while keeping the depth of field on the face produces the kind of effect that was used by many early photographers. The famous portrait of the beloved Irish poet William Butler Yeats was done in this manner (http://en.wikipedia.org/wiki/ Image:William_Butler_Yeats.jpg).

Even though the Lensbaby may appear to be a toy, and you can certainly have fun with it, it is definitely a tool for the photographer. If you feel yourself getting jaded, doing the same ol', same ol', get yourself a Lensbaby and start rockin'.

The Lensbaby 3G has a list price of $270. The Original Lensbaby and the Lensbaby 2.0 (not reviewed) are still available for $96 and $150, respectively. There is also a new medium format Lensbaby 3G for the Mamiya 645 and Pentax 67 which lists for $390.

Accessories for the Lensbaby have the following list prices:
Lensbaby Wide Angle/Telephoto Kit $89
Lensbaby .6x Wide Angle/Macro Conversion Lens (not reviewed) $59
Lensbaby Macro Kit $33
Lensbaby Creative Aperture Kit $9.99

For more information, contact Lensbabies, LLC, 516 SE Morrison St., Ste. M4, Portland, OR 97214; (877) 536-7222, (971) 223-5662; www.lensbabies.com.

LATEST VIDEO

SPONSORED VIDEO