Leica Unveils M10 Monochrom: Hands-On with Leica's New Black-and-White-Only Rangefinder Camera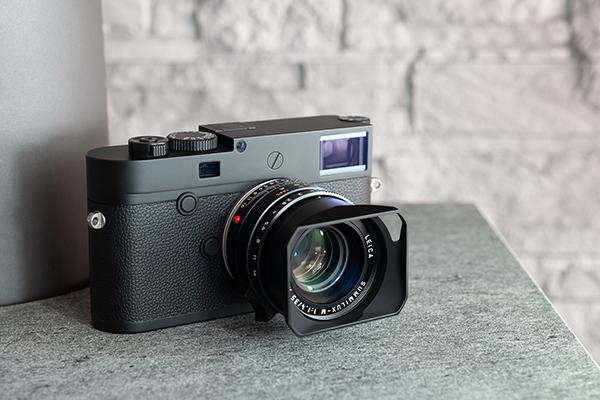 Leica just unveiled a new M-series camera, the M10 Monochrom black-and-white-only digital rangefinder. It has an all-new 40.89-megapixel sensor (7864 x 5200 pixels when shooting DNG files) and the same ultra-quiet shutter that's in the M10-P. Shutterbug was permitted an early hands-on, sneak preview of the new Leica M10 Monochrom. Here's what we saw.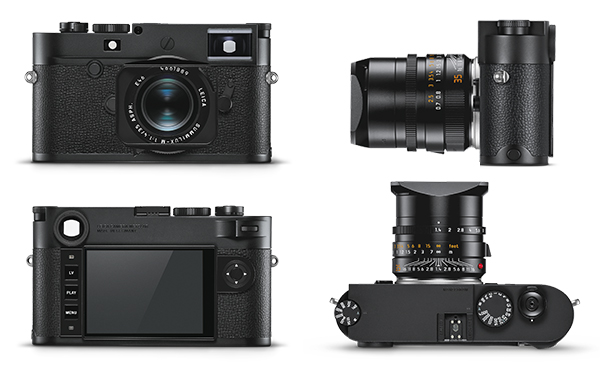 Here are the three key concepts behind this unique B&W shooter: Stealth, Acutance and Low Light Performance. (And, of course, a devotion to monochrome imagery.) We'll unpack them in a moment. First, the most exciting features of the new Leica M10 Monochrom camera:
• 40-megapixel CMOS dedicated black-and-white image sensor
• Full frame (24 x 36 mm, without color or low-pass filter)
• Actual Resolution = 7840 x 5184 JPEG and 7864 x 5200 DNG
• File Sizes DNG: 40-60 MB, JPEG 10-20 MB (varies with content)
• All-metal die cast magnesium body
• Brass top plate and base
• Black Chrome finish
• Leica M bayonet mount with sensor for 6-bit coding
• Leica M lenses or Leica R with optional adapter
• Base ISO of 160
• Top ISO of 100,000
• Metering Range EV-2 to EV19 (conditions apply)
• Wi-Fi (first Leica Mono camera with Wi-Fi)
• Leica FOTOS app compatible
• Superior Dynamic Range (vs. all other Leica Mono models)
• Stealth Cosmetics, black accents, no front logo
• Stealthy quiet shutter of M10-P
• Aperture Priority or Manual operation
• Auto-switching Bright Line Finder for 35/35mm, or for 28/90mm, or for 50/75mm
• Viewfinder magnification 0.73X for all lenses
• VF LED indicators for over/under exposure
• 3-inch TFT LCD monitor, 16 million colors and 1,036,800 pixels
• LCD is touch-enabled with level gauge
• Scratch-resistant Gorilla Glass cover on LCD
• Compatible with optional Visoflex viewfinder
• Size: 139 x 38.5 x 80mm (5.47 x 1.52 x 3.15 inches)
• Weight: about 660g (with battery)
• Made in Germany
• Price: $8295 (body only)
You can read my review of the Leica M10-D here, and the Leica M10-P here.
Stealth
The Leica M10 Monochrom body is black and so are the shutter release button and lens release lock. All engravings are white or gray instead of the customary red accents. There is no logo on the front. Even the word "Monochrom," engraved on the top cover, is under the radar.
The styling of the M10 Monochrom reminds me very much of the low profile, nearly-unmarked police vehicles that are black with dark gray door insignias. Covert but capable.
Acutance
Back in the day when some of us shot ASA 32 Kodak Panatomic-X film with Leica rangefinder cameras and developed the rolls in stainless steel tanks filled with Microdol-X or Acufine, we often spoke of "acutance." In the simplest terms, acutance means apparent sharpness. If you check out the image below you'll see what I mean. And since acutance depends entirely upon perception, I'll leave the explanation at that. In the shot below, all three internal rectangles measure 125 pixels by 300 pixels.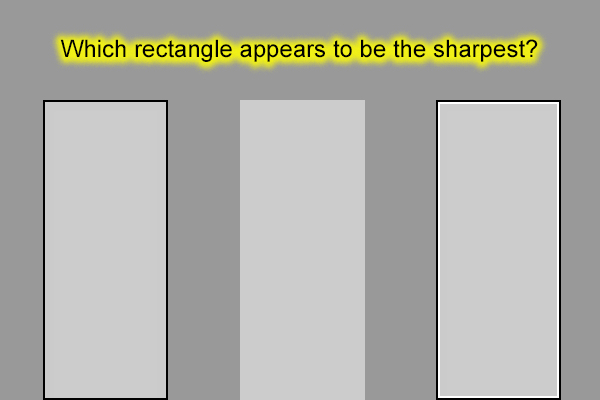 The Leica M10 Monochrom produces extraordinarily crisp images when used with Leica lenses (which certainly get some of the credit). The mono-only image sensor is not encumbered by a color filter or low-pass filter, so there is a scientific basis for improved sharpness. And the image sensor resolves 40+ megapixels. Add it all together and you have image resolution that will keep the Pixel Peepers talking for decades.
Additionally, all of the straight-from-camera images I examined displayed an exceptional level of acutance (which is a good thing). In summary, the images are amazingly sharp, and they appear even sharper.
Low Light Performance
The new base ISO is 160, the lowest of any Leica Monochrom model. This fact is important for everyday photography. But the real news is the maximum ISO which is now a whopping 100,000. While I didn't have a chance to subject the new camera to a grueling low-light test (e.g., my traditional black cat in a coal bin at midnight), I did carefully study several high-ISO, low-light images and to say the least, they are amazing. Blacks are saturated, grays pure and whites are clean. The shadow detail is clear and unblocked and the highlight detail is not blown. Dynamic Range is extremely broad, and while I can't put a number to it, I can guarantee that you'll be stunned.
Black and White vs. Color Photography
I grew up believing the old adage that beginning photographers start out shooting black and white, transition into color images, and then after they have truly mastered composition and the art of seeing, they go back to black and white photography.
If you shoot color images and convert them to mono using any of the many ways possible, I can understand if black and white leaves you a little cold. But if you head out with a monochrome-only camera, you will see things differently, just as we did when shooting black and white film years ago.
Conclusion
My first reaction was that the Leica M10 Monochrom is the ideal camera to satisfy Leica M4 shooters, that is, the features and performance are sure to please even the purists who grew up using high-end, high-quality rangefinders and great glass. I still feel that way, but that's just the tip of the proverbial iceberg with this unique black-and-white shooting camera.
The combination of (I'm running out of adjectives here – can we just call it fantastic?) resolution, high acutance and low-light performance makes the new Leica M10 Monochrom the "no excuses" best choice for street photographers, photo journalists and those of us who aspire to be either. (And, it's especially suited for those who love the beauty and power of black-and-white photography.)
Combining the latest and most modern innovations (like Wi-Fi, FOTOS control app, touchscreen LCD and Gorilla Glass protection) with exceptional resolution, classic Leica design and the best build quality in the industry, the Leica M10 Monochrom is truly a photographer's camera in every way. See the world in black-and-white? The new Leica M10 Monochrom lets you do that and more.
—Jon Sienkiewicz