Leica T Mirrorless Camera Review
[Editor's Note: Lab test and comments are by Betternet, Shutterbug's TIPA affiliated testing lab. TIPA (www.tipa.com) is a worldwide association of photo and imaging magazine editors. Shutterbug is the sole US member of the association, and Editor at Large George Schaub serves as a member of the Technical Committee. Please click on the Image Tech tab on the home page for more camera review tests.]
The 16-megapixel Leica T is Leica's first mirrorless CSC (compact system camera) with an APS-C sized image sensor and a new lens mount system. The camera body is milled out of a massive block of aluminum and has a very stylish design. All function elements are fitted into the body: a small pop up flash and even the setup dials fit perfectly and only the shutter release button with the power on/off switch stand out. The power switch has a third position, used to extend the pop-up flash.
Nearly the entire back of the camera is covered by the very large, 3.7-inch LCD screen. The screen is touch sensitive and fully integrated into the operation of the camera. The user can configure the menu to create their own custom working environment. Just like a smartphone, it offers gesture control (zooming into an image in review mode by spreading two fingers on the screen, for example). Two "context sensitive" setup dials on the top are used to change image parameters.
As of this writing, Leica offers two lenses in the new T mount. The Leica Summicron-T f/2 23mm ASPH is the fast lens with a fixed focal length and the Leica Vario-Elmar-T f/3.5-5.6 18-56mm ASPH is the standard zoom. (Note: 35mm equivalent: 27 to 84 mm.) The Leica Vario-Elmar-T was used for this test. Two additional lenses are slated to be announced and presented at photokina. Leica also offers an adapter that allows the use of all Leica M lenses with the new Leica T.
The only interface of the new Leica T is the USB port, which is located on the right hand side of the body directly beneath the SD card slot. An HDMI port or analog TV interface are missing. The USB interface can be used to recharge the battery. An additional charger is supplied with the camera.
The camera has a WLAN interface and can be controlled by a smartphone app (remote control software). This app is available for iOS systems only. Leica hadn't announced an Android version as of this test. The camera isn't very fast. The startup time of 2.8 seconds is very slow, especially for a camera that doesn't use an integrated and compact zoom lens that has to be extended when the camera is activated. The AF performance is on an average level for CSCs with contrast metering. In our tests, new Panasonic, Olympus and Nikon cameras are faster.
Comments on Image Quality
Color: The new Leica tends to produce under-saturated images. The color test chart was reproduced with a mean saturation of only 89.3 percent, which is very low. The low saturation also is noticeable in our portrait shot and test box shot. Compared to images taken with other CSC systems, our Leica T test images had a "bleached out" look. All images were taken with standard image (color) settings. These "low saturation" results can provide a basis for optimization in imaging software like Adobe Photoshop, but if the user prefers to edit and optimize very single shot then Raw file format should be used.
The automatic white balance system showed an excellent result. Nearly all gray patterns are located exactly in the center of the test chart (point of perfect neutral gray), and only the brightest gray tone shows a slight shift into the yellow and green direction.
Sharpness: The Leica T reproduced the ISO 12233 test chart with 3165 of 3264 lines per picture height, which is a really excellent result. This result is based on a nearly perfect "cooperation" between its high quality lens system and the APS-C sensor image processor. The very sharp image reproduction is noticeable in our standard test box image (see metal sieve in the upper left) and in the highly differentiated red fabric of the model's t-shirt in our portrait test shot. Fine structures are reproduced in very clean fashion.
Noise: The Leica T showed good performance in the noise tests. Images take with lower ISO speed settings (ISO 100 to 1600) had low luminance noise. Color noise becomes visible in images taken with ISO 1600 and higher. The anti-noise filtering effects are noticeable in images taken with ISO 3200 and higher. The filtering causes loss of details and the filtering effects get really annoying at ISO 12,500.
The dynamic range results are excellent. Just like professional SLR systems with a full frame sensor, the new Leica achieved a maximum of 11.8 f-stops. It keeps the high dynamic range level in higher ISO speed settings as well. Even at ISO 1600 it still offers images with nearly 11 f-stops. Only at the highest ISO speed setting does the dynamic range drop significantly (7.84 f-stops at ISO 12,500).
Comments on Video Format & Handling
The new Leica T allows the user to shoot video clips with a maximum resolution of 1920 x 1080 pixels (full HD) and 30 frames per second (progressive frame recording). In addition, it can be set at 720p mode with 1280 x 720 pixels and 30 frames per second. It doesn't offer PAL compatible settings (25 per second) or higher frame rates with 50/60 frames per second, which generally performs better when recording scenes with fast moving objects (sport scenes, for example). As opposed to many other digital cameras with video capability, it doesn't allow the use of additional movie modes with higher data rates or similar quality adjustments.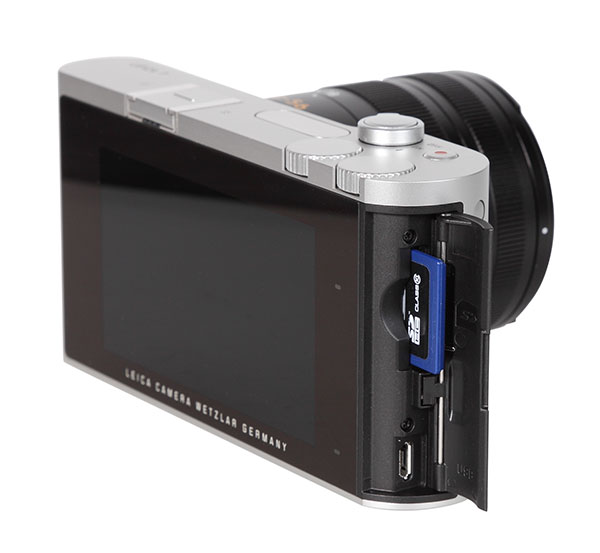 The Leica T uses the MP4 file format with H.264 compression. All exposure settings are switched back to P/automatic mode when recording video and even overrides the ISO speed setting when the photographer presses the additional video shutter release button on the top. Because the camera ignores manual exposure settings in video mode we can provide only one, thus incomplete, result for the noise and dynamic range tests. Focusing is allowed in video mode so the large screen on the back is very helpful; however, we consider the lack of an HDMI port a drawback.
Comments on Video Quality
The Leica T reproduced the ISO 12233 resolution test chart with 622 lines per picture height (nominal video resolution 1080 lines per picture height). This isn't very impressive. Videos had a soft look even though they are sharpened by the image processor. This tends to cause very intense aliasing effects, which we noticed in our sample test clip.
The colors in video mode don't match the color reproduction of the camera in photo mode. The new Leica creates videos with very precise color reproduction, as opposed to our already noted comments on under-saturated images in photo mode. The white balance setting (automatic mode) is nearly perfect.
Pro:
+ Stylish design
+ New and innovative concept of operations
+ Sharp and highly detailed images
Con:
- A little slow (long startup time)
- Color reproduction in JPEG standard color mode is under-saturated
- Only USB interface; missing HDMI port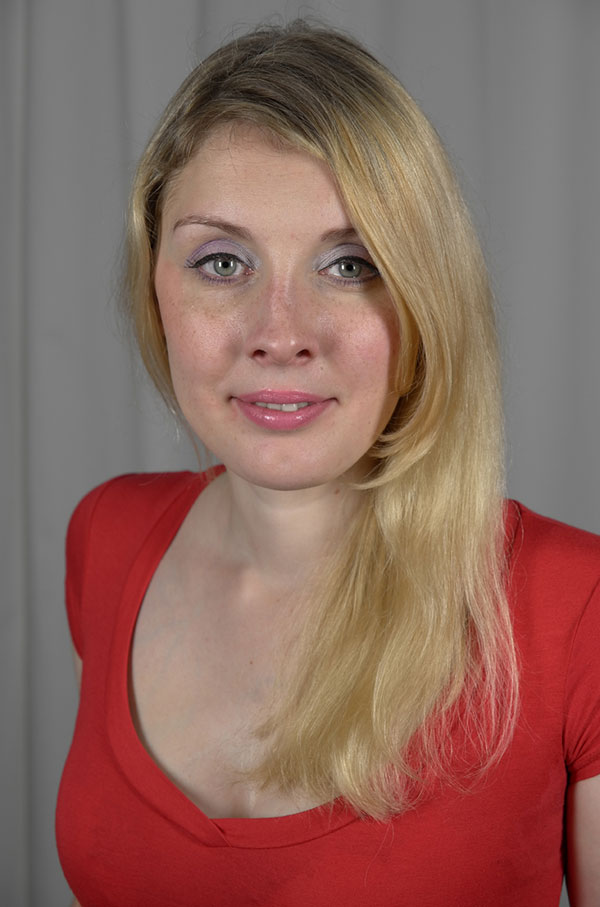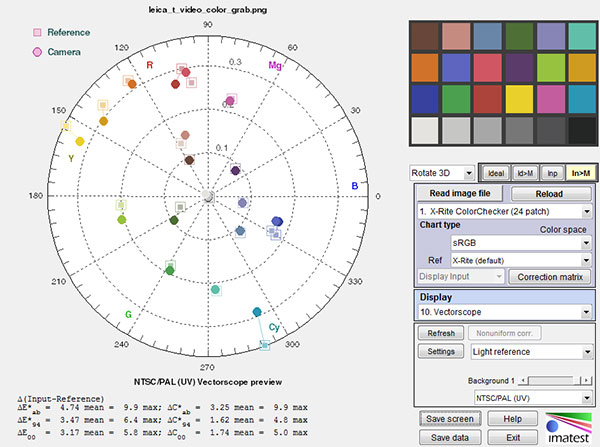 Lab test and comments by Betternet, Shutterbug's TIPA affiliated testing lab. TIPA (www.tipa.com) is a worldwide association of photo and imaging magazine editors. Shutterbug is the sole US member of the association, and Editor at Large George Schaub serves as a member of the Technical Committee. Please click on the Image Tech tab on the home page for more tests.

FEATURED VIDEO