Leaf Aptus Digital Camera Back
Leaf America has announced the latest generation of portable and studio digital camera backs - the Leaf Aptus. This new product line has the portability and ease-of-use of consumer products, combined with the robustness, resolution and powerful workflow required by professional photographers. The Leaf Aptus product line includes the Leaf Aptus 22 and Leaf Aptus 17 digital camera backs with resolutions of 22 and 17 megapixels respectively.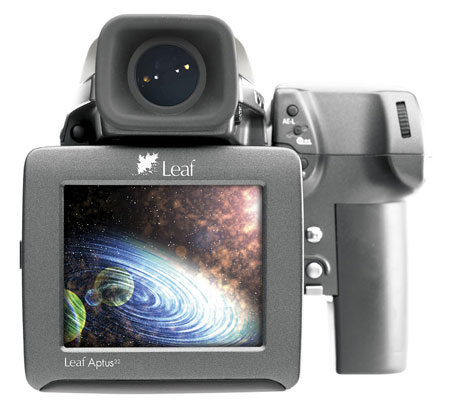 The Leaf Aptus digital camera back contains a built-in, large (6 x 7 cm) LCD enabling practical image evaluation, focus confirmation and editing. The integrated compact flash allows for easy shooting. A single rechargeable lithium-ion battery can provide power for over 1,000 frames in over four hours of continuous operation. New hardware boosts the 1.2 seconds per frame capture rate to provide a continuous non-stop burst of lossless raw HDR files. Each shot can be stored directly to the 20 GB Leaf Digital Magazine that holds up to 2,000 frames, depending on back configuration, or to an external FireWire® portable drive of 250 GB or larger, allowing for extremely productive shooting.
The Leaf Aptus is the world's first camera back with a touch screen and a graphic user interface (GUI) that provides the ability to easily and quickly prepare custom job setups. Files can be pre-named, job folders created, files flagged and edited on location to speed-up workflow.

Unique wireless display technology is also built into the Aptus. By using the Leaf DP-67, a portable display or digital proof based on the HP iPAQ pocket PC, the client or art director can see instant previews away from the camera. This workflow enhances teamwork on location.

The Leaf Aptus digital camera back also integrates a new compressed raw HDR (CHDR) file format. This format decreases the size of raw HDR files by half with lossless compression that retains 100 percent of the original data. This speeds up shooting, doubles effective storage capacity, and makes archiving and file transmission twice as efficient.
Commercial shipments will begin in February 2005. Photographers who would like to take advantage of the new Leaf Aptus can start work today with a new Leaf Valeo 22Wi or Leaf Valeo 17Wi digital camera back and upgrade later to the Aptus.

Attractive upgrade options for existing digital photographers are also available.
For more information, contact Leaf at www.creo.com/leaf.

FEATURED VIDEO