Lara Jo Regan: A Strange and Beautiful Journey Page 2
Paying Dues
After graduating from college, Regan moved to New York City and got her first job as a curatorial photographer for the Museum of Natural History. (She got Margaret Mead's former office at the museum.) She later dated a film editor during her mid-twenties, and followed him to Los Angeles. Although she was originally interested in writing screenplays with her brother, she wound up shooting still photography on the set of low-budget films made by producer/director Roger Corman. She did double-duty in "craft services," which involved cooking and serving food to the cast. "I was like a switch-engine. At the end of the day, I shopped for 60 people and made food for the following day."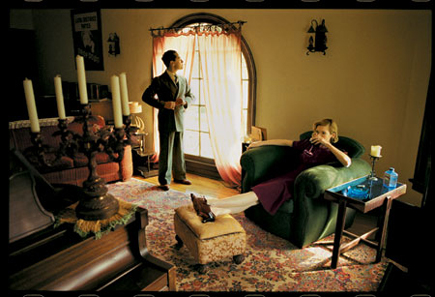 "The host and hostess" depicts a couple who hosted lavish parties in a grand manner. This photo was part of Regan's "American Street" project.
Regan developed two portfolios around this time, one of photojournalism and one of "conceptual portraiture," which included Hollywood stars. She landed free-lance work with the Los Angeles Reader and L.A. Weekly, two alternative newspapers. She also did some photography for Venice magazine, "which paid nothing, but gave me access to celebrities." She took her portfolio to New York City and visited Entertainment Weekly, which was just getting its start, and the photo editor was impressed by her work. She also joined a fledgling agency called Saba. "It was the coolest agency; they represented photojournalists who shot pictures in a personal way." Marcel Saba, also new to the industry, commented on how much he liked her style and asked her if she knew lighting. "I bluffed and said that I did," she laughs, adding that she learned it as time went on.

In a few years, Regan's images of the Rodney King riots were published in Newsweek, and her photos began to appear regularly in Time, Newsweek, Business Week, and Entertainment Weekly. Charlie Holland, editor of Premiere magazine, also utilized her talents for her "reportage" style. For four years, she was the only photographer who was invited backstage at the Academy Awards. "I had amazing access," she says, "but there was very little space to work in, and it was hard to be spontaneous." Regan also found that she disliked the politics of celebrity photography. "I wanted to show truthful moments, but it was very difficult."

Beyond Myths
After four years of photographing celebrities backstage, she had a major exhibit of her behind-the-scenes Oscar photos. (Regan also took behind-the-scenes images at sitcoms, auditions, and pornographic films.) "I went through a stage where I wanted to de-mythologise the glossy image of America that was perpetuated by the mass media, entertainment and advertising cultures. I wanted to capture truth," she says, which she found far more complex and fascinating. She continued to take pictures of Hollywood events and people, but "got tired of the politics."
Image from Mr. Winkle's 2003 and 2004 calendars.
In the late '90s, LIFE magazine gave her an assignment to photograph a story entitled "The Uncounted," about immigrants and people so poor that they were overlooked by the U.S. Census. She embraced this project because "It gave me an opportunity to document a part of the culture that existed outside the myth of America." Regan traveled widely throughout the country on this assignment, as well as for some of the other stories she documented. "The Uncounted" took about a year for her to complete. "It was one of LIFE's last big commissions before they ceased publication." She also received one of her industry's top honors for this project as the recipient of the World Press Photo of the Year in 2000, for her image of a poverty-stricken Mexican family in Texas. "I was shocked that this particular photo won, because World Press usually picks more action-oriented images," she says.

Regan decided to "paint a microcosm of America by documenting the inhabitants of one demographically diverse California street" in her "American Street" project, which is also a portrayal of "people's non-public lives." A project in progress, her images provide a uniquely stark view of people in their homes, revealing much about them and their lifestyles ("Our home is like a museum and we're the curator"). To begin this personal project, she says, she literally "knocked on people's doors," and some of her subjects referred her to others. "It was amazing, but almost everyone said yes," she says. "This is the biggest project I've ever undertaken."

Several years ago, Los Angeles magazine published a 16-page spread of the 17 "American Street" images Regan had completed. She also interviewed all the families she photographed. According to Regan, "I'd like to shoot about 10 more photos in the series." However, this project was shelved about six years ago when fate intervened and changed the course of her work.
Image from Mr. Winkle's 2003 and 2004 calendars.
A Stray Becomes a Star
At this point, Regan was still regularly doing assignment photography for magazines like Newsweek and Time. "I just remember driving a lot," she recalls. At about 11 p.m. one such night, she got lost outside of Bakersfield, California, after shooting a story on welfare mothers. She turned her car around near some railroad tracks, "and saw a dog in the glow of my headlights." Realizing it was abandoned and badly abused, her first concern was to get him out of the street. "He literally limped into my arms." Although she says she was an avowed cat lover up to that point, she nursed the tiny dog back to health over the following year. "And I've been his personal slave ever since."

The former stray soon became a star. Regan discovered that whenever she took Mr. Winkle on walks, people marveled over the pint-sized wonder. He constantly drew crowds who puzzled over what he could be: A toy? A cat in a dog suit? "As time went on, I realized there's lots of pictures of animals, but there could only be one Mr. Winkle. He seems to know that bringing happiness to others is his life's goal."

"Dogs love to have a job," observes Regan, "and Winkle seems to know it's his mission to pose." Noted photographer William Wegman began photographing his Weimaraner, she points out, after the dog started following him around the house. "It was clear to Wegman that the dog wanted to be photographed." Although she mostly shot environmental portraits before Mr. Winkle came along, today she typically photographs him in her at-home studio in numerous guises, ranging from an angel to a gargoyle in Regan's "What Is Mr. Winkle" series.
Lara Jo Regan poses with her muse, Mr. Winkle.
Once his Website (www.mrwinkle.com) went live in 2000, Regan says, everything broke loose. "I started out with just one poster, calendar and a greeting card." Today, Mr. Winkle has his own line of cards with Portal Publications, three books published by Random House, best-selling calendars in their fourth year, and a line of additional popular Mr. Winkle products on the Website. She takes Mr. Winkle to standing-room-only appearances at bookstores around the country, and he's even been a guest star on Sex in the City, as well as appearing on CNN and The Rosie O'Donnell Show.

"Some people believe that he's the poster child for all the needy animals in the world. People project a lot on him," Regan explains. (She also donates proceeds from some of Winkle's merchandise sales to several animal charity organizations.) "As a photographer and as one lucky enough to have him in my life, I feel I need to share him with the world," she says. Regan also maintains that she performs "A balancing act in not selling him out. It's more of a personal thing, sharing my love for Mr. Winkle and all the joy he brings me with everyone. "

In terms of camera equipment, Regan keeps it simple.

She does her 35mm work with either a Nikon N90s or an N8008. She also shoots in medium format for formal portraits and calendar work. "The first Mr. Universe sold me my Hasselblad years ago," she says. Although some of the Mr. Winkle photos look as though she works extensively with Photoshop, she really only uses this software "for refinements in the final image."

Influences
Regan admires the work of Annie Liebowitz because "She really does research on her subjects and is a former photojournalist, which gives her work another dimension." Other favorites include Dan Winters, "who does cool, wildly original portraits of celebrities"; Irving Penn because "His portraits were so profound--he realized when someone's soul was being revealed, and knew just when to click the shutter"; and Mary Ellen Mark: "I can tell by her work that she's truly interested in her subjects." Regan adds, "What they all seem to have in common is that they seem to have a genuine passion for their subjects and a reverence for revealing truth."

She's placed photojournalism on hold for the time being "Because the world will always be there." For now, she's completing work on a Mr. Winkle 2005 calendar, and has plans to do more books, including one called "Letters to Mr. Winkle," based on fan letters and e-mail.

No one is more surprised than Regan at the road her career has taken. "It's been a strange and beautiful journey," she concludes.