The Joy of Discovery; Jerry Garns' Approach to Commercial Photography Page 2
On His Own
He began shooting on his own in 1978 during his last semester at Art Center. He started showing his portfolio and got his first clients at age 29. "You need a certain motivation to start working right away," he emphasizes. "Photography is difficult enough that if you take classes in accounting as a fallback position, for example, you'll probably go into accounting. You've got to have blinders on!"

As his father was a photographer, does he think that creative genes run in the family? "My brother is a commercial illustrator and my sister is an interior designer, so I guess something does get passed along, but it demands a lot of hard work."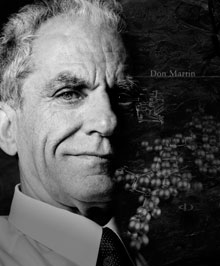 An image of a C & D Aerospace employee, which was used in a calendar.
"Photography is reward enough, and money is just icing on the cake," he says. "It's not about the money, it's about the gratification that the end product brings to me." Garns also relies on dependable assistants. "You've got to work with people who are good, and who you trust. I couldn't do this alone," he says. An intern currently works with him, as well as one full-time studio manager, both of whom will eventually move on to their own photography businesses, he says.

Currently, Garns says, "I'm in the throes of a job for MTA." He's photographed busses for this local transportation company in several locations, and added them to backgrounds in Photoshop later. One image shows a bus driving down a city street against a colorful evening sky. "I actually photographed this bus parked in a lot," he says. These images will soon appear in MTA's billboards and other advertising.
An infant's foot, photographed for Olympus Camera.
Garns' Gear
He shoots a lot of his commercial product images with a Toyo 4x5 large-format camera with Schneider and Rodenstock lenses. He uses a Hasselblad CW for medium-format work, a Nikon D1x for digital imaging, and a Nikon F100 for 35mm. "I also have a Better Light scan back for my 4x5," he adds.

Garns uses Norman and Profoto strobes when photographing people. When shooting products and cars, however, he says he uses mostly hot lights made by Arri or Pepper--which are continuous light sources--with Fresnel focusing lenses and barn doors. "I can use these to completely shape light on a subject in a way that isn't possible with strobes," he says. Once he adjusts the amount of light with the barn doors, he bounces light off walls or flats in his cove studio.

As for film, Garns prefers Kodak Plus-X and Tri-X for black-and-white, and E100S and E100SW transparency film for color work. For his MTA promotional images, he used mostly Fujichrome Velvia 100. When shooting under tungsten light sources, he uses Kodak 64T, and uses Polaroid Type 55 film to check studio lighting.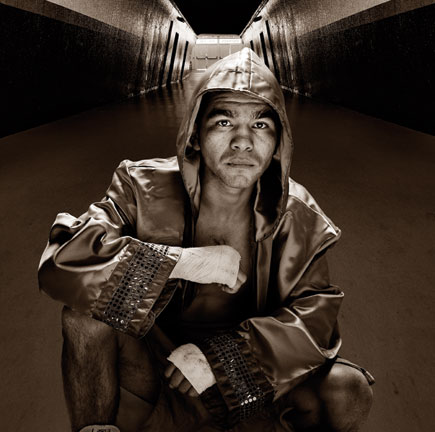 A professional fighter in Tijuana, Mexico.
When he's on location, he always brings his Macintosh G4 PowerBook, has a G4 and G5 dual processor in the studio, and uses Photoshop, "of course." For scanning film, he uses an Imacon Flextight II. When Garns started his career, he points out, there were no computers in the photographic world. "New tools broaden our creative knowledge," he says.
Thinking of Becoming a Commercial Shooter?
Jerry Garns offers a few words of advice to those who are thinking of entering this highly competitive specialty.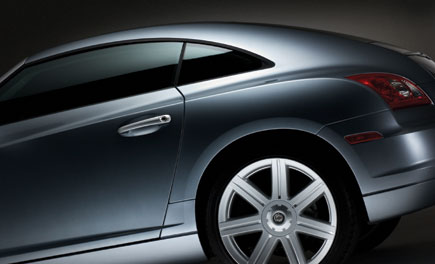 Profile of a Chrysler Crossfire.
Advice From a Successful Commercial Photographer
1. Particularly because of the way commercial photography is headed today, he says, it's imperative that you become digitally educated. "You need to know scanners, digital cameras, and Photoshop."
2. Light is critical, Garns emphasizes. "Every day, you must become aware of light and develop the ability to use that light to fulfill your vision. Photography is all about light!"
3. For Garns, the process of discovery is a motivating factor. "The driving force in my business is my love for the process of discovery," he declares on his Website. "Producing new images continually provides opportunities for me to develop a new vision, a deeper understanding, and a more meaningful way of relating to the world around me." He says that for him, it's the creative process that's important, not only the end result. "It's discovering something new, perhaps seeing something in a new light." If you're doing photography just for the money, he notes, your work won't reflect the same passion as it does when you love what you do.
4. To become a commercial photographer, you must decide it's the only option. "If you don't, you'll resort to something easier. You really have to want this, perhaps a lot more than some people would think."
5. Although people can become workaholics, Garns emphasizes that "You must also have a life--perhaps a hobby or a family--because you need to bring something to your work, a vision that's unique. This vision must come through in your images, otherwise they'll look the same as everyone else's."
6. Commercial photographers show their work to art directors and other professionals, who constantly judge their images. For this reason, Garns says, this business is not for defensive people. "You must be open to criticism and input." To be successful in the world of commercial photography, he adds, you need to be willing to work with others as a team player. You must take criticism as a positive and incorporate changes to your photography. "Help the job evolve into something that works!"
7. There's more to photography than lenses, film, and technical knowledge--"That's a given," says Garns. Other issues come into play when running a commercial business, such as working as a team to complete a project successfully.
8. "You must be able to exude confidence," he advises. "Clients need to believe in you; they have a lot of money on the line. And your photo subjects want to be assured that you'll make them look good."
9. Don't give up! Garns stresses the fact that you must persist in your goals through the tough times, as well as the easy ones. This may be obvious, but very true.
10. To be successful as a commercial photographer, you must surround yourself with great people--"Assistants, stylists, and anyone else you need on a given job."
To see more of Jerry Garns' images, visit www.jerrygarns.com.