June Table Of Contents
June 2011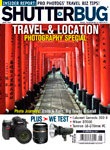 On The Cover
Welcome to our travel and location photography special. This month we present photo journeys that take you to towns big and small as well as trails and rails in the US and across the globe. We also have an informative insider's report from pro photographers who expose business tips that you need to know in order to make travel photography a successful endeavor. In addition, we tested a range of products that you'll want to take on the road this summer, including the Calumet Genesis 300 B monolight, the Nikon D7000, and the Tamron 18-270mm VC lens.
Tools
42 Roundup
Covering The Photo Beat
by C.A. Boylan
52 Digital Innovations
People, Places, And Things
by Joe Farace
62 Classic Cameras
The Rittreck IIa
by John Wade
72 Digital Help
Q&A For Digital Photography
by David B. Brooks
80 Test Report: Nikon D7000
DX Format, 16.2 MP, And HD Video
by George Schaub
94 Test Report: Tamron AF18-270mm F/3.5-6.3 Di II VC PZD
Sometimes One Size Does Fit All
by Joe Farace
102 In Brief: Moab Somerset Museum Rag
A Durable Cotton Inkjet Paper
by George Schaub
176 Help!
Q&A For Traditional Photography
by Robert E. Mayer
Lighting
74 Test Report: Calumet Genesis 300 B Monolight
Economical, Portable Flash
by Steve Bedell
Techniques
36 Pro's Choice
Jeff Kauck Captures The Essence Of Food
by Jack Neubart
124 Business Trends
The Business Of Travel Photography
by Maria Piscopo
126 Photographing America's Railroads
Shutterbug Contributor Stan Trzoniec's Passion Turns Into A New Book
by Stan Trzoniec
Creativity

12 Picture This!
Monthly Photo Assignment
by The Editors
20 Talking Pictures
There Is Always Tomorrow…
by Phillip Wittke
22 Web Profiles
Great Photo Sites Reviewed
by Joe Farace
26 Student Union
Profiles Of The Up And Coming
by Jay McCabe
28 Locations
Photographing Vancouver Island
by Joseph A. Dickerson
108 Up In The Air
An Aerial Photographer Shares His Craft
by Jay Miller
116 30 Days In Chugchilán
Life In A Small Village
by Alicia Fox
130 Playing In The Band
Jim Richardson's Graphic Novel
by Barry Tanenbaum
134 The Granger Collection
A Partnership With The Museum Of The City Of New York
by Staff
136 Book Excerpt: Galen Rowell's Sierra Nevada
Compiled By The Editors Of Sierra Club Books
Introduction By Robert Roper
Departments

10 Editor's Notes
160 Trade Shows
160 Workshops


LATEST VIDEO

SPONSORED VIDEO
Testing Tamron's SP 150-60mm G2 lens while capturing birds and alligators in Apalachicola, Florida.