The Joy Of Printing; Or How I Stopped Worrying And Learned To Love Inkjet…Again Page 2
How Big Is A Memory Card?
There seem to be two philosophies about memory card sizing: one group says that more smaller cards are better because if a card is lost or goes bad you won't lose too many photos. The other group, of which I am a proud member, says fewer bigger cards are better because you can keep track of less cards easier and you won't run out of storage at an inopportune time. Compared to the ill-fated Microdrives, I'm less concerned about CompactFlash failures and when encountering occasional problems I have always—no knocking on wood required—been able to recover images.

When testing the Nikon D300S I used a SanDisk (www.sandisk.com) 32GB Extreme Pro CompactFlash (CF) card that features a new Power Core Controller whose dual-lane architecture enables lightning-fast read and write speeds up to 90MB/sec. That's twice (45MB/sec) as fast as their speedy Extreme IV CF cards. The card's Power Core Controller's algorithms and 42-bit ECC (Error-Correcting Code) engine maintain data integrity and extend card endurance through optimized wear leveling. The 32GB card I used with the D300S could store 1100 Raw+JPEG (highest quality) files and while 32GB may seem like a lot, there's a 64GB card in their line-up!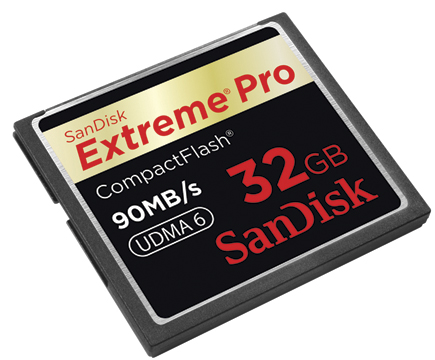 Don't Be In The Dark
Left over from last month's Stocking Stuffer column are ICON's Rogue (www.myiconlight.com) flashlights. Whether you're painting with light or shooting at night, a good flashlight is indispensable. Rogue has two compact models with two lumen settings, one that's bright enough to paint and the other low enough to search your camera bag without ruining a long exposure. This aerospace-grade aluminum body provides a solid grip, leaving hands cool and dry, and can be dropped, even in water, or tossed around without any damage. The Rogue 1 is smaller (4.5"), requiring one AA battery, while the Rogue 2 is longer (6.5") and needs two AA batteries. Both come in three stylish colors, including silver, green, and black. Get one at your friendly neighborhood RadioShack.
Photoshop Plug-Ins Bundled
Topaz Labs (www.topazlabs.com) is a Dallas-based software company that manufacturers some of the most interesting and affordable Photoshop-compatible plug-ins available. Their Photoshop Bundle costs $179.99 and includes their most popular plug-ins, although each is available separately if just a few fit your workflow. Topaz Adjust lets you produce image-enhancement effects by applying presets or using the built-in sliders or, as I prefer, picking a preset that gets you close and then tweaking using the sliders. Topaz Simplify can apply art effects from subtle to extreme—and is still controllable via sliders—from pencil sketch to woodcarving. Topaz DeNoise is a noise reduction plug-in that removes noise while preserving the detail and uses one of the more innovative noise removal interfaces around. It not only has presets for Raw but sRaw, too.

Topaz Clean offers extensive smoothing capabilities so I've been using it for portrait retouching. Topaz Detail, which for some reason takes longer to load than the others, is kind of a super sharpener that takes control over all aspects of detail improvement without creating edge halos or artifacts. Yet it includes a really cool monochrome conversion and skin smoother, so it's really a plug-in that isn't easy to categorize. Individual prices range from $29.99 for Clean to $49.99 for Adjust, so you can see that the Bundle is a bargain. Download a 30-day fully functional Mac OS or Windows demo and try them on your own image files.

LATEST VIDEO

SPONSORED VIDEO