January 2013 Table Of Contents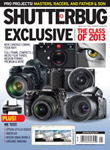 On The Cover
This month's issue features the first in our series of reports from photokina, the worldwide imaging show, and features the new cameras of 2013. We're also thrilled to bring you portfolios from Al Satterwhite, Michael Somoroff, Craig Blacklock, and Daryl and Justin Hawk, as well as a self-publishing saga by Jim Lynch and J. David Gray. Plus we have a lab test and pro essay on the exciting Nikon D4.
Tools
50 Roundup
Covering The Photo Beat
by C.A. Boylan

58 Digital Innovations
A Digital Auld Lang Syne
by Joe Farace

68 The Nikon D4
A Pro's Point Of View
by Steve Sint

72 New Camera Report: The Class Of 2013
At photokina, We Saw "Real Live Cameras," Full Frame Riding High, Wi-Fi With A Vengeance & Coming In Camera Apps…But Be Prepared For Sticker Shock!
by George Schaub

94 Epson Stylus Photo R3000
An Affordable, High-Quality Inkjet Printer
by George Schaub

102 Organic Imaging
An Easier Road To Photo Editing?
by David B. Brooks

168 Digital Help
Q&A For Digital Photography
by David B. Brooks
Image Tech
64 Nikon D4 D-SLR
Lab Test Results & Comments
Edited by George Schaub
Lighting
110 Nissin Di866 Mark II
A Versatile Shoe-Mount Flash
by Jack Neubart
Creativity
14 Picture This!
Monthly Photo Assignment
by The Editors

26 Talking Pictures
Climbing Partners
by William L. Witmer

28 Web Profiles
Great Photo Sites Reviewed
by Joe Farace

32 Locations
Castle Walk
by Efraín M. Padró

40 Student Union
Profiles Of The Up And Coming
by Jay McCabe

42 On The Road
Now You See It
by Maynard Switzer

118 Father And Son
A Photo Road Trip To Oregon
by Daryl Hawk

122 The Photography Of Craig Blacklock
Man Of The Great Water
by Lorin R. Robinson

128 Self-Publishing Your Photos
An eBook Collaboration
by Jim Lynch and J. David Gray

132 The Making Of "the Racers"
A Custom Book And ePub Odyssey
by Al Satterwhite

134 Book Excerpt: Fun Photo Facts
Excerpts From "Pring's Photographer's Miscellany"
136 Book Excerpt: A Moment.
Master Photographers: Portraits By Michael Somoroff
with Essays by Michael Somoroff and William A. Ewing
Departments
12 Editor's Notes

LATEST VIDEO

SPONSORED VIDEO
Testing Tamron's SP 150-60mm G2 lens while capturing birds and alligators in Apalachicola, Florida.