It Ain't The Tools, It's The Pix; Software, Plug-Ins, And More Page 2
In The Frame
onOne Software's (www.ononesoftware.com) PhotoFrame has long been the best edge effects Photoshop-compatible plug-in available and with Version 4 they've made so many improvements that I'm blown away by the increased usability and creative options. PhotoFrame 4 is available in two versions, Professional and Standard. Both share the same 1000 frames and have the same feature set that allows you to search, find, combine, modify, and apply frame edges in real time.

A new preview window shows thumbnails of the frames wrapped around your image so you don't have to apply a frame, say "I don't like it," remove it, then apply another one, etc. After visually picking the frame that best fits your image you can use the improved tool set to refine that frame and create your final masterpiece. PhotoFrame 4 lets you re-size and even reposition the image layer so you can make your photograph fit into a frame without losing any part of it. Wanna be more precise? PhotoFrame 4 comes complete with the rulers and guides that make precise adjustments a snap. If your budget permits, get the Professional Version ($259.95) because of its ability to add one-click edge effects from digital gurus such as Jack Davis, Vincent Versace, Helene Glassman, and others. You get the same amazing interface with the Standard Edition ($159.95) and both work with Photoshop, but if you want to use PhotoFrame with Apple's Aperture or Adobe's Lightroom, you'll need the Professional Version.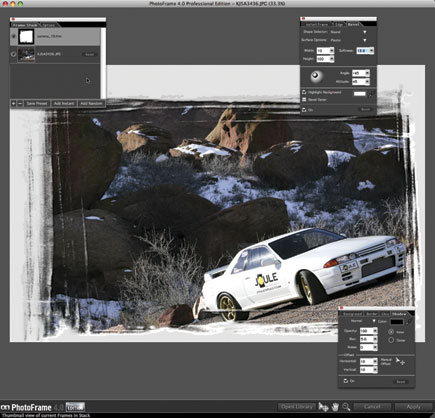 © 2006, Joe Farace, All Rights Reserved
Seamless Textures
Luxology's (www.luxology.com) imageSynth 2 lets you quickly process images into seamless textures, synthetic images, and backgrounds, and generates super high-resolution images from one or more low-resolution source images. It can handle a wide range of image subjects and is especially useful when working with cluttered images such as photographs of crowds or beach pebbles. The images imageSynth creates are unique derivations and tile seamlessly together, making them ideal for use as backgrounds, brushes, or texture maps. Some of the new and improved features in imageSynth 2 include native performance improvements that let you process images 10 times faster than previous versions. The new algorithm is threaded for use on dual-core powered systems and has improved memory management, enabling handling of larger files. It's also a lot of fun to use. Luxology's imageSynth 2 is available for $99 in a stand-alone version or as a plug-in for Adobe's Photoshop CS3 or higher.
© 2000, Joe Farace, All Rights Reserved
On The Road
I'm writing this after returning from the SEMA automotive show in Las Vegas. I decided to travel light so instead of schlepping my Canon EOS-1D Mark II N, I borrowed an EOS Rebel XS and an EF-S 18-55mm f/3.5-5.6 IS lens, but I didn't want to take a laptop either. Nexto (www.internationalsupplies.com) came to the rescue with their pocket-sized eXtreme ND-2700 back-up drive whose two memory card slots accommodate CompactFlash, SD (including SDHC), MMC, Memory Stick, and xD, along with variants of these formats. Some adapters may be required so check their website for your specific memory cards. The drive has USB OTG (On The Go) capability with the included cable that lets you transfer images or data from a pen drive and any USB storage device. The 160GB drive ($429.99) in the unit I tested is high-speed SATA and has a transfer rate of 300MB/second, and even the many raw files I shot for HDR didn't slow the transfer of images from card to drive.

I brought three SanDisk Extreme SD cards to SEMA, one for each day, and when I filled up my Day Three card I reached for the Day Two card and finished shooting. When downloading the files to the ND-2700 at the airport, the unit recognized I'd already used that card and only transferred the new image files! To move the images onto my Mac Pro's hard drives I just connected the Nexto drive using the supplied cable and copied the files. It couldn't have been easier, which is why I plan to take the Nexto eXtreme ND-2700 on my next trip.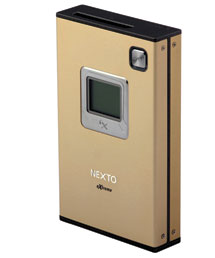 A Personal Note to Readers: "Digital Innovations" is not just a collection of new products, but features gear that I actually test and use. You won't read about stuff that I hate because why waste the ink on them? You won't read an in-depth review or a comparison of similar products because I don't have the space. What you will get is a sneak peek of imaging products I've tried and liked and maybe you will, too. If I haven't featured your favorite product let me know at editorial@shutterbug.com. Manufacturers should let me know about their gear, too, because I can't write about their products if I don't know about them.

LATEST VIDEO

SPONSORED VIDEO
Testing Tamron's SP 150-60mm G2 lens while capturing birds and alligators in Apalachicola, Florida.