It Ain't The Tools, It's The Pix; Software, Plug-Ins, And More
"Photography is about finding out what can happen in the frame. When you put four edges around some facts, you change those facts."—Garry Winogrand
History was made on October 11, 2008 when 200,000 people at Lowe's Motor Speedway—167,000 in the stands, another 50,000 in the infield—stood for a moment of silence before a NASCAR race to honor the memory of T. Taylor Warren, one of racing's greats. "T. Taylor," as he was often known, had been part of the racing scene since 1952, but he was not a driver, mechanic, or even a team owner. He was a photographer. It was T. Taylor who captured the dramatic finish of the '59 Daytona 500 with a Rolleiflex twin-lens reflex, showing that Lee Petty, not Johnny Beauchamp, was really the winner of what would go on to become The Great American Race. Jim Hunter, NASCAR's vice president of communications, said, "T. Taylor's conduct has always been above reproach. He's a nice man who is well respected and well liked." This statement was made for the Historic Speedway website (www.historicspeedwaygroup.org) before T. Taylor's passing. As photographers we should all wish that people feel the same way about us.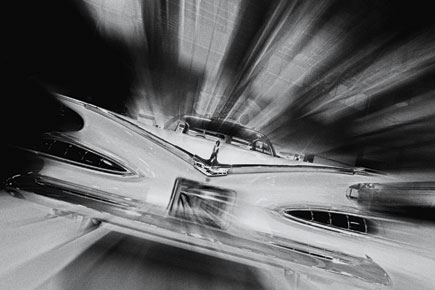 © 2006, Joe Farace, All Rights Reserved
Digital Bokeh
Bokeh is an optical buzzword derived from the Japanese word for "fool" (as in it's not nice to fool Mother Nature) and is used to describe the pleasing quality of an image's out-of-focus areas. A little more subjective than the Richter scale, most photographers know good bokeh when they see it, even if they don't know the term. Alien Skin Software's (www.alienskin.com) Bokeh is a Photoshop-compatible plug-in that simulates depth-of-field effects of different camera lenses at various aperture settings and can be used to narrow the depth of field after a photograph is made. By using a combination of blurring and vignetting effects, Bokeh lets you shift the viewer's attention to certain areas of the photograph and its built-in radial and planar regional shapes can be used to create tilt-shift effects that are similar to a Lensbaby.

You can simulate realistic depth-of-field effects by importing selection masks from Photoshop. The plug-in lets you create distinctive bokeh highlights using different diaphragm shapes, including heart-shaped highlights that I'm guessing wedding shooters will love. You can also produce natural vignetting to simulate lens effects à la a Holga or add vignetting to focus viewer attention to part of a photograph. As I write this, I am using a beta version but the real product and price will be available by the time you read this.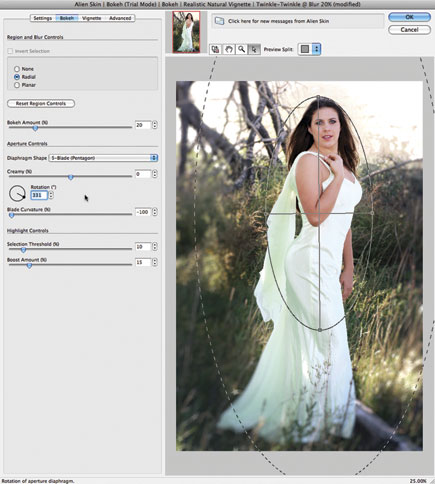 © 2005, Joe Farace, All Rights Reserved
Did Somebody Say Donuts?
Alien Skin's software lets you create heart-shaped highlights in the digital darkroom, but Adorama's (www.adorama.com) Pro-Optic 500mm f/6.3 lens lets you create donut-shaped highlights in camera. Over the years I've always wanted a mirror lens and while cheap ones have been available they were, well, cheap. The Pro-Optic 500mm f/6.3 has seven elements in nine groups and is a perfect balance of optics and moderate price ($159.95) with surprisingly high build quality. The front filter is 95mm with a more practical 34mm on the rear. It even includes a soft, leather-like case. What's the catch? The lens is manual focus and uses a T-mount so you'll need a T-mount adapter that sells for about $15 but fits cameras as diverse as Canon, Nikon, Olympus, Pentax, Sony, and even Konica SLRs! The 500mm f/6.3 is faster than most inexpensive mirror lenses, focuses as close as 6 ft, and weighs around 25 oz. If you want to try some long lens sports or nature photography and don't have $5800 for a Canon EF 500mm f/4L IS lens, then give the Pro-Optic 500mm f/6.3 lens a try.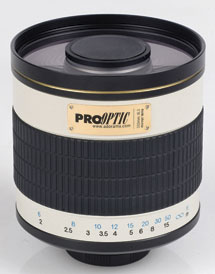 I think it was my old pappy who once told me "a clean lens was a happy lens." Purosol's (www.internationalsupplies.com) lens cleaner is engineered to work on the molecular level, actually breaking the bonds that dust, dirt, and grime use to grip the lens surface. Purosol products are environmentally safe, biodegradable, and contain no CFCs, detergents, or solvents. The Purosol formula is a pure and sterile enzyme solution manufactured in a Class 100 Clean Room that maintains less than 100 particles larger than 0.5 microns in each cubic foot of air space. And it works great, too. Their small lens cleaning kit includes a 1-oz bottle of Purosol Optical Molecular Lens Cleaner and a 6x6" microfiber cleaning cloth and only costs $12.95. You should have one in each of your camera bags.

LATEST VIDEO