Innovative Products For May; April Showers Bring New Digital Products
"They say it's your birthday. We're gonna have a good time." —John Lennon & Paul McCartney
May is National Photography Month that was originally started by President Ronald Reagan in 1984 as a week-long American Photography Celebration but now it is a full month. It's also the former home of the "Take Your Camera to Work Day" that I started many years ago but has repurposed itself in several different directions due to the efforts of others, including motorcycle riders. May is my birthday month, too, and marks a personal milestone since this is my 1900th published magazine article.

In The Zone
Separated at birth? When comparing the image management functions of Zoner Software's (www.zoner.com) Windows-only Photo Studio 12 and Adobe's Bridge, you will notice that they look a heckuva lot alike. They even act alike. Photo Studio can acquire images from a camera, scanner, or even your screen that can be edited and personalized using special effects, including advanced functions such as HDR processing. You can process Raw files using an interface that's clearly designed for photo enthusiasts and it supports 48-bit color depth, ensuring highest quality results.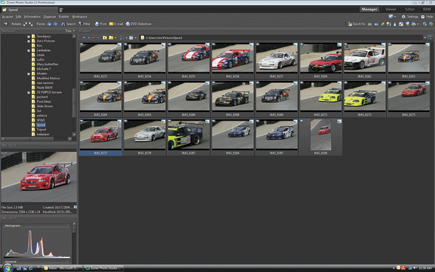 © 2010, Joe Farace, All Rights Reserved
Zoner Photo Studio includes lots of tools for improving your photos, including a Quick Fix when you're in a hurry, Levels, and Sharpening. Retouching tools include Redeye Reduction, a Clone Stamp tool, an Effect Brush tool, and the uniquely named Iron tool for smoothing fine details, such as facial wrinkles on a portrait. The Clone Stamp, Iron, Paintbrush, Effect Brush, and Redeye Reduction tools support several different settings, some of which can be changed on the fly while making modifications to a photograph. When using a stylus and tablet, varying the pressure on the pen also changes a retouching tool's settings. Photo Studio also offers Curves, something that's been denied to users of Photoshop Elements forever and this program costs the same $99. Download a trial version and make your own comparison.

Attention JPEG Shoppers
ReaSoft Development's (www.reasoft.com) ReaJPEG 4.0 is a Windows-only batch image-processing software enabling a user to convert images from the most common graphics file formats to JPEG and edit them in a batch. The company also offers ReaGIF and ReaTIFF if you prefer working with those formats. ReaJPEG provides a set of tools for photo editing and allows streamlining and automating the process thanks to (can you believe it?) command line support. The software lets you simultaneously apply image-editing actions, such as adding copyright, removing redeye, or re-sizing, to any number of images at the same time. You can crop and re-size hundreds of pictures; adjust color, brightness, and contrast; and apply artistic effects with a few mouse clicks. ReaJPEG Pro ($49.95) supports 65 popular graphics formats, including Raw, and lets you convert them to JPEG directly from Windows Explorer using a right-click context menu, or you can drag-and-drop images and adjust output settings for batch conversion. ReaJPEG ($29.95) has a few less features—there's no Raw support—and supports 35 popular graphics formats. Download a 30-day evaluation copy and try 'em with your own files.
© 2010, Mary Farace, All Rights Reserved
Happy Viveza 2 U
Nik Software's Viveza 2 is the latest upgrade to its photo-editing plug-in that provides focused and selective color and light control. Like the previous version, Viveza 2 uses Nik's way-cool U Point technology that eliminates the need to create complicated selections or layer masks and can be a major productivity tool when editing numbers of photographs. U Point technology lets you point (get it?) to selected areas of an image and quickly adjust that section using mouse-controlled sliders to adjust brightness, contrast, saturation, structure, shadows, red, green, blue, hue, and warmth. Global adjustments, including levels and curves, are possible with this new version as is global or selective shadow recovery. Some features, such as Smart Filter and Selective Brush tool support, are only active in Photoshop, while others, such as Multi-Image support, are functional within Adobe's Lightroom and Apple's Aperture. Viveza 2 costs $199.95, but existing users can upgrade for $99.95 through Nik Software's website (www.niksoftware.com). You can also download a trial version to see how you like it, and I'll bet you will.
© 2010, Joe Farace, All Rights Reserved
Lexar Backup
Lexar Media's (www.lexar.com) Echo SE and Echo ZE flash-based backup drives are designed to protect data on netbook and notebook computers. The Echo SE plugs into a computer's USB port and will perform automatic backup and transfer of files at read speeds up to 28MB/s and write speeds up to 10MB/s. The Echo ZE has a low-profile 20.1x15.1mm shape and is compatible with Mac OS X as well as Windows XP, Vista, and 7 operating systems. The drives include built-in Echo backup software that was developed by Dmailer (www.dmailer.com) for Lexar and features targeted file backup that only stores specified files, to reduce wasted space, and file versioning, which backs up a history of files and allows retrieval of previous versions. The software offers optional AES (Advanced Encryption Standard) 128-bit encryption to protect your data in case of physical drive loss. The Echo SE backup drive is available in capacities of 16GB, 32GB, and 64GB, and the Echo ZE is available in 8GB, 16GB, and 32GB sizes.

LATEST VIDEO

SPONSORED VIDEO