Innovative Products For May; April Showers Bring New Digital Products Page 2
Beauty Box
Digital Anarchy's (www.digitalanarchy.com) Beauty Box is the company's retouching product that was originally designed for use with video and is now available to Photoshop users as a compatible plug-in. Beauty Box provides an easy and powerful way to smooth skin and remove blemishes. Using automatic face detection, it identifies skin tones to create a mask that limits its smoothing effect to just the skin areas and usually requires little or no user input. Built-in sharpening leaves important details like facial features intact. The plug-in's advanced smoothing algorithms reduce wrinkles and remove blemishes and a built-in grain generator adds back any grain that's lost because of skin smoothing. You can improve the auto-mask by using optional built-in masking tools—nobody knows more about masks than Digital Anarchy—or use an external mask to control the amount of smoothing with a separate layer. Just apply the filter, click auto-detect, set the amount of smoothing, and retouch.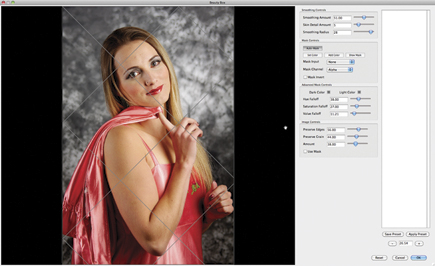 © 2010, Joe Farace, All Rights Reserved
Collage It For Free
In the world of netbooks, online applications may someday soon be the norm, even for photographers. So when a cute little online application such as photovisi (www.photovisi.com) comes along I'd like to suggest you give it a look. It's a free online service that lets you create collages from your photos and then turn them into a print or digital wallpaper. The talented folks at photovisi have obviously put extra effort into giving users a nice and fun selection of templates and options that you can customize with your images. It's easy to use, too: just select one of the many templates available, add your photos, and then tweak by dragging images around. After the collage is finished, it's immediately available for downloading, printing, or setting as your screen background.

On the other hand, if you're looking for a free application to create collages you don't have to look further than Google's Picasa (picasa.google.com). It's free, works with Mac OS and Windows, and lets you design and print photo collages, create video slide shows, add photo text, or view your favorite photos on your desktop or as a screen saver. Picasa is a free download and Picasa Web Albums provides 1GB of free storage—enough space for 4000 wallpaper-sized photos. In a Morissette-ish touch of irony, the photovisi site includes a link to Picasa.
Photos © 2010, Joe Farace, All Rights Reserved