Induro PHT Series 3-Way Panheads
Induro , makers of tripods, heads and accessories designed for demanding professional photographers, announces today the new PHT-Series 3-Way Panheads
http://www.indurogear.com/products_catalog_PHT-Series-3-Way-Panheads.html
with folding handles.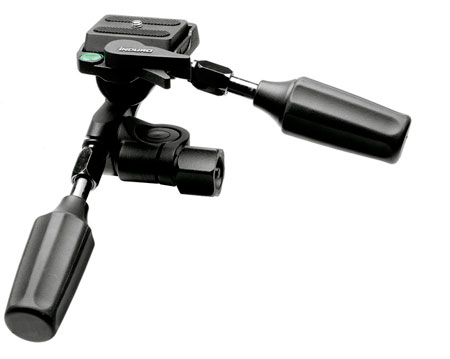 Induro PHT-Series Panheads, comprised of magnesium alloy precision machined components, offer front and side tilt, and horizontal panning movements along with secure locking handles/knobs. Each head incorporates a secure dual quick release locking system and includes a snap-in style quick release plate. Graduated scales provide quick and easy repositioning and a built-in bubble ensures fast camera leveling. And unique patent-pending folding control handles make packing and transport easy.
"Ideal for studio and on-location shoots, the new lightweight yet super strong Induro PHT-Series Panheads provide photographers with the precision they require to get the shot quickly and easily," said Jan Lederman, President of Induro.
Features of the new Induro PHT-Series Panheads include:
· Smooth fluid-like movement - special bearing inserts support friction reduced movement
· Built-in Bubble Level - for critical alignment of panning, stitching and tripod head movements
· Three Fully Graduated Scales – photographers can see and set the position of their tilts and pans
· Folding Front/Rear and Side/Side Tilt Handles (Patent Pending) - simplifies tripod/head packing and transport
· Separate Pan Knob - independent pan and lock control
· Snap-in Quick Release Plate - interchangeable QR system assures effortless and rapid camera changes
· Dual Locking Quick Release System - patented spring lock combined with manual release provide extra security
5-year limited U.S. Warranty — 2 years (+3 with online Registration = 5 total)
The Induro PHT 3-Way Panheads are available in three sizes from retailers throughout the United States at prices ranging from $77 - $114 depending on the model.

LATEST VIDEO