Imaging And Lighting Innovations; Lighting Your Way To A Million Page 2
ACDSee Ya Real Soon
In recent years, I haven't been kind in my remarks about this Canadian software producer (www.acdsee.com) but at PMA I spoke with them about the forthcoming Mac OS version of their Pro Photo Manager software. As I write this you can download a beta version from www.acdsee.com/proformac. ACDSee Pro for Mac includes a full set of workflow features such as browsing, viewing, organizing, and printing images. Unlike catalog-based photo applications, ACDSee Pro for Mac skips importing files on a hard drive or connected device and automatically detects external devices, including cameras, photo frames, and memory cards, and allows you to drag and drop images onto a hard drive.

ACDSee Pro for Mac instantly—almost as fast as the late iView MediaPro—populates the file list with photo thumbnails. ACDSee Pro for Mac allows fast image viewing of more than 40 file types, including some common raw formats, and you can scan through selected images at the click of an arrow key and use the filmstrip window to remain within a large group of files. Photos can be rated and tagged in View mode and folder item counts help you see how many files and folders are stored in each location. Images can be organized into hierarchical custom categories that are virtual—no need to duplicate images. You can also convert file formats and re-size and rename files more quickly using batch tools. You can print single images, multi-image pages, and contact sheets, and select output size and orientation. Preferred options can be saved as presets to streamline the workflow process. ACDSee Pro for Mac supports IPTC, XMP, and EXIF standards and is well integrated with Mac OS X technologies. ACDSee Pro for Mac is expected to sell for $169.99. While not cheap, it's been an impressive test drive and I look forward to the shipping product.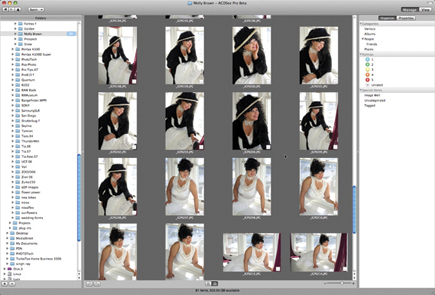 © 2009, Joe Farace, All Rights Reserved
Greetings From Greece
Panos Efstathiadis's (www.panosfx.com) new website goes beyond his original concept of a site focusing on Photoshop Actions. The aim with his new site is to make it a destination for Photoshop users and he's included categories such as weekly quizzes, daily tips, and contests to create a space where you can have a learning experience. Returning users have to register with the new site, since their old username and password will no longer be valid, but registration is free and takes just a few seconds to complete. The new site also lets you have your own image galleries with up to 50 photos. Photoshop Elements 6 and 7 users are also supported on the new site. Last but not least, a number of new effects have been added, such as Big Pictures or a Photoshop Elements version of Old Paper 2, while other sets have been upgraded with new actions, such as the Vintage Photo (shown here) and the former B&B Filmstrip now called PanosFX Film Machine.
© 2009, Joe Farace, All Rights Reserved
The Complaint Department
If you encounter problems with any hardware or software solutions featured in Digital Innovations, I recommend first contacting the company directly. You should be able to find a phone number or e-mail address by looking under "Company" or something similar on the company's website. After trying and failing to resolve your problems, you might consider contacting me to help. Unless you have ulterior reasons beyond merely trying to solve your problems, do not contact the editorial director since he will just forward your e-mail to me, slowing the resolution process. Instead contact me directly via the e-mail link on www.joefarace.com. I can sometimes help solve the problems and if they aren't solved I'll create a "Hall of Shame" on my blog to let other readers know about companies who fail at customer service.

LATEST VIDEO

SPONSORED VIDEO
Testing Tamron's SP 150-60mm G2 lens while capturing birds and alligators in Apalachicola, Florida.