How To Choose The Right Digital SLR; It's Less Complicated Than You Thought
"...for advice is a dangerous gift, even from the wise to the wise, and all courses may run ill." --J. R. R. Tolkien
People often ask me, "What digital camera should I buy?" They then typically ignore my advice after I answer them. A person, let's call him Steve, asks me which of two cameras to purchase. Based on his needs, I suggest Model X and warn him to steer clear of Model Y because it doesn't have the features for the kinds of photographs he makes. Naturally he buys Model Y and since that's what happens most of the time, I'm not surprised but this one takes a new twist. Steve later apologizes for not taking my advice, telling me the camera did indeed perform poorly and he returned it and got camera X and is now happy.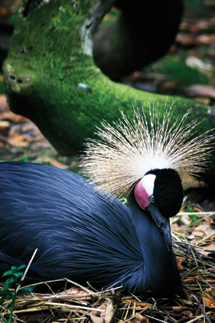 © 2005, Joe Farace, All Rights Reserved
So, which digital SLR should you buy? If you already have a film SLR, start with a digital model that uses lenses you already own. If you already have a Canon, Minolta, Nikon, or Pentax that means you should get the Canon, Sony, Nikon, or Pentax digital SLR that fits your budget. If you don't own a film SLR, consider a four-thirds system camera from Leica, Olympus, or Panasonic. Most importantly, don't forget the propinquity factor. There are two reasons to buy the same kind of SLR your friends use: First, you can borrow their lenses, flash, or accessories. Second, if you don't choose "their" system they'll make fun of your decision, so why not join 'em?

Plug-In Of The Month
Correcting skin color with Photoshop is tricky because skin represents less than 1 percent of all available colors and each race's skin has slightly different color characteristics. For SkinTune Version 2.0, PhotoTune's (www.phototune.com) programmers studied skin color and collected thousands of image samples from around the world. They took spectrophotometer measurements and compiled reference databases for each race. Each library contains 125,000-150,000 colors with different combinations of hue, saturation, and brightness based on each race's characteristics. Then they improved the plug-in's interface: After selecting PhotoTune>SkinTune from the Filter menu, two mouse clicks will find the nearest acceptable skin color from the library and automatically correct your image. You can then use SkinTune's tools to tweak hue, brightness, contrast, and saturation and all your adjustments will stay within the boundaries of the library to ensure "perfect" results.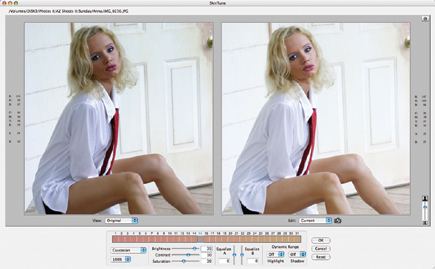 All Photos © 2003, Joe Farace, All Rights Reserved
Laptop Protection
OP/TECH USA's (www.optechusa.com) Computer Sleeve is an easy-access neoprene pouch that protects your laptop or notebook computer against impact as well as the elements. This soft, durable neoprene sleeve protects the computer against dust, moisture, and impact and stretches to fit cables and power supplies. The slim design fits easily into a briefcase or backpack. The closure flap features a leather tab that secures with touch fasteners so there's no fumbling with zippers that can break or jam. The sleeve's interior will accommodate a slim notebook or tablet computer and two versions are available to fit models with 15" or 17" screens.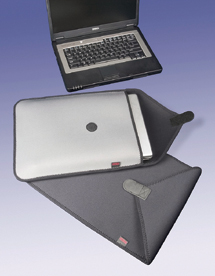 Contrast Plug-In
Pixel Vistas' PhotoLift is a Windows-only Photoshop compatible plug-in that enhances local contrast. It uses a nonlinear filtering technique to minimize artifacts and lets you strengthen detail and texture in a photograph without changing overall tonality. The filter operates by separating the image into small-scale (detail) and large-scale (base) components. Unlike traditional methods of local contrast enhancement, strong edges in the original image are not part of the detail component. This allows detail to be manipulated without producing unnatural halos or artifacts near edges. Pixel Vistas recommends PhotoLift for fine art and landscape photography where it can cut through atmospheric haze, emphasize form and structure in clouds, and bring out fine detail wherever it's lacking. Sounds like a digital UV filter to me. It costs $45, but a free evaluation copy can be downloaded from the company's website (www.pixelvistas.com).
One Monitor; Two Computers
Belkin's (www.belkin.com) $149.99 Flip DVI-D lets you share your keyboard, mouse, speakers, and DVI monitor between two computers, keeping your desktop free of extra peripherals and cables. Mac users can use their Apple Cinema Display for both their notebook or desktop computers. The Flip DVI-D sits on your desk and easily switches between computers with a simple press of the remote button. It supports both single link (1920x1200) and dual link (2560x1600) video modes and provides full support for all USB-based Mac OS and Windows-based computer keyboards, including those special function keys. The Flip DVI-D features a two-color LED that indicates which computer Flip is accessing and comes with a three-year warranty.

PHOTO OF THE DAY

LATEST VIDEO