Holiday Books; For The Digital Photographer Page 2
Color Confidence: The Digital Photographer's Guide to Color Management by Tim Grey. Published by Sybex, Inc., 1151 Marina Village Parkway, Alameda, CA 94501; www.sybex.com; 272 pages; $44.99; softbound. (ISBN 0-7821-4316-4)
Tim Grey is the Technical Editor of Peter Burian's new digital imaging book (more about that later) and both offer excellent production quality, design, and no-nonsense technical counsel. If you're interested in getting better, more accurate color from your digital camera or scanner, you'll find it here. Grey is wise to include a section on what color management can't do as well as what it can do, and follows that up with an in-depth Windows-centric exploration of the hardware and software needed to optimize images from capture to output.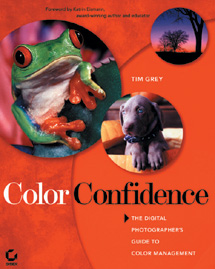 For The Photoshop Lover In You

The PhotoshopWorld Dream Team Book, Volume 1 by Scott Kelby, et al. Published by New Riders, 1249 Eighth St., Berkeley, CA 94710; www.newriders.com; 225 pages; $29.99; softbound. (ISBN 0-7357-1421-5)
Can't get enough Photoshop? Can't get enough Scott Kelby? In this book, he's gathered together the tips, tools, and techniques as demonstrated by the crème de la crème of Photoshop at the twice-yearly NAPP (National Association of Photoshop Professionals) events. Big book, fair price, quality reproduction. You know you want it.

Photoshop for Right-Brainers: The Art of Photo Manipulation by Al Ward. Published by Sybex, Inc., 1151 Marina Village Parkway, Alameda, CA 94501; www.sybex.com; 352 pages; $49.99; softbound plus CD. (ISBN 0-7821-4313-X)
If you're a Windows user and hate that most Photoshop books are filled with Mac OS screen shots, this one's for you. Don't let the seriously mediocre photography put you off. Al Ward knows what he's doing and fills the books with techniques that stimulate your creativity rather than providing "recipes" for image making. Using a generic approach, rather than being version specific, Ward shows you how to turn your kid into an X-Files alien as well as practical tips for whitening a portrait subject's teeth. It's a fun read.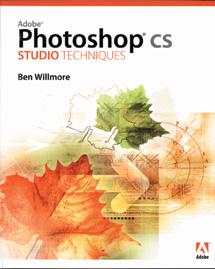 Adobe Photoshop CS Studio Techniques by Ben Willmore. Published by Adobe Press, 1249 Eighth St., Berkeley, CA 94710; www.peachpit.com; 720 pages; $50.00; softbound plus CD. (ISBN 0-321-21352-1)
I wished the screen shots were larger but that would make an already hefty book even bigger. That's my only criticism of the well-designed, beautifully printed book. Wanna know about Layers? Read Chapter 3. Need a no-nonsense approach to using Camera Raw? It's all there in Chapter 10 and written in the friendly, easy to understand format that is the hallmark of Willmore's writing. Confused by Channels? (I know I am.) Chapter 12 will have you swimming the channel in no time. Now that Photoshop CS doesn't come with a "real" manual, this book is, to me, the ultimate Photoshop reference.
The Hidden Power of Photoshop CS: Advanced Techniques for Smarter, Faster Image Processing by Richard Lynch. Published by Sybex, Inc., 1151 Marina Village Parkway, Alameda, CA 94501; www.sybex.com; 336 pages; $39.99; softbound plus CD. (ISBN 0-7821-4255-9)
How many Photoshop book authors does it take to run Unsharp Mask? Five. One to check Google to see if anybody else wrote a book showing Unsharp Masking technique, another person to contact stock photo agencies to find a not-so-sharp image they can use in the book, somebody to design the CD content, a web designer, and a writer. I'm just kidding. Maybe. The truth is that there's lots of hidden power in Photoshop CS that might not be immediately apparent and this book goes "where no one has gone before" showing you "lesser known and less discussed" tools. For that reason alone Richard Lynch's book belongs in your library.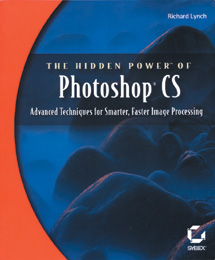 Real World Adobe Photoshop CS by David Blatner and Bruce Fraser. Published by Peachpit Press, 1249 Eighth St., Berkeley, CA 94710; www.peachpit.com; 900 pages; $49.99; softbound. (ISBN 0-321-24578-4)
If noir crime writer James Ellroy were reviewing this book it would go like this: Techie nirvana. Two competent dudes who know what they're talking about. The few pix are so-so and ain't nothin' to write home about. Check it out: For serious Photoshop users and groupies only.
From Shutterbug Writers
At the risk of sounding like one of those radio and TV talk show hosts who gratuitously promote their own books, I'd like to shamelessly promote a few books by Shutterbug writers. Rick Sammon's Complete Guide to Digital Photography from W.W. Norton & Company (www.wwnorton.com) is what you might expect from Sammon. It's 512 pages of smart, funny, incisive text, and great photographs. It's available in hardcover and softcover and includes a CD. In the interest of full disclosure, I was the book's Technical Editor and loved every minute of working with Sammon on this project.

Peter K. Burian's Mastering Digital Photography and Imaging from Sybex (www.sybex.com) is a comprehensive and interesting book written by one of the most technically adept writers in photography and a darn good shooter, too. Unlike most Sybex books this ones has very high production values and its 288 pages are full of practical advice for the new digital imager.


Then there's The Advanced Digital Photographer's Workbook: Professionals Creating and Outputting World Class Images, which includes chapters from Editorial Director George Schaub, Rick Sammon, and yours truly among others. It was edited by former Shutterbug workshop balebos, Yvonne Butler. It will be published by Focal Press (www.focalpress.com) in March and contains an overview of how pros approach each aspect of the digital imaging process.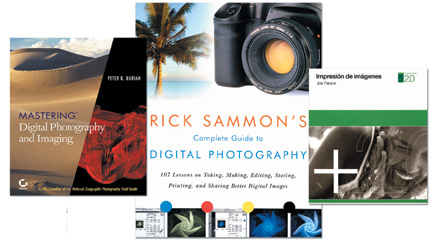 LATEST VIDEO

SPONSORED VIDEO
Testing Tamron's SP 150-60mm G2 lens while capturing birds and alligators in Apalachicola, Florida.