Holiday Books; For The Digital Photographer
It's a sign of the times, I guess. Digital imaging is no longer a novelty; it's a popular way that many people, amateurs and pros alike, capture images. Reflecting this, 2004 is a banner year for digital imaging books with the best variety, content, and even prices I've seen in recent years. This year's collection includes books aimed at specific disciplines within photography itself and is surely a harbinger of future trends in this direction.
The Best Of The Best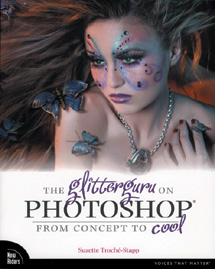 The Glitterguru on Photoshop: From Concept to Cool by Suzette Troché-Stapp. Published by New Riders, 1249 Eighth St., Berkeley, CA 94710; www.newriders.com; 240 pages; $39.99; softbound. (ISBN 0-7357-1133-X)
Far from being "just another Photoshop book," Suzette Troché-Stapp takes you into the world of digital fashion, providing not only the coolest and most fun retouching tips and secrets but something no other Photoshop book has ever done; she shows you the business as well as the creative aspects of fashion photography. By the time I got to Chapter 4, "Delivering Your Work," the author had shown this old dog some new tricks. All of this is written in a breezy style that even after you've read a few pages, you feel that you know Troché-Stapp and you also like her--a lot! This book is must-have for fashion and glamour photographers.


How to Wow: Photoshop for Photography by Jack Davis and Ben Willmore. Published by Peachpit Press, 1249 Eighth St., Berkeley, CA 94710; www.peachpit.com; 272 pages; $39.99; softbound. (ISBN 0-321-22799-9)
I don't like books with CDs and rarely open the disc envelope, but Jack Davis' books are the exception because they contain extra goodies that will increase your productivity and unlock your creativity. With its flawless design and exceptional production values, he and Ben Willmore have produced the best Photoshop book of the year. It's not just about effects, it helps you set up a digital workflow and explains the difference in crisp text and wonderful illustrations about what the "workflow" concept means in a few easily digestible chapters. You'll also learn how to do highlight and shadow resuscitations to rescue "tonally challenged" image files; Tinting Variations, the creation of gradient-style filters, and Chapter 9 on combining multiple elements will help you produce stunning output.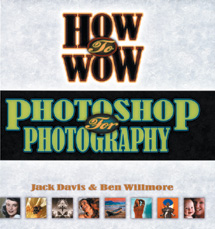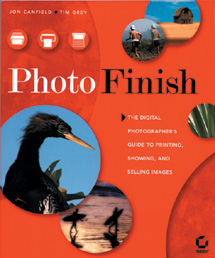 Photo Finish: The Digital Photographer's Guide to Printing, Showing, and Selling Images by Jon Canfield and Tim Grey. Published by Sybex, Inc., 1151 Marina Village Parkway, Alameda, CA 94501; www.sybex.com; 336 pages; $29.99; softbound plus CD. (ISBN 0-7821-4348-2)
If you make it to the end of this article you will be overdosed on Photoshop books. There aren't many books devoted to output, however. My own book Impresión de imagines (Printing the Image) was never released in the U.S.A., so Jon Canfield and Tim Grey's book is a great place to start learning about producing fine art prints from color management to choosing inks, papers, and printers. While the book's internal design is, how shall we say, lame, the text and many of the illustrations are superbly filled with practical tips (glossy or matte?) not only on how to produce fine art prints but how to sell them in galleries and on the web.

Classic Photoshop Effects: The Essential Effects Every User Needs to Know by Scott Kelby. Published by Peachpit Press, 1249 Eighth St., Berkeley, CA 94710; www.peachpit.com; 384 pages; $39.99; softbound. (ISBN 0-321-27225-0)
Scott Kelby must never sleep. Each year he bangs out innumerable books on Photoshop and they are all good! This beautifully designed and printed tome is a collection of the most popular Photoshop effects laid out in a wonderfully direct tutorial--yet always friendly--fashion. You can read it back to front or skip to just the stuff you're interested in, but I would advise you to at least skim the other bits because you never know what you might find. Kelby packs the book with practical tips and his trademark twisted humor. After you've mastered a particular effect and haven't used it in a while, go to the back of the book to find the Reader's Digest version that just hits each technique's highlights.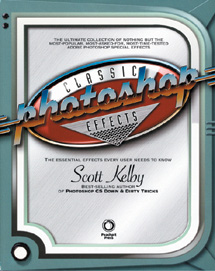 Digital Photography Field Guide by Cynthia L. Baron and Daniel Peck. Published by Peachpit Press, 1249 Eighth St., Berkeley, CA 94710; www.peachpit.com; 144 pages; $14.99; softbound. (ISBN 0-321-22054-4)
The conventional wisdom in the photo book world is that "little books don't sell," so they've all but abandoned the format. Fortunately computer book publishers, such as Peachpit Press, didn't go to that school, and have released the wonderfully useful Digital Photography Field Guide just in time for everybody to buy a copy to give as a gift during this holiday season. This little book belongs in the camera bag of everybody new to digital photography.

Where Only Techies Dare To Tread
Real World Camera Raw with Adobe Photoshop CS by Bruce Fraser. Published by Peachpit Press, 1249 Eighth St., Berkeley, CA 94710; www.peachpit.com; 256 pages; $34.99; softbound. (ISBN 0-321-27878-X)
A cover photo showing strips of film and a person's eye "looking through" a camera's battery pack may not instill confidence that this is a book really about digital capture, but Bruce Fraser's text helps allay that fear. Fraser admits he's not much of a photographer but I've seen lots worse and his book is populated with great photographs from various contributors. The text can get dense and occasionally repetitive, but there's lots of information here on Camera Raw and digital workflow, including using Photoshop Actions and batch-processing techniques and how to get the most out of Image Browser.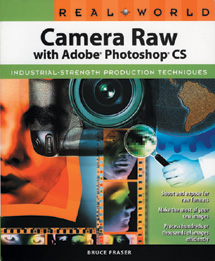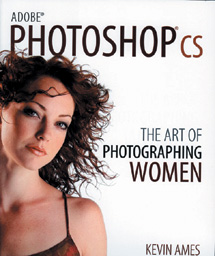 Adobe Photoshop CS: The Art of Photographing Women by Kevin Ames. Published by John Wiley & Sons, Inc., 111 River St., Hoboken, NJ 07030; www.wiley.com; 368 pages; $34.99; softbound. (ISBN 0-7645-4318-0)
This is a big, beautifully designed book full of the author's great-looking fashion photography that, far from being a book on the "art of photographing women" as indicated on the cover, is more about the craft of digital retouching. It's occasionally redundant and repetitive--evidently nobody reads a book from cover to cover anymore and skips though the pages looking for tidbits to solve particular problems. That's not a good guide for the ADD reader, since sometimes photographs that head a chapter (that are insanely cool) are never shown again with information on how they were made! Nevertheless this book is an excellent value for its obvious high quality and provides working and aspiring fashion photographers with information to help them create better images in the digital darkroom.

LATEST VIDEO

SPONSORED VIDEO
Testing Tamron's SP 150-60mm G2 lens while capturing birds and alligators in Apalachicola, Florida.