Check Out the Amazing Winning Images from HIPA's Worldwide Photo Awards
The fascinating and dynamic city of Dubai, United Arab Emirates, played host to the 4th Annual HIPA Awards event earlier this year. Photographers from around the world took part in the HIPA Awards competition—dubbed "Life in Color"—and were honored with both gracious hospitality and generous prize awards. There were also two special awards: a Photography Appreciation Award, presented to Sebastião Salgado, and a Photographic-Research/Report Award, presented to Scott Kelby.
This truly worldwide competition received over 60,000 entries from almost 31,000 participants from 166 countries, representing every continent, so all due respect to the panel of judges. The aim of the HIPA Awards, according to the organizers, is to encourage photographers of all nationalities to pursue their passion for the art and craft of photography and, along the way, further establish Dubai as an international photo hub.
The event began with an impressive outdoor awards ceremony, with images of finalists projected on a huge screen. All in all a very professional and exciting venue and show. According to the winners, who knew they were in consideration for a range of awards, no one knew who the top prizes would go to, which added to the drama of the event.
The following evening saw a lecture by the photographer Reza (whose full name is Reza Deghati), a Fellow of the National Geographic Society, whose compassionate and activist photography and call for universal understanding came through in his impassioned images and talk. (See www.rezaphoto.org for more information.)
The next day HIPA organized one-on-ones for the international press with the winners, some of whose images you see here. The event then continued through the week with talks, seminars, and various workshops, making for an engaging and immersive photographic experience for all.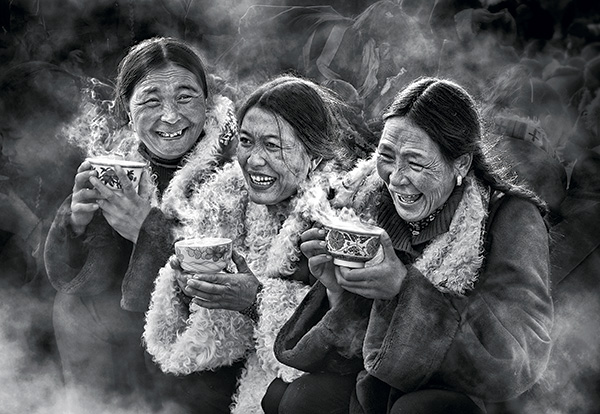 HIPA Fifth Season Photo Competition: "Happiness"
During the event HIPA organizers announced the categories for the 2015-2016 Hamdan Bin Mohammed Bin Rashid Al Maktoum International Photography Award. The competition is open to all photographers. There are four category groups: Happiness (the main theme); Wildlife; Fathers and Sons; and a General category. The Grand Prize is $120,000. There will be 1st through 5th Place prizes for each category, with the "Happiness" category ranging from $25,000 to $10,000 and the other category prizes ranging from $15,000 to $6,000. Submissions are now open, with the final date for submissions being December 31, 2015. For details and submission requirements, visit www.hipa.ae.

LATEST VIDEO