Highlights From The Photo Marketing Association Show; A Midyear Look At What's Coming In The Digital World Page 2
Mac heads using any of Western Digital's external drives need an accessory that I strongly recommend for use with an iMac or Apple Cinema Display. Twelve South's (http://twelvesouth.com) BackPack shelf is perfect for storing things you want out of sight, but not out of reach, like hard drives, USB peripherals, or even a syncing iPod. The BackPack comes with a bunch of adapters that let you use it with all iMac and Apple Cinema Displays that have a desktop stand and is perfect for storing an external hard drive for use with Apple's Time Machine storage, which is exactly what I do with my Mac Pro and 2TB My Book Studio Edition II drive that I use for back up. The BackPack holds up to 5 lbs, creates a less-cluttered workspace, and because Time Machine works in the background, I never see it and because the Western Digital drive is so quiet, I barely hear it at all.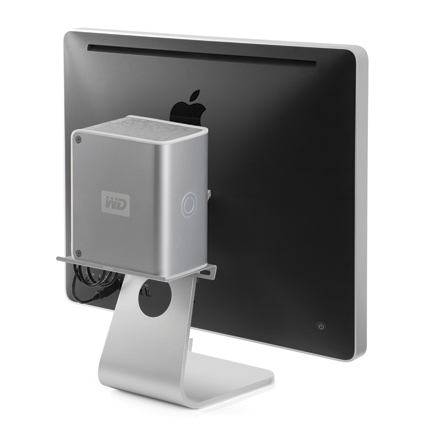 Strap It On
Now that California Sunbounce is being handled by Bron Imaging (www.sinarbron.com) perhaps these innovative lighting products will get the recognition and respect they deserve, but what caught my attention at Bron's booth was the Sun-Sniper camera strap. I've tried other sling-style straps in the past but the Sun-Sniper is hands-down the most wearable because it has a built-in shock absorber that handles jolts, making carrying the camera more comfortable. The strap is worn diagonally over your chest and shoulder, so it's never in the way, not even when you turn the camera for vertical shots. Sun-Sniper is sturdy because it is made of ballistic nylon and lets you carry your SLR, even with a long telephoto lens attached, through crowds without bumping into anything or anybody.

If style is your thing, look no further than the beautifully crafted camera straps from RileyG Strapworks (www.rileygstrapworks.com). Their Speed Racer Series, for example, uses sporting design elements borrowed from the classics and each belt features a hand sewn contrast stitch and off-center stripe. They sew 100 percent natural soft pig suede onto the entire back of the strap to make it comfortable and provide plenty of cushioning. The RileyG Signature Series features artwork inspired by quirky 1950s art. Each strap is handcrafted and silkscreened in Encinitas, California, using a permanent vinyl ink. All of the straps are made in the U.S.A. and are guaranteed: if the strap is uncomfortable, simply return it, along with the packing slip and they will refund the full price.
Let There Be…
Westcott's (www.fjwestcott.com) Photo Basics product line was expanded to include a new Home Studio Lighting Kit that features two uLite continuous lights with 6-foot light stands, two 85w fluorescent lamps, two 20" Soft Boxes, and an instructional DVD. The uLites, combined with 85w fluorescent bulbs, provide WYSIWYG lighting for portraiture or video and feature 500 (equivalent) watt output, daylight-balanced (5500?K) temperature, and a lifespan of more than 8000 hours. The portable and compact 20" Soft Boxes set up and knock down in seconds. The kit includes a DVD hosted by HGTV and DIY Network's Erin Manning and features studio setup information that helps viewers understand photography and lighting by translating technical details into everyday language. The Home Studio Lighting Kit has a street price of $299.90 and is the perfect first-step lighting equipment for digital camera shooters who want to create nicer looking portraits than they can produce with their digicam's tiny built-in flash.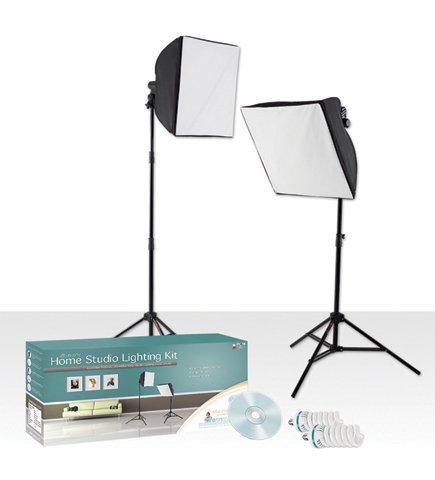 Four Thirds In White
One of my criticisms of the Olympus E-P1 and E-P2 was answered by the E-PL1's built-in flash, and while owners of these previous models could use the company's FL-14 flash, it's only available in a metal finish, not the lush white finish that's optional (at no cost) with the E-P1. Nissin (www.nissindigital.com) has the perfect answer for someone looking for more style and more power—the Di466 flash. The Di466's TTL flash power level is factory preset for "reasonable" exposure but can be reset at any desired exposure level. Its built-in wireless remote flash system works with either analog (single flash) or digital (pre-flash) flash systems at six different power levels. The Di466 also offers 90? bounce lighting, 4-second recycling time, and built-in wide-angle diffuser and catchlight panel.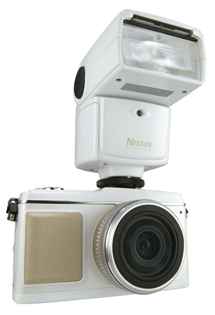 Where's Your GPS?
Much like 8-track decks, cassette and CD players, it's only a matter of time until even the least expensive car (maybe not India's Nano) will sooner or later have a GPS system built into the dash. In the meantime, how do you carry yours? Lowepro (www.lowepro.com) offers six models in its new Navi (non-Avatar version) collection of hard/soft-shell sleeves and pouches specifically designed to fit and protect a wide range of handheld and portable GPS devices and accessories. These cases range in price from $15-$25 and look perfect for storing and protecting digital point-and-shoot cameras, too.

To get more camera-specific, Lowepro's Toploader Pro AW series is ideal for enthusiasts out for a day of outdoor, travel, or sports shooting. Designed especially for introductory and mid-level SLRs with standard zoom lenses, the streamlined, holster-style profile makes the Toploader Zoom AW easy to wear as a shoulder bag or on a belt. Its easy-access lid opens away from the body to provide access to camera gear when setting up a shot or in motion.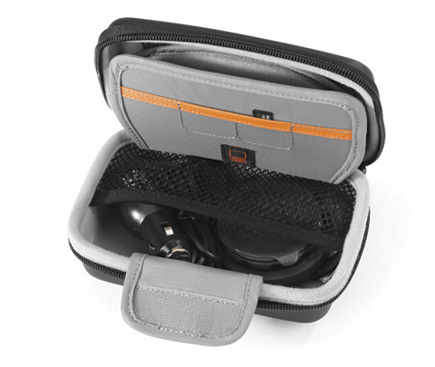 Spotlight: The Eyes Have It
I wear eyeglasses—but just to see—and when shooting my solution has been to either not wear glasses or wear non-prescription sunglasses such as Juan Pablo Montoya's (www.oakley.com) and adjust the SLR's diopter to compensate. Now Hoodman (www.hoodmanusa.com) has come up with the perfect solution—shooter's eyeglasses. Hoodman's Titanium PhotoFrames are built for photographers and each lens moves independently so that you can move a lens up for your shooting eye and leave the other one down for tracking. Titanium memory wire construction makes PhotoFrames strong and durable and the comfortable wraparound earpieces ensure they stay on your head. PhotoFrames cost $199.99 and come with clear glass templates installed to guide your optometrist for easy fitting of your prescription lenses.

LATEST VIDEO

SPONSORED VIDEO