Happy New Year; The Year Of The Rat Page 2
Film Or Digital: Multiply By Two
According to the Adorama (www.adorama.com) website, the Pro-Optic multi-coated 2x tele-converter is designed for Canon EOS AF film cameras when used with telephoto lenses longer than 100mm, but it produced crisp, clean image files with the full-frame EOS 5D D-SLR I tested it with, and zoom lenses, too. The Pro-Optic converter works in Autofocus mode with all lenses faster than f/5.6 and slower lenses in Manual Focus mode. It improves the resolution at the peripheral corners and prevents deterioration of light, producing crisp image files. While the viewfinder was slightly dimmer with the tele-converter in place because of the typical two-stop light loss, the view through the EOS 5D is so bright that it's not an inconvenience. I'm guessing that it should also work with EOS-1Ds models as well, but I'm also guessing that if you can afford one of these pricy bodies you can also afford lots of lenses and don't need one. Nevertheless, thrifty EOS-1Ds shooters might consider purchasing one. Adorama recently added a Teleplus 2x converter for Nikon telephoto lenses over 100mm. It works in Autofocus mode with lenses faster than f/5.6 and in Manual Focus mode for slower lenses. For $89.95 either unit will be a useful and practical addition to your camera bag.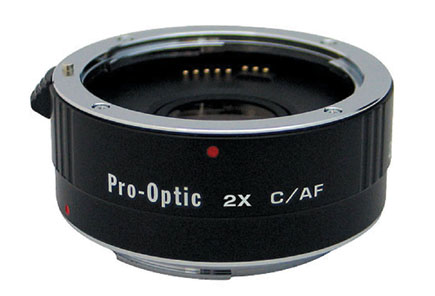 Blu-ray On The Desktop
I leave it to our sister publication Home Theater to decide the winner in the HD DVD vs. Blu-ray movie wars. I've already cast my vote and dollars with HD DVD, but there's no denying that the larger (theoretically 50GB) storage capacity of Blu-ray makes it an attractive media for image storage. Other World Computing (www.macsales.com) offers Blu-ray internal and external drive solutions that are 100 percent compatible with any Mac or Windows OS that has an available IDE/ATAPI bay for internal drives or a FireWire or USB 2.0 port for external drives. The Blu-ray drives read and write Blu-ray, DVD, DVD-RAM, CD, and virtually every other optical media. The drives provide all of the advantages of Blu-ray, including high-capacity storage with write-once and rewriteable media at a speed up to 24x. The Other World Computing Blu-ray drives can burn up to 50GB of data per Blu-ray disc or up to 8.5GB using standard DVDs. The drives include two 25GB Blu-ray media discs and are bundled with a full retail version of Toast 8 software. The Other World Computing drives are priced from $559.99 for internal drives and from $649.99 for external drives with all required connecting cables supplied.
You'll Need Discs
What about Blu-ray (so-called because they use a blue laser) discs? Advanced Media Inc. (www.ritekusa.com), the manufacturer of RiDATA brand of recordable media, was one of the first manufacturers to introduce Blu-ray media in the US. With 25GB capacity on a single layer, a Blu-ray disc holds up to five times the storage of a normal DVD. It also has three times the transfer rate of a normal DVD for fast recording of large amounts of data. By the time you read this multilayered Blu-ray technology will allow the storage capacity to be increased to 50GB (25GB per layer). Advanced Media's Taiwanese parent company RiTEK was able to develop an inorganic dye type for Blu-ray and a rewriteable BD-RE version is expected real soon now. RiDATA's Blu-ray-R discs are packaged in a jewel case and cost $10 each.

LATEST VIDEO

SPONSORED VIDEO
Testing Tamron's SP 150-60mm G2 lens while capturing birds and alligators in Apalachicola, Florida.