Happy New Year; The Year Of The Rat
"The trouble with the rat race is that even if you win, you're still a rat."--Lily Tomlin
The American Customer Satisfaction Index conducted by the University of Michigan showed consumers rated their satisfaction with their computer's maker 3 percent worse than last year. Apple leads in terms of product satisfaction but its overall ranking dropped by five points. Dell also lost five points. Hewlett-Packard's HP brand showed a 1 percent improvement, while its Compaq label is rated the worst. As a Compaq owner I couldn't agree more and I think that it's more than the hardware that is bothering all these computer owners; it's the software or, to be more precise, the operating system, but that's a story for another time.

Extract Or Mask Without Pain
Vertus' (www.vertustech.com) Fluid Mask 3 is masking software that quickly and easily separates difficult images that contain delicate edges, such as human hair or tree leaves, from their backgrounds. The interface includes a slider that lets you switch between "Smart Blending" and standard feather blending. Within focused areas, you can apply complex edge and hair blending algorithms that automatically cut out edges with wide color differences. This latest version is faster, enabling users with multiple processor computers (alas, not me) to realize increased speeds up to 40 percent faster than the previous ones. The "Save Settings" option lets users recall edge detection, blending, and resolution options from previous sessions, eliminating the need to reprogram them when working in batches. The Color Workspace palette includes a "Color Sampler" that lets you select specific colors from an image so you can see where else within that image the same color appears. A Patch system lets users make changes to a localized region without affecting the rest of the image. Fluid Mask 3 costs $239, and is available for Mac (OS 10.2.8 and above) and Windows (XP and Vista) as a Photoshop compatible plug-in but works in Stand-Alone mode for TIFF and PNG image file formats that accept transitions to transparency in 8-bit RGB color.
© 2007, Joe Farace, All Rights Reserved
A Choice In Graphic Tablets
Users who are working with a graphic tablet will note that Fluid Mask 3 (mentioned earlier) contains a new pressure-sensitivity control that can regulate brush size. And did you also know that you have a choice in graphic tablets? Genius (www.geniusnetusa.com) offers the G-Pen F610 that's the slimmest tablet on the market. It has a 6x10" working area and a two-button cordless pressure-sensitive pen for control of thickness and shapes, plus a pen holder. The tablet sports hot keys for My Document, My Picture and has 29 programmable "hot keys" for shortcuts. If you're currently using Windows Vista, G-Pen F610 lets you access sticky notes and the free drawing and writing features on MSN. The G-Pen F610 works with any screen size and lets users draw and sketch more precisely than any mouse you've ever used. Priced at $139, it has built-in Vista functions for note taking, e-mail signing, handwriting recognition, and handwritten e-mails.
Pix At The Automat
While part of me looks at Image Trends' (www.imagetrendsinc.com) AutoMatting application and wonders "what where they thinking?" the other part of my oh-so-Gemini twin says "lighten up and have fun." AutoMatting automatically creates and adds a unique matte for each photograph in a folder and re-sizes the image to the aspect ratio of any monitor. It operates in Batch mode and produces a folder of images with unique mattes containing the colors and patterns from the photographs and uses a lighting technique to create a beveled edge for the matte. This program provides consistent sizing between horizontal and vertical images with no black bars appearing on the screen. Re-sizing to the chosen aspect ratio allows for faster display on screen. AutoMatting will be available for Windows-based machines and a Mac OS version "will follow as market demand dictates." Based on its $49.95 price tag I'm guessing that might be never. Like all Image Trends products, AutoMatting is available for a free "try before you buy" download.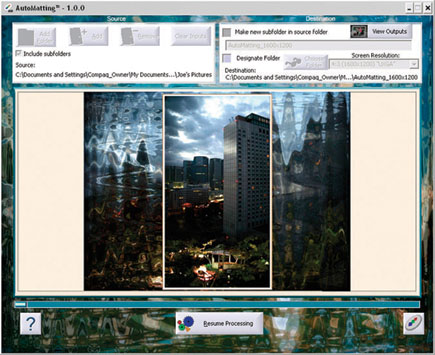 LATEST VIDEO