Happy Anniversary, Charlie Brown; 1700 Is My Lucky Number
"Life is like an ice-cream cone, you have to lick it one day at a time."--Charles M. Schulz
On October 2, 1950, the first Peanuts comic strip appeared in a daily newspaper. Coincidently, October 2nd is also my wife Mary's birthday, although she's a bit younger than Snoopy and the gang. As a lifelong Peanuts fan, it's kinda fitting that this column is my 1700th published magazine article and I'd like to take this opportunity to thank the best editorial team I have ever worked with--Editor George Schaub, Managing Editor Bonnie Paulk, and Associate Editor Andrea Keister.
© 2002, Mary Farace, All Rights Reserved
Lost Your Edge?
Thomas Knoll's new DNG Recover Edges is designed to reveal pixels at the edges of raw files that have converted into DNG format. Camera manufacturers mask off pixels at the edges of the frame and they are not available when these image files are normally displayed. One of the reasons for this masking is that often the sensor's size doesn't match any of the standard aspect ratios. DNG Recover Edges is a droplet that lets you recover between four and 16 pixels around the edge of an image.

The Luminous Landscape website (www.luminous-landscape.com/contents/DNG-Recover-Edges.shtml) hosts this free software and provides additional information about it. Adobe's John Nack blogs that Knoll decided to write the utility after taking a photo of a bird whose wing tip appeared outside of the frame. The extra 10 pixels he recovered in that shot were enough to put the entire bird back into the frame. Thanks and a tip of the Farace chapeau to Shutterbug reader Ralph Nelson for bringing this useful product to my attention.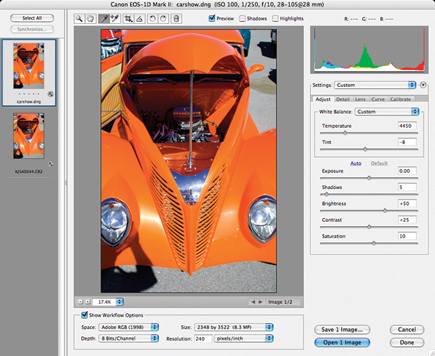 © 2006, Joe Farace, All Rights Reserved
Inkjet Media With A Difference
Recently I have been using Ink Press Papers' (www.inkpresspaper.com) media with my Epson R1800 inkjet printer and have been impressed with the results. Besides obvious product quality, Ink Press Papers' media is truly universal and works with Epson's UltraChrome, dye-based, pigmented, and DURABrite inks, so if I decide to use it with my old, dependable Canon i950, it works just as well there, too. On their website, Ink Press Papers offers some suggested printer driver settings and provides downloads of ICC profiles for new and upcoming printers.

Twenty-three different paper types and surfaces are available, from the insanely cool White Glossy Film to Fine Art Matte. Along the way you'll also find Waterproof Canvas, Linen Texture, and Watercolor Rough. Check their site out for the full product line-up, including the unexpected such as "Adhesive Vinyl." The media is available in lots of different sizes, including 4x6, 5x7, 8x10, 8.5x11, 11x14, 11x17, 13x19, 17x22, 20x30, 35x47" and roll sizes from 4''x33' to 50''x100'. Since Ink Press Papers manufacturers all their own media, custom sizes are also available. Just ask 'em.
© 2006, Joe Farace, All Rights Reserved
Metadata Modification
HindSight's (http://HindSightLtd.com) METAmachine is an inexpensive Mac OS browsing program that streamlines the process of adding keywords, licenses, and other metadata to image files either individually or in batches. METAmachine reads and writes XMP formatted metadata for TIFF, JPEG, PSD, and DNG files and can write IPTC (International Press Telecommunications Council) standard metadata onto them. It can also be used to add copyright, contact information, or licensing terms, leaving all of the other metadata associated with the photograph unaltered. Writing metadata is as simple as dragging images from the desktop or a compatible program such as Adobe's Bridge, one at a time or in batches, onto a target area where the metadata is added.