Happy Anniversary, Charlie Brown; 1700 Is My Lucky Number Page 2
METAmachine is compatible with all XMP compliant digital asset management software and simplifies the process of identifying and tracking images in standard formats. Images themselves are not moved, opened, or resaved so there is no destructive recompression. HindSight's hierarchical keyword system and license constructor is built into the software and includes sample data that can be modified to fit your workflow. METAmachine has built-in copyright protection options that prevent overwriting existing copyright information. It costs $99, but you can download a free demo from the HindSight website.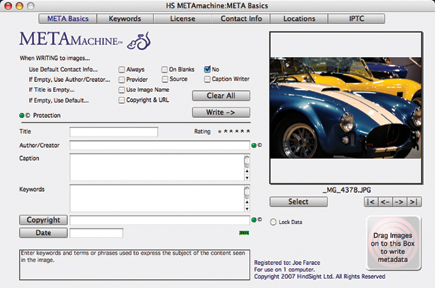 © 2006, Joe Farace, All Rights Reserved
Color Picker Alternatives
Chromatic Bytes' (www.chromaticbytes.com) Shades Color Picker adds an additional pane to Apple's standard Color Picker. Shades is designed to provide intuitive color selection for any application that uses the Apple Mac OS Color Picker. It helps you choose colors by showing you grids of related colors. Shades uses Hue, Saturation, and Brightness color coordinates that Chromatic Bytes claims "many people find more intuitive than Red, Green, or Blue color coordinates."

To use the utility, you choose a center color, a step size, and a color coordinate (one each of Hue, Saturation, or Brightness) to hold constant and Shades then draws a grid of related colors. You can make any color in the grid the current color by clicking on it. Shades works with any program, including Adobe's Photoshop and Lightroom, which uses or can be set to use Apple's Color Picker.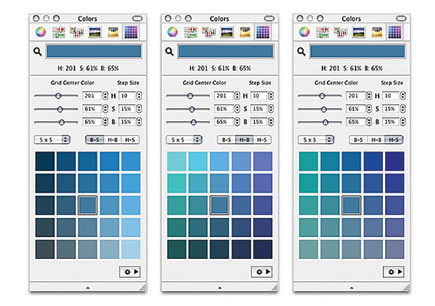 Wireless Tripping
Because of this year's horrible winter and volatile spring here in Colorado, I've been doing lots of shooting in a makeshift basement studio using some of Adorama's new Flashpoint II monolights. Working with monolights means minimizing the number of cables I can fall over, so to make sure my shooting is safe and convenient I've been using the MySlave 60TX Digital Radio Slave from Booth Photographic (http://us.boothphoto.com). I met these guys at PMA and suggest you visit their website to see the breadth of unique lighting gear that's available.

What attracted me to the MySlave 60TX is its compact size. The shoe-mounted transmitter is much smaller than Canon's ST-E2 infrared unit and the receiver is just a little bigger. The unit has a range of up to 98 ft, which is more than enough for my studio and probably yours as well. It has six-channel capacity and operates at a radio frequency of 315MHz. While you can trigger the transmitter with a hot shoe, you can also connect a sync cord if that works for you. The receiver fits any 1/4" monolight connection, such as the bigger Flashpoint II's I've been using, but RadioShack sells an adapter if you want to use it on lights that use mini plugs. The kit costs $289 and additional receivers are $199 each.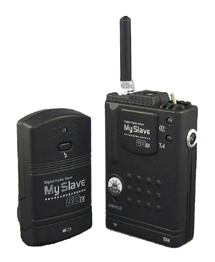 Tuff Cases For Tuff Photographers
Hardigg (www.stormcase.com) has created the kind of rolling gear case that The Terminator would use if he were a photographer. The iM2875 protects sensitive equipment from the kinds of conditions that would shred soft-sided bags. Measuring 22.5x21.1x11.4" (including a 2" lid) and constructed of Hardigg's virtually indestructible HPX resin, the case holds photography gear, laptops, monitors, printers, or projectors and helps them survive in any transport situation. Multilayered cubed foam holds contents firmly in place and padded dividers or custom-cut foam are available.

Like other Storm Cases, the iM2875 features press-and-pull latches that open easily when you want, yet hold under severe impact. The case's Vortex valve automatically adjusts air pressure without letting in water or dust and you can add the optional manual pressure relief valve, making the iM2875 airtight. For extra security, the case features two molded-in lock hasps.

In-line polyurethane wheels make it easy to roll the case and soft-grip handles make the case comfortable to carry. The iM2875 costs $285 with no foam, $339 with cubed foam, or $440 with padded dividers.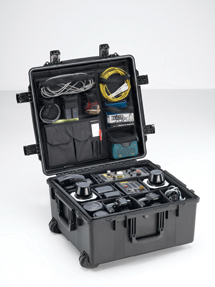 LATEST VIDEO

SPONSORED VIDEO
Testing Tamron's SP 150-60mm G2 lens while capturing birds and alligators in Apalachicola, Florida.