Great Kid Shots
When it comes to photographing kids, remember that they just want to have fun. As children have a short attention span, you'll get more-cooperative photo subjects if they're having a good time. Get involved with kids' activities: play games with them, read stories, or whatever they're doing so that they get used to your presence, and can be themselves around you.
When kids get together, you can get some great expressions from them. Keep your compact camera handy, so you won't miss anything.
Photo by Andrew Maestas

The right clothing and props can really make for a successful photo session.
Photo by Wendee Wingfield
You can also get great photos of kids when they're unaware that you're taking pictures, or used to your camera's presence. You can pose kids, but it's often better to have your point-and-shoot camera at your fingertips, ready to capture their naturally cute expressions, antics, and playfulness. If you keep your camera handy and use it often, a child is more likely to consider it a normal part of life.

Since children are small, you'll get best results when you move down to their level to photograph them. Get down on your knees or even lie on your stomach. This is the best way to get an idea of the world from their point of view, and your pictures will reflect a more natural-looking perspective.
If a child is doing an activity that he/she enjoys, you'll often have a cooperative photo subject.
Photo by Elizabeth Kislik
There are times, however, when you may want to show a child from a different view. For example, perhaps you'd like to show how small he/she is in an adult world. The best way to do this is to shoot from above, either from a standing position, or even by standing on a chair and shooting down on a child.

You'll also want to use your built-in zoom lens on a moderate telephoto setting (if it has one) to bring your young subjects in close. This will also also allow you to keep your distance while shooting candids of kids. If you don't have a zoom or telephoto lens, you'll need to move in close if you want a more-intimate view. As with adults, you'll get great results when you fill the frame with your subject. Concentrate on keeping the child the most important part of the picture. This will give you photos that really call attention to your subject.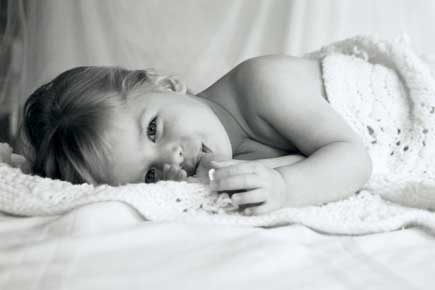 By getting on the child's level and filling the frame with your subject, you can capture some charming portraits (and fewer background distractions).
Photo by Tina Mayne

FEATURED VIDEO