Fujifilm X-E3 Mirrorless Camera Review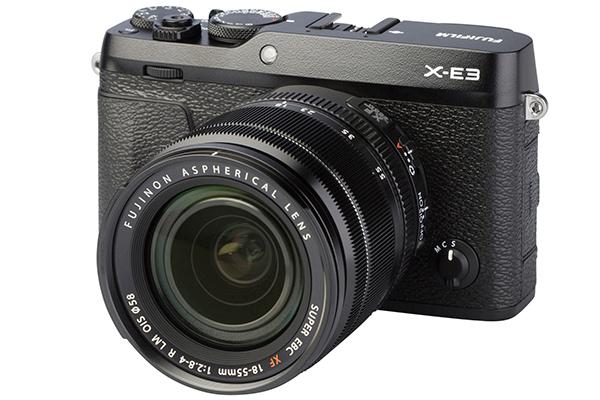 I was heartened to see the new Fujifilm X-E3 being promoted by the company as being "built from the essence of minimalism." In art and design, minimalism is paring down to bare essentials, a kind of "less is more and more is less" approach. In a modern digital camera it should mean a design and layout that might well appeal to those who, in ye olde film days, chose a manual interchangeable lens rangefinder over a multifunctional SLR.
The design philosophy of the Fujifilm X-E3 could well be characterized as minimalist: it's compact and lightweight (4.78x2.91x1.68 inches, 11.9 ounces) and the buttons and dials are small and efficient, getting you where you might want to go with ease; that is, after you sit down and explore the many options prior to taking it out for a shoot. You get an initial hint of this when you open the box and discover the 300+ page instruction book, with a 10-page table of contents, which means that you really do need to leaf through forward and aft to find out who does what to whom.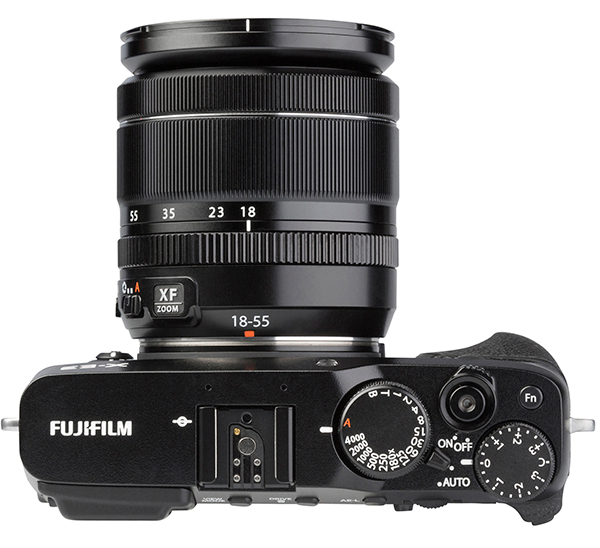 Design-wise, the Fujifilm X-E3 is a pleasure to hold and can be used as a "manual" for focus and exposure, when desired. Back in 2014 I tested the Fujifilm X-E2 and found it to be a great traveling companion, thus I was eager to work with this latest X-E model. Three years is an eon in camera technology, so comparatives will be dispensed with, although the "spirit" of the X-E series remains.
Specs
The Fujifilm X-E3 is available body only ($899) and in two kit versions: the XF 18-55mm f/2.8-4 OIS kit lens, which was supplied for this review, is $1,299; the XF 23mm f/2 kit lens is $1,149. The X-E3 holds a 24.3MP APS-C X-Trans CMOS III sensor that can record JPEG and RAF (Fujifilm Raw) stills and up to 4K (plus Full HD and HD) video, with Bluetooth and Wi-Fi smartphone connectivity to boot. It has a three-inch LCD and can handle up to an 8 frames per second (fps) shooting rate (14 fps with electronic shutter) with the ability to provide +/- 5 EV exposure compensation. The camera has no built-in flash but comes supplied with a small clip-on fill flash.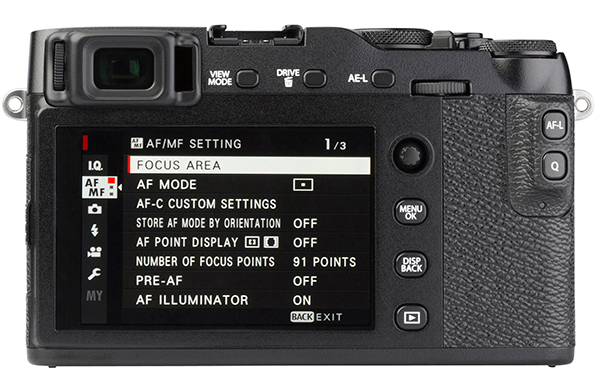 The Fujifilm X-E3's Live View monitor adds touchscreen controls (for playback, "touch shutter," and focus point selection) but unfortunately does not swing or tilt (fixed). Both the EVF (2,360K-dot OLED) and the monitor (1,040K-dot RGB) offer 100% coverage. Top (mechanical) shutter speed is 1/4000 second with Auto ISO setup available.
Handling
With an appealing retro look, the "feel" of the Fujifilm X-E3 is solid. It has a magnesium alloy build in the top and base plates and composite in the remainder, which certainly helps in terms of weight. Fujifilm advertises the controls as being decidedly "right-handed," which may put less than dexterous southpaws at a disadvantage. The EVF is far to the left, so "left-eyed" photographers will often find it difficult to simultaneously view and make settings.
There are eight function buttons and a small joystick on the back of the Fujifilm X-E3, the latter being situated next to the monitor. The function buttons can be reassigned and customized, while the joystick allows you to choose options as you cruise the menu.
A "full" and Quick menu on the Fujifilm X-E3 accesses the many options and controls: pushing in the "drive" button opens the Advanced Filters, a menu of effects. There are two knurled knobs on top and two command dials on the front and back, used for metering modes and more. There's an auto eye sensor that switches from EVF to monitor that can be programmed to swap views when you raise your eye to the EVF.
The Fujifilm X-E3's AF utilizes two systems, a TTL contrast-detection (with 325 focus points) and phase-detection combined with TTL contrast-detection (with 91 AF points). You can also shoot with manual focus, with enlarged view for precise focusing. When using "Advanced SR Auto" mode there are 15 "scene" and eight different picture "looks" which emulate various film looks (such as "Velvia" as well as monochrome and sepia), all these being for JPEG-only shooting.
One handling note: The Fujifilm X-E3's touchscreen LCD is highly sensitive, and I occasionally made an accidental exposure when making settings, and even once when the camera was set LCD down on the front seat of my car. This happened often enough that I decided to turn off touch shutter functionality.
Image Quality: Lab Tests
While I always assess image quality on my computer monitor after exposure, a report from Image Engineering, our TIPA-affiliated testing lab, gets us into the technical weeds. As to resolution at different ISO settings on the Fujifilm X-E3, they noted that up to ISO 400 the sensor delivers the theoretical maximum resolution; even at ISO 12,800 it utilizes up to 95%, a very impressive performance.
The lab did note some "smoothing" at higher ISOs for the Fujifilm X-E3, the result of anti-noise filtering, although visually there are very good details and little noise at the higher settings. The same goes for sharpening, with it being a bit more noticeable at higher ISOs, although less so in high rather than low-brightness scenes.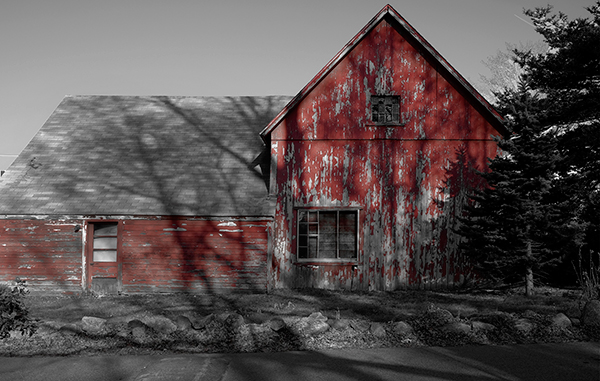 The Fujifilm X-E3's dynamic range results are also good: with 9.6 to 9.8 f/stops from the base ISO 200 sensitivity to ISO 400 and the high dynamic range is retained even at ISO 1600.
As to video quality (which I did not test in the field), at ISO 200 the resolution of 4K video is measured at 100% of the sensor's capabilities (1,078 line pairs from grabbed frames), which drops to only 95% at ISO 1600. There is a bit higher sharpening noted at all speeds, although video dynamic range maintains a good result throughout (8.7 f/stops at ISO 200; 8 f/stops at ISO 1600).
Finishing up with tech tests, Image Engineering found that the Fujifilm X-E3's start-up time is under 1 second; in continuous shooting mode the X-E3 delivered 13.6 fps JPEGs in a 39-shot burst and 13.6 fps Raw images in a 22-shot burst before it "slows down." AF speed was measured at 0.24 seconds in "normal" lighting conditions and 0.27 seconds in low light. Color rendition is very good throughout, with noticeable deviation only noted in bright reds.
Field Test
As noted, sitting down with the instruction book with camera in hand prior to setting out is a good idea, as making settings without doing so is less than intuitive. On my first foray, I used the main menu to set the Fujifilm X-E3 for center-weighted metering; "zone" focusing (a wider but not the widest AF area setting); and Auto ISO at ISO 1600 max and 1/60 second as the slowest shutter speed.
I then selected the Fujifilm X-E3's Aperture Priority exposure mode (auto mode selector switched from Auto to the unnamed dot); shutter speed dial to Auto; and aperture change via the lens by clicking a switch on the barrel to the "iris" symbol. I then selected daylight white balance via the Quick button menu activator and joystick; and single AF mode via the click switch on the body.
You get the picture: when I wanted to switch to another setup on the Fujifilm X-E3, I got out the instruction book and had another go with the next round of settings. You can assign function buttons using a nice menu guide display to customize (fix) your parameters.
All in all, I must admit that at first I yearned for an Av, Tv, M, P mode button, a metering pattern button, and a dial control ring for quick evocation of white balance, manual focus, etc. But like when working with any new camera, practice makes perfect, and after a few trips through the Fujifilm X-E3's setups and further reading, I was able to change setups with comparative ease and then explored the many clever image options.
I shot photos with the Fujifilm X-E3 in both full-size JPEGs and Fujifilm's RAF (Raw) using both Aperture Priority and Shutter Priority modes, worked with some effects found in the "Advanced" mode (a menu evoked by pushing the Drive button), and played a bit with the Film Simulation modes. The EVF was very good to work with in low light, as it seems to "pump" brightness into the finder, yet sometimes proved difficult in high-contrast conditions, as highlights seemed to suffer from too much gain.
The Fujifilm X-E3's LCD view was good except when glare from bright light washed it out, a situation not helped by the lack of tilting capability: this also limited the ability to make high- and low-angle shots, a compositional handicap.
Please see the accompanying images for more field notes.
Conclusion
My chief difficulty with the Fujifilm X-E3 occurred when first confronted with the voluminous instruction book which, while it certainly covers the bases, is must reading with camera in hand prior to heading out to the field. This will be especially the case if one is switching from a standard DSLR with its mode dials and multiplicity of buttons. The X-E3 marches to the beat of its own drummer. Yet, once you unravel the paths and try out the many options, you will find the camera a versatile and fun tool for making both "straight" and special effects images.
Images are sharp and crisp; there's a clarity and "snap" to color, contrast, and sharpness that does not verge into the "edginess" of some digital cameras. And there's restraint and sophistication in rendition in both bright- and low-light recordings. It is easy to override exposures when required, and as I worked I found the top dials and various paths to effects easy to operate and highly versatile.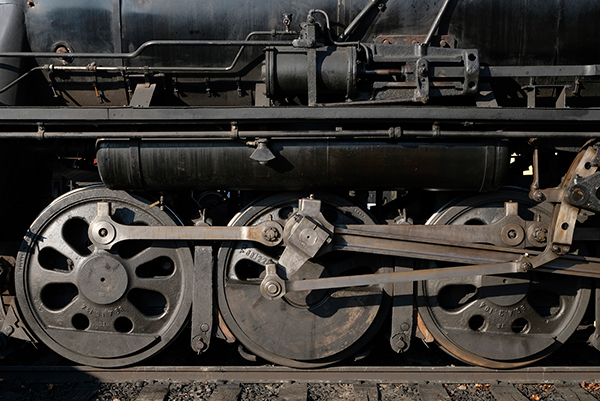 Focus was fast and accurate, as was being able to change aperture and shutter speed in Program Shift or when using either autoexposure priority modes. I use mainly center-weighted metering, and the fact that exposure and focus lock work with separate buttons (unlike some cameras where you have to "custom function" their separation) was a pleasure. My only real issue with the X-E3 was the lack of a tilting LCD, something I have become accustomed to for enhanced compositional versatility.
In short, in feel and functionality, the Fujifilm X-E3 is essentially a "photographer's camera," one that carries on the X-E series tradition of being a good traveling companion for both snaps and more "thoughtful" and nuanced image making.
Pros
+ Excellent resolution at even high ISO settings
+ Versatile and wide-ranging effects and modes
+ Lightweight and portable
+ Very good color and edge rendition
Cons
- Lack of tilting LCD monitor
- Touch shutter function is too sensitive
- Complex and at times difficult to follow instruction book