Fujifilm HS50EXR Camera Review
The Fujifilm HS50EXR is a bridge camera with an SLR-like design and a super zoom lens. The camera has very good workmanship/finishing; the body and the lens system are large and robust.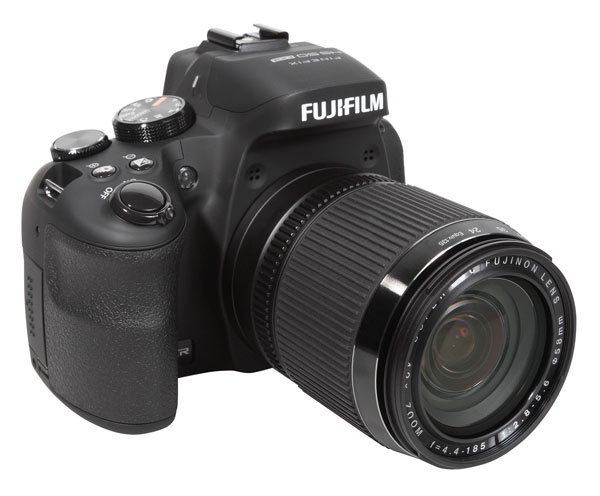 The integral lens offers a focal length range of 24 mm (35mm film equivalent) to an extreme tele range of 1000 mm, a 42x zoom factor. To help steady shots at such extremes the camera has an integrated optical image stabilizer system, which worked very well in our tests. We shot images with the 1000mm setting without noticeable motion blur, even when using shutter speeds as slow as 1/10 second (!). The stabilizer also worked well when shooting videos.
The HS50EXR makes manual focusing easy: The camera shows a marker for the maximum focus and a status bar that changes its size until it reaches optimum sharpness. In addition, the electronic viewfinder offers "focus peaking," which shows bright white contour lines on contrasty "edges" when those contrast lines are in focus.
The camera has a mode dial on top which offers standard exposure settings (P, S, A and M), a special EXR setting to enhance dynamic range, a customer-defined mode ("C") and two settings for scene modes. Both scene mode settings offer the same programs but the user is able to define different scene modes for each setting and toggle directly and very quickly between them by using the "SP1" or the "SP2" indicators.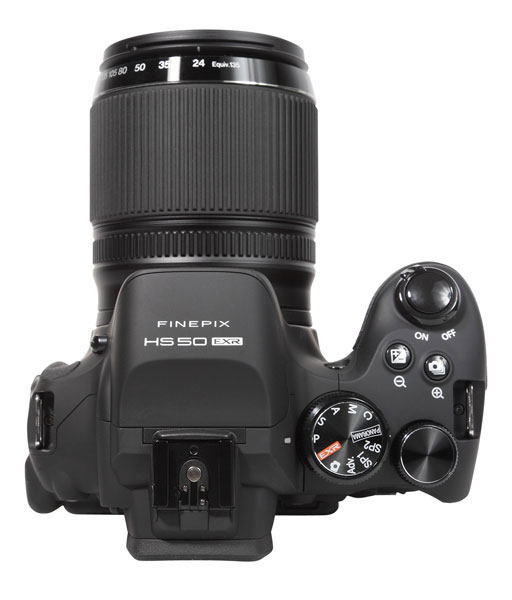 The camera offers a large setup dial on the top, easily reachable with the right hand thumb. Individual settings include power management, four image stabilization modes, customer settings for function buttons, and many more. With the help of this dial the photographer is able to change all image parameters very quickly and comfortably.
The swivel monitor is fully articulated and helps the user shoot photos from many angles and is especially useful for video. Just like the electronic viewfinder, it offers a high resolution of 920,000 RGB dots and displays a brilliant and sharp image.
Comments on Image Quality
Color: The camera showed a very good performance in our color tests. The automatic white balance system worked well but showed a slight shift of brighter nuances into more greenish areas. This is noticeable in the gray patterns in our result chart and the background of the portrait shot.
The Fujifilm HS50EXR reproduced skintones nearly perfectly, noticeable in the portrait shot. Some red nuances are clearly over-saturated and causes some differentiation problems in the red t-shirt in our model shot (and the red spool in our standard test box shot). Nevertheless, the overall saturation is on a good level, because the mean/average saturation of 105.5 percent is discreet and unobtrusive for a compact camera.
Sharpness: The resolution results of the HS50EXR are on an average level for bridge cameras. The new camera reproduced the ISO12233 chart with 2640 lines per picture height, which isn't really a record-breaking result for a camera with a sensor which offers a nominal resolution of 3456 lines in picture height. The JPEG images have a smooth look, but you will notice additional contours on hard contrast lines like the Siemens star in the test box shot and which are an indication of intense sharpness filtering by Fujifilm's image processor system. The over- and undershot effects (16.5 and 3.54 percent) are also indicate additional sharpness filtering.
The soft character of the images in combination with exaggerated elements (some contrast lines) are also visible in our standard test box shot. The portrait shot looks a little better and perhaps even benefits from this softer image character. As usual, we did all test shots in standard/default settings of the camera for contrast, sharpness etc.
The camera uses a hybrid auto focus system which combines phase detection (like an SLR system) and contrast detection, like all compact cameras. It worked very well and focusing is very fast (shutter release delay, including focusing, is only 0.18 second).
Noise: Even though the camera uses a large sensor (compared to other bridge or compact cameras) the results of the noise tests are disappointing. The luminance noise is very high; even at ISO 100 it's already 0.79 percent and crosses the 1.0 "border" at ISO 200. The high noise level requires an intense anti-noise filtering, which is one additional reason for the low resolution results. Anti-noise filtering artifacts are already visible in ISO 100 and ISO 200 images and are on an annoying level at ISO 3200. The intense filtering nearly destroys image details at this high ISO setting.
Pro
+ multi functional bridge camera with extreme zoom lens
+ large image sensor for a compact or bridge camera
+ handy lens rings for changing focal length and focusing in a very comfortable way (SLR-like handling)
+ nice colors, especially very nice rendering of skin tones
+ Full HD video recording; interface for external microphones
Con:
- large body (bigger than many new SLR systems)
- high speed serial shooting, but very small image buffer for only a few high speed images
Please click on the Imge Tech tab in the Navigation bar for other recent camera lab tests. Test results and comments by Betternet, Shutterbug's TIPA-affiliated testing lab. Edited by George Schaub.