Fujifilm Finepix X100 Camera Review
The Fujifilm Finepix X100 is designed like a classic viewfinder camera yet it offers state-of-the-art digital technology and some brand new and innovative systems. The Hybrid viewfinder, for example, is an example of a sophisticated enhancement of a classic concept. First of all, there's a very bright and large optical viewfinder onto which the camera will overlay exposure information (aperture, shutter speed) and a parallax marker. Instead of using an optical system to create these overlay elements, as done in classic viewfinders of analog cameras, it uses a high resolution LCD. This results in detailed information and a very crisp look.
In addition, the camera can switch to a completely digital viewfinder mode. The camera offers a lever on the front to switch between both viewfinder systems. It's a very handy and comfortable solution.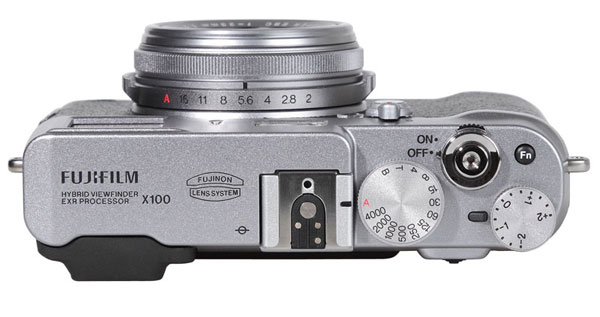 The body is made of magnesium alloy and is quite heavy. All dials and functional elements are very robust; indeed, the finish of the body and all elements are nearly perfect.
The X100 has a fixed focal length lens system (23 mm; equivalent to 35 mm on a 35 mm film camera) with a maximum aperture of f/2.0. It offers lens rings for focusing and aperture settings. The aperture ring is located directly at the body of the camera, which makes it a little bit difficult to set, but it has two additional handles, which allows for a comfortable setup.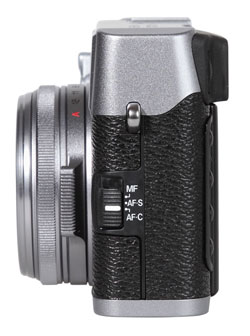 The automatic focusing system showed a very fast and reliable performance. (All test shots were done with the automatic focusing system.) The camera offers all standard exposure modes--P, S, A and M. It has no mode dial, but switching between exposure modes is very simple. If the aperture lens ring and shutter speed dial are set to Automatic, the camera will work in P mode and set aperture und shutter speed automatically. Changing the lens ring to a certain aperture setting will change the mode to A (aperture priority) and changing the shutter speed setting to a certain value while leaving the lens ring in its A-position will activate S, shutter priority mode. Changing both parameters allows the user to work in manual exposure mode.
Image Quality
Color:
The automatic white balance systems showed a tendency towards cooler color interpretations on the GretagMacbeth test chart. Nevertheless, the camera reproduced the white background of the model shot and the gray background of the standard test box shot in a very neutral way, although some testers noted a slight bluish character in the background.
Skin tones are nearly perfect in both JPEG and Raw format tests. The camera rendered vibrant reds, which nevertheless show a nice differentiation of darker and brighter nuances (see red spool in the standard shot and fabric of the model's red t-shirt).
Sharpness:
The combination of the premium lens system and the large APS-C-sensor created very sharp, crisp images with absolutely no chromatic aberrations. The X100 reproduced the test chart with 2,587 lines per picture height, which is a marvelous result for a camera with a nominal resolution of 2.848 lines per picture height. The images show a little overshoot effect (over sharpening on contrast lines due to electronic filtering) but it's a good and acceptable compromise between electronic sharpening effects and first sharpness impression for the beholder of the image.
Note: The testers noted that care should be taken with sharpening Raw images. In their tests converted with Adobe Lightroom 3.4, for instance, even low sharpness settings like 30/Pixel 1.2 /Details 25/Mask 0 created "jaggies" on some hairs of the model.
Noise:
The cameras showed very clean and smooth images even at higher ISO speed settings. The luminance noise stays way beyond 1.0 in images taken with ISO 200 to 1600 and declines from this 1.0-frontier only in images taken with ISO 6400. The "noise spectrum" is very smooth, and there are nearly no differences between R-, G- and B-channels visible in "pixel noise".
Tester Conclusions
Pro:
+ excellent combination of classic viewfinder and digital camera
+ very stylish (classic) design
+ very high image quality
+ very high dynamic range
Contra:
- LCD resolution lower than modern SLR screens (460,000 RGB dots instead of 921.000 pixels)
- high price
Test results by Betternet, in affiliation with Shutterbug via the TIPA membership connection.

FEATURED VIDEO