Fast & Furious: Canon Intros Speedy, 4K-Shooting 20.2MP, Full Frame EOS-1D X Mark II Pro DSLR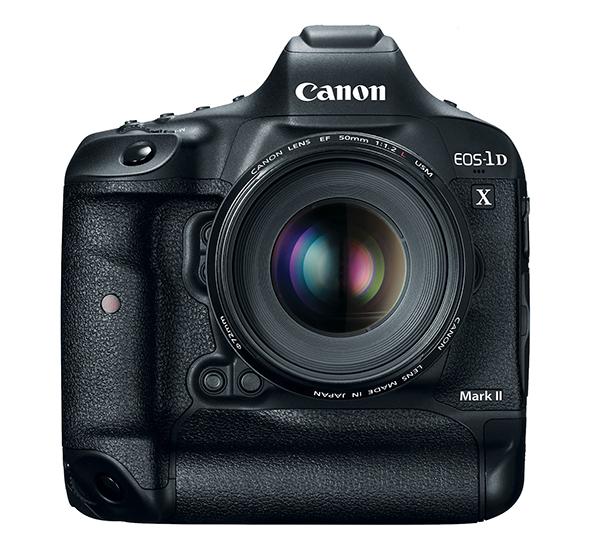 Canon unleashed its newest flagship pro DSLR tonight: the long awaited 20.2-megapxiel Canon EOS-1D X Mark II. While this new flagship DSLR looks very similar to its predecessor, the Canon EOS-1D X from 2011, the Mark II has a number of upgrades from that camera, which is still popular with pro photographers.
The Canon EOS-1D X II uses a new 20.2MP, 35mm-sized full frame CMOS image sensor and is powered by Dual DIGIC 6+ image processors. (The previous model had 18MP of resolution and used dual Digic 5+ image processors.) The speedy Canon 1D X II can shoot bursts of images at 14 frames per second with auto exposure (AE) and predictive autofocus (AF) through the viewfinder, and 16fps with the mirror locked. (Previous model offered 12fps and 14fps.)
"It's the fastest EOS camera ever," Canon USA spokesperson Chuck Westwall said in a press conference call prior to tonight's launch. "It's really going to sing for a lot of sports photography applications."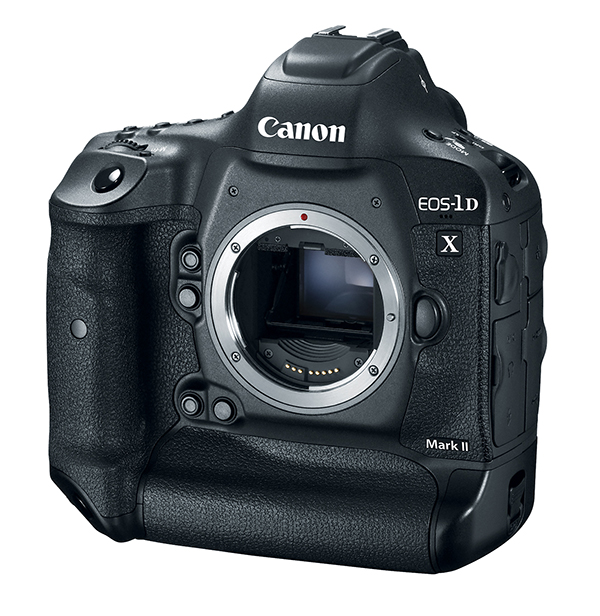 Thanks to the more powerful processors, the Canon 1D X II can also shoot at up to ISO 409,600, whereas the previous DSLR capped off at ISO 204,800. "The extra processing power adds a lot of capability to this camera," Westfall said.
And, as with many serious DSLRs these days, the Canon 1D X II can shoot 4K video at 60p along with full HD at up to 120p for slow motion video capture with Canon's proprietary Dual Pixel CMOS AF technology.
"This is going to be an extremely high performing camera for both still and video capture," Westfall noted.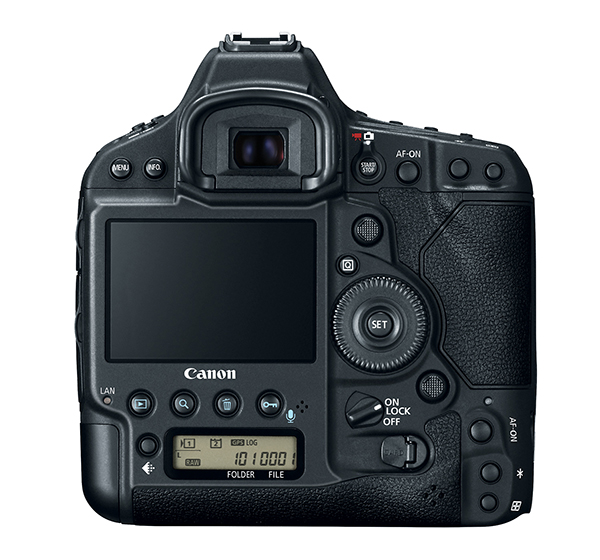 Here's a rundown of some of the key specs on the new Canon 1D X Mark II, which goes on sale in April 2016 for $5999 (body only).
• Newly developed 20.2 megapixel 35mm full frame CMOS sensor from Canon.
• Continuous shooting speeds of up-to-14 frames fps with AE and predictive AF for viewfinder shooting and up to 16 fps in Live View mode.
• Dual Digic 6+ image processors that transfer image data at extremely high speed for extended bursts during continuous shooting: up-to-170 consecutive Raw images at 14 fps. When shooting JPEG images you're only limited by memory card capacity.
• Capable of shooting 4K 60P and Full HD 120P video with Dual Pixel CMOS AF.
• Built-in headphone jack with full control over audio levels.
• Enhanced wireless functionality (with the optional accessory Wireless File Transmitter WFT-E8) that supports the new high-speed IEEE 802.11ac standard and the ability to transfer photos and videos to compatible smartphones using Canon's Camera Connect app.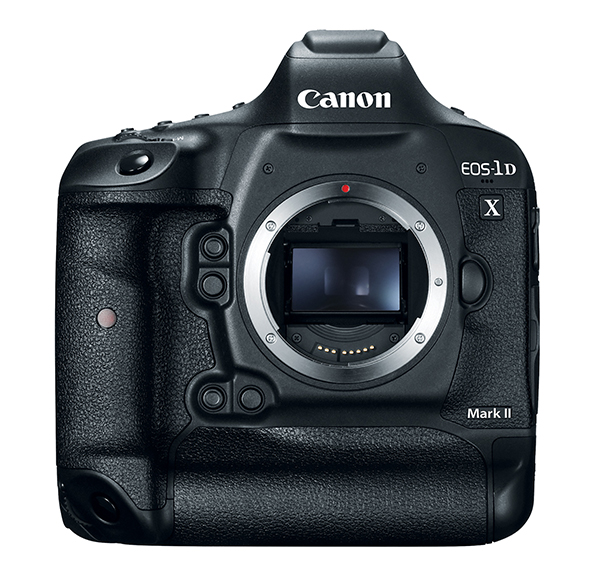 • Digital Lens Optimizer to help correct aberrations in-camera (a feature that previously required post-processing on an external computer).
• Improved 61-point viewfinder AF with expanded coverage and all AF-points selectable and supported to a maximum aperture of f/8.
• Improved AI Servo III+ predictive AF algorithm for better accuracy.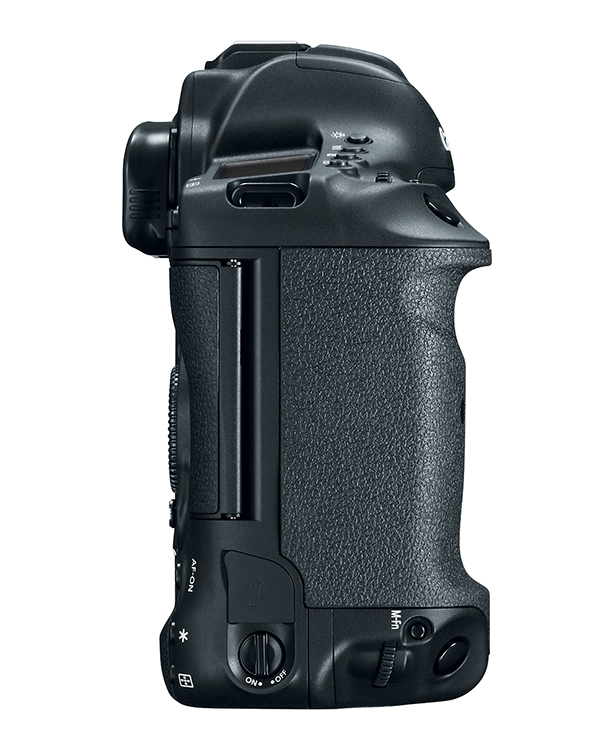 • Continuous red illumination of all AF points within the camera's Intelligent Viewfinder II.
• Durable body with magnesium alloy shell and magnesium alloy chassis and mirror box inside. Extremely rigid build including a 400,000-cycle shutter.
• Most weather sealing of any EOS camera yet with over 70 gaskets and seals.
• Built-in GPS receiver with compass for precise geo-tagged information of latitude, longitude, elevation and direction.
• Dual card slots for both CompactFlash (CF) and super fast (though less common and more expensive) CFast memory cards.
• Canon will also sell a "Premium Kit" version of the 1D X II for $6299. It includes a 64GB CFast memory card and card reader.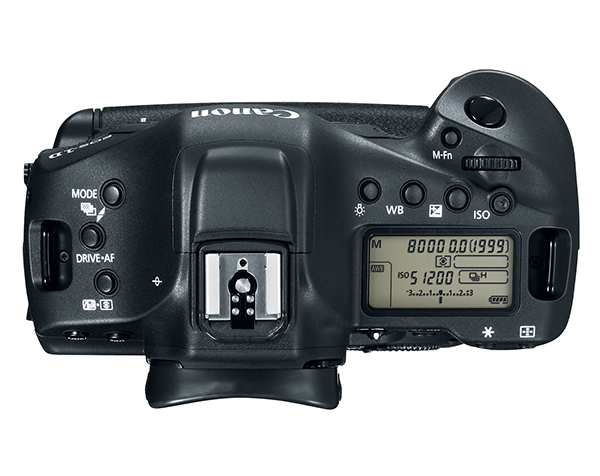 Those are the highlights of the Canon 1D X II but we learned a few more details about the camera in our interview with Westfall. For one, he noted that the maximum 4K recording time for the camera will likely be 29 minutes, 59 seconds as on other 4K-shooting DSLRs from Canon.
We also got more detailed breakdown of the 1D X Mark's II's buffer when shooting with either CFast or CF cards. (It should make sports photographers and photojournalists very happy.) Here it is, according to Canon USA:
Canon 1D X Mark II maximum burst numbers:
Compact Flash (CF) card, UDMA7 standard
• Large JPEG: Infinite (to card full)
• Raw: 73 images
• Raw +Large JPEG: 54 images

CFAST 2.0 card
Large JPEG: Infinite (to card full)
Raw: 170
Raw +Large JPEG: 81
One of the most surprisingly thing about the new Canon EOS-1D X Mark II though might be its quick scheduled delivery date compared to its predecessor. While the Canon 1D X was announced in October 2011, it didn't start shipping until June 2012.
Canon says things will be different with the Mark II, which is slated to go on sale in April 2016.
"The goal is to get the camera in the hands of photographers who will be covering the Summer Olympics in Rio so they're comfortable with it before they go down there," Westfall said.