Face Value; What Better Setting For Quiet Portraits Than A Chaotic Festival?
I'd been to the annual Pushkar Fair in Rajasthan, India, before, so I knew what to expect when I visited the event last November: thousands of people, camel trading and camel races, circuses, markets, bathing in the nearby sacred lake, and a week's worth of festival atmosphere. But I didn't go to capture the chaos and excitement, the color and activity. Rather, I visited the fair to make street portraits of the people.

Because of my involvement in a stock agency to take and market pictures in India I could time my visit to the country to coincide with the Pushkar festival, but my time at the fair was more for fun and adventure than business. I'm not saying I won't be happy to sell some of the photos I made there for stock, but my reason for going was to experience the excitement of photographing in the midst of all that activity. Maybe it was also a little bit of a desire to clear out the cobwebs of assignments and stock fulfillment and get back to being the travel photographer I was before the days of large productions and big business.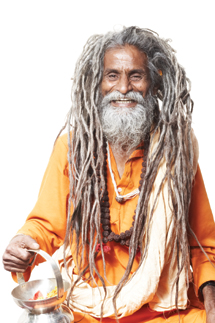 All Photos © 2006, Jack Hollingsworth, All Rights Reserved

Unlike my recent work in India and China, I wasn't going to be photographing professional models or people I'd hired to pose for me. This was a return to street photography. But not quite pure street photography. I had with me my partner in the India stock enterprise, and I took advantage of his ability to speak Hindi. A few assistants were on hand, too. But there were no models, no schedules, no plans. I wanted to wade into the activity and see what was offered in terms of subjects and locations.

I worked from both sides of the equation: "That person looks cool, let's see if we can find a place to photograph him" alternated with "That's a great spot, let's wait and see who comes along." Sometimes I even took notes on locations that offered great graphics: "Come back to yellow gate" or "Remember blue archway."
And I had one little trick up my sleeve. In the event there was no photogenic location or background, I'd brought along my own: a little pop-up, white silk tent "studio." Folded down, it can be carried in one hand, and then, in an instant, I can create a little available light studio on the spot. And if available light wasn't available, I brought along an Elinchrom Ranger system: battery pack, RX flash head, and octagon-shaped softbox. My EOS-1Ds Mark II and two portrait lenses--the 85mm f/1.8 and 135mm f/2--and a Polaroid camera so I could give each subject some souvenir photographs, rounded out the gear.

If my idea reminds you of Richard Avedon's "American West" portraits of the late 1970s and early '80s, you're exactly right. I don't think I consciously imitated him, but as I was photographing at the festival I clearly remembered that Avedon had roamed around the Western states looking for faces that interested him, posing people in front of stark white backgrounds.

FEATURED VIDEO