Epson Stylus Pro 3800
Well, it seems Epson heard this, and while the 4800 is still available (list: $1995) the new Epson Stylus Pro 3800 (list: $1295) should appeal to those who might not need the roll paper attachment or greater ink capacity cartridges of the 4800. The 3800, it strikes me, is intended for those who want 17" wide printer that is more tabletop friendly both in terms of the space it takes up and its considerably lighter weight. It handles all manner of cut sheet paper, however, in both a high-capacity feeder and, for thicker stock, in pass-through, single cut-sheet fashion. And while not lightweight, this 17" unit comes in at about 43 lbs, considerably better than the 83+ lbs of the 4800.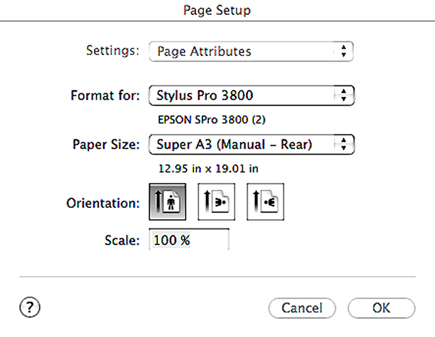 When setting up prints on the 3800 be sure to choose both the size and the feed source of the printer. Here. Super A3 (13 x 19") paper and rear manual feed has been chosen, the workflow required for the Epson Velvet Fine Art paper. You can stack up to 20 "regular" photo media in a second back feed slot.
The nine inks come in 80 ml carts (the 4800 featured 110 ml carts) with the colors being cyan, light cyan, magenta and light magenta, yellow, light black, light-light black plus photo black and matte black. It being swappable in terms of the photo and matte black, the unit uses 8 inks at a time. This saves on ink during the swap, although some is expended during the process, depending on which way you travel. According to Epson, you lose 4.5 ml during the matte to photo black swap and a mere 1.5 ml when you go from photo to matte black. The best way to avoid this type of ink loss is to simply set up your printer for matte or glossy print runs and not jump back and forth between the two. That's how I worked with the 4800 as well, which ate up a bit more ink on the swaps. The changeover is now a simple menu item on the LED, and not a pull cart in and out dance as it is on the 4800.
I have come to rely on the Epson Advanced Black and White Mode for getting a full range of nuanced tones in my black and white inkjet prints. It's like having a stock of paper/developer combinations from the "old days" at my fingertips. Here's I've selected a warm tone for the Epson Velvet Fine Art paper, which to me has the old Agfa Portriga look.
The Pro 3800 can handle prints as small as 4x6", though that size seems dwarfed by the printer and somewhat odd to run on this machine. It can also handle up to 1.5mm thick media. There is no bulk feed tray or roll paper accessory on this unit, or available. You feed through one of three portals--a top loader that Epson says can hold up to 20 sheets of standard photo media (more if you want to use it for text printing on bond paper, but why would you do that?), another single sheet top loader for what they deem "thick" fine art paper and a front load for poster board type media up to 1.5mm thick. This printer might just open up printing on supports that you had not previously considered, which might make it interesting for all the art school multi-media types out there. It should be noted that when using the front manual feeder for thick media, size is limited to 16x20".

The UltraChrome K3 inks allow you to print with a good deal of confidence that whatever you print today will be viable quite far into the future. For the up-to-date ratings check out www.wilhelm-research.com. Predicted lifespan of inkjet prints is of course dependent on many factors aside from the media and ink itself and it's almost bizarre in how it can vary depending on the paper you use. For example, according to Epson, printing with color on their Enhanced Matte yields a predicted span of 110 years, yet in black and white on their UltraSmooth Fine Art you get over 300 years(!)
Once you have chosen Advanced Black and White in the Printer Settings click on the Printer Color Management tab and nuance the image tones and color even further with this dialog box. In response to queries about making this preview "live" the folks at Epson tell us that they are working with Adobe to make it happen. We cannot report when or even if this will occur, but it would sure help. But after taking the leap of faith numerous times you'll get the hang of it.
Setting up the printer is an easy task. After loading the driver, etc. into my Mac Book Pro and adding the printer in usual fashion I loaded the ink carts into the front of the printer, shake and slide in fashion. The printer took a bit of time to get itself primed, but then gave me the all systems go green light. The first mode to show up was Photo Black but I wanted to work with Epson's Velvet Fine Art paper, so using the menu LED I selected Maintenance and then swapped out to the matte black. It took a few seconds and I was in business.

This being our b&w issue, and b&w being one of my main interests in inkjet printing, I opened a few images in Adobe Photoshop and chose Epson's Advanced Black and White mode for my printer settings. I tried some in "neutral" and then warm and cool settings. The printer hummed along quietly for a surprisingly short period of time in the 1440 dpi setting and out popped some of the best looking b&w prints of these shots I've ever printed. A Super A3 (13 x 19") print in warm black and white mode took about 3 minutes from when the paper first was grabbed by the printer. Connection was via USB 2, which makes for a fast data exchange.
The Epson 3800 produces some of the finest black and white prints I have ever achieved on an inkjet printer, all with a speed and ease of working that quite amazed me. This photo, originally made with a Canon 30D, was made on 13 x 19" Epson Velvet Fine Art paper using Advanced Black and White mode/ warm tone.
All Photos © 2006, George Schaub, All Rights Reserved
There are a couple of matters to look out for, mainly operational things that once overcome are not a problem. When making the setup page be sure to pick both the type of paper you are using and the place from which you are feeding the printer. If you fail to do that you may not get the paper settings right and the printer will tell you that something is wrong and simply not print. You may at that point have to reload the paper even if you cancel the print job. A signal that this is happening is that the paper you want to choose is dulled out in the profile box. In other words, the feed and paper type is an important part of the Page Setup process.

If you are feeding the paper from the back note that there are two slot feeders, one for "regular" paper and one for the thicker art papers. Be sure to pick the right one. There are some warning signs there that make it fairly clear. In addition, be sure that the front loader slot is shut when you use the back feeders, as the printer doesn't like two open feeders at once. It might take you a second to figure out how to do that but all you need do is put your hand under the front cover and move the front slot up and out of the way. It moves naturally enough once you find where it is. In addition, there seems to be some finicky loading of thicker paper that once mastered will not be a bother in the future. It takes a certain touch that I got after about three sheets. In all, be sure to load the Help and Epson LFP Remote Panel from the supplied CD, as they will be an invaluable in getting you through moments when the printer simply will not make a print. It's usually something procedural that needs to be followed to get the flow through right. In other words--sorry--read the Instructions!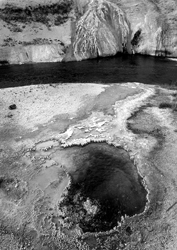 I find that my choice in general when using the Advanced Black and White mode is "Neutral", which I used for this print made with a Canon 30D in Yellowstone National Park. The image on the screen and the print matched exactly, with virtually no special calibration required for the printer/paper combo.
Would I trade in a 4800 for a 3800, or buy the 3800 instead? Having worked with both extensively it's a hard call. On the one hand the 3800 certainly takes up less real estate and does as good as or in some cases a better job at printing in terms of speed and efficiency. On the other hand the 4800 does have the roll paper feed, a print tray for more sheets than the back, vertical feed 3800 and greater ink capacity, which means less changing of carts. However, as mentioned, with the 4800 you do have to swap carts when going from photo to matte black, a decided pain in the neck. But there are workarounds for that, such as batching jobs for one type of black ink or another.
While I think the Epson "Cool" setting sometimes goes a bit blue, I often choose it for an optional look to prints. This print was made from a scanned medium format negative.
I'd say that the 4800 is a workhorse for the studio, print shop or photo group looking for a high capacity, well put together pigment ink printer, while the 3800 is prime for the fine art or enthusiast printer who wants 17" capability in a reasonably sized printer that does a great job right out of the box. Although $1295 isn't inexpensive, it is certainly a very good price for a 17" pigment printer of this quality. Those who are committed to making very long-lasting and vibrant prints for themselves, or their clients, will find it a good investment. Indeed, it is now my black and white printer of choice.

www.epson.com

FEATURED VIDEO