A Digital View Of PMA '09; An Overview Of Hardware And Software Page 2
Digital Infrared Conversions
When Mary asked me about converting one of her Olympus D-SLRs to digital infrared capture I checked with all the usual suspects and was told, "nope," "too complex," and my personal favorite reason, "did one and won't do another." At PMA 2009 in the back of the second floor there were two different sources that said, "No problem." CropLines (www.croplines.com) is a company that was originally recommended by a reader and I got to speak with them at the show and found they will convert Olympus and many other camera brands' cameras for infrared capture. In addition to IR conversions, they can also add custom crop marks directly to your camera's focus screen so you can shoot perfectly cropped photos every time! If your camera shoots 3:2 and you need to make images with an aspect ratio of 4:3, they are the folks to see to eliminate cropping problems in camera.
Precision Camera (www.precisioncamera.com) has been in the camera repair business since '48 and has been providing repair services to a wide variety of customers, ranging from national retailers to individual consumers. They told me that they had all of the Olympus-specific tools to convert the company's SLRs and are experienced with all of the other major camera brands as well. Unlike other companies that I've used for IR conversions, Precision Camera requests that you send the camera body with a favorite lens so they can optimize focus for infrared capture. Visit both companies' websites for details and send them an e-mail to request a quote for converting your specific camera.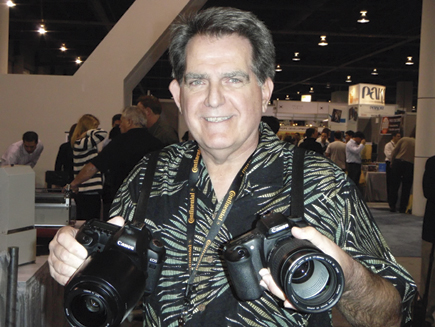 © 2009, Mary Farace, All Rights Reserved
Two-Fisted Camera Strap
I never liked to hang two cameras around my neck during a shoot because something always seems to go awry. The cameras always ended up banging into one another and in one infamous incident I set one SLR down on a table while I was photographing a beautiful model on a movie set and later bumped backward into that same piece of furniture only to be greeted by the sound of crashing, busted metal and broken glass that accompanied the destruction of my favorite EF 135mm f/2.8 SF lens. (The camera was OK, though.) Who needs this hassle? CameraSlingers (www.cameraslingers.com) has the perfect ergonomic solution for two camera shooters and offers a unique camera strap that hangs two SLRs around your shoulders and whoseclever design protects both you and your gear. If you like to work with two cameras at the same time, you need a CameraSlinger.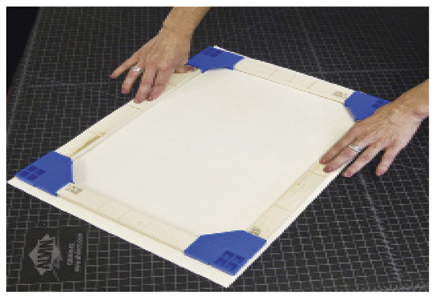 Photo Paper & More
One of the hottest products in the framing world right now is "wraps," frameless photographs that are wrapped around the edges of a wooden stretcher. Hahnemühle's (www.hahnemuehle.com) Gallerie Wrap system looks like the easy way to make them yourself without requiring special tools and, as far as I could see, with only basic framing expertise. There's a Standard and a Pro version; each version is offered in varying lengths so that you can tailor the sizes to suit your photo framing needs. The Standard version is offered in 8, 10, 11, 12, 14, 16, 18, 20, and 24" lengths and the Pro version is available in 20, 24, 30, 32, 36, 40, 48, and 60" lengths.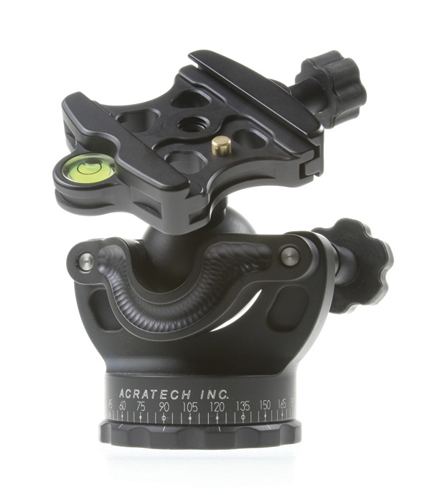 New Spin On Ball Heads
Acratech's (www.acratech.net) new GV2 Ballhead has all of the features of its original Ultimate Ballhead along with the range of motion similar to a conventional ball head. It uses an oilless and greaseless ball so it won't attract or hold dirt and debris. Acratech has added an adjustable tension knob, which is used to pre-tension the ball for the desired amount of friction. The feature that sets the GV2 apart from all other ball heads is that it can be used with lenses up to 400mm f/4.0 as a Gimbal head. This beautifully machined and produced product weighs less than 1 lb, including the quick-release clamp, which is compatible with Kirk, RRS, ARCA-SWISS, and other ARCA-SWISS-style quick releases. The GV2 is made in the U.S.A. and fits all standard tripods (1⁄4-20 and 3⁄8-16 threads).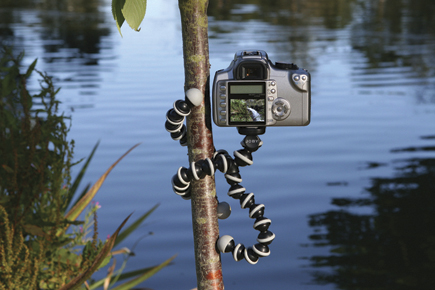 Mini Tripods With A Difference
The original Gorillapod (www.joby.com) is the lightest and most versatile camera tripod available. It features more than two dozen flexible leg joints that bend and rotate and firmly secure your digital camera. It's the only tabletop tripod malleable enough to provide you with the perfect shot while wrapped around a tree branch, hanging from a pole, or perched on a jagged rock. The flexible joints bend and rotate 360? and the new models use stronger neck segments that support more weight than previous versions. A lock ring enables extra security to ensure your camera is safely attached. Rubberized ring and foot grips provide extra gripping power to grapple wherever you want to go. Accept no substitutes. There are lots of knockoffs out there so only purchase the real deal.
Wireless Memory Card
Lexar's (www.lexar.com) Shoot-n-Sync Wi-Fi Memory Card is compatible with SD-compatible digital cameras and captures and stores digital photos in a camera just like a standard memory card but adds the convenience of wireless upload from camera to computer and on to the Internet. As an Eye-Fi connected product, the Lexar Shoot-n-Sync Wi-Fi 2GB memory card features Eye-Fi technology and connects to Eye-Fi's web service to wirelessly and automatically upload photos from a digital camera to the web. After installing the Mac OS and Windows-compatible Eye-Fi Manager software on your computer, the Shoot-n-Sync card is ready to wirelessly download copies of any photos stored on it automatically to your computer as soon as it comes within range of your home computer's wireless network. Without removing the card from the camera, you can back up photos to a computer or transfer them to photo-sharing, social-networking, or blogging sites. After the digital image files are sent, all you have to do is approve the transfers and they can be shared instantly with the world.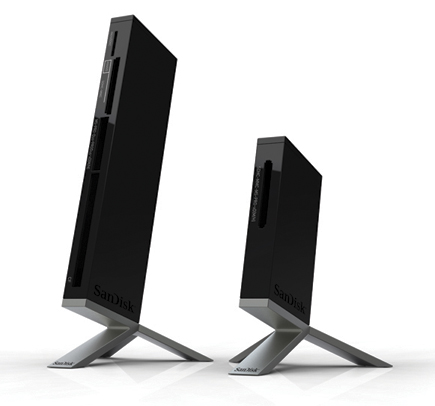 Slick & Slim Card Readers
SanDisk's (www.sandisk.com) new ImageMate All-in-One card reader can reach speeds of up to 34MB per second (MB/s) when using a SanDisk Extreme IV CompactFlash card and the ImageMate Multi-Card reader is capable of hitting up to 30MB/s read and 27MB/s write data transfer rates when using a SanDisk Extreme III 30MB/s Edition SDHC card. Sporting a stylish glossy black and metallic silver design, each reader's tripod base is detachable, making it instantly portable. The new ImageMate readers include a transfer button that automatically opens an application such as Photoshop or your Flickr account. The $32.99 ImageMate All-in-One reader supports SD, SDHC, miniSDHC, microSDHC, MMC, Memory Stick, Memory Stick PRO Duo, xD, and CompactFlash, plus other formats. The $21.99 ImageMate Multi-Card reader easily transfers files to and from multiple memory card formats, including xD, Memory Stick, SD, SDHC, and MMC. I've been using an All-in-One reader with my Mac Pro since PMA and love its styling, ability to read all current formats, and speed.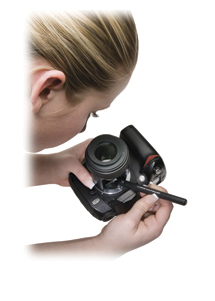 A Clean Sensor Is A Happy Sensor
In this day of self-cleaning imaging D-SLRs does anybody really need to clean their sensors? All of the D-SLRs that I've tested with self-cleaning sensors do a great job and it is rare that any specks rear their dusty heads but it happens, especially when working in windy conditions. (That's almost every day here in Brighton.) There's also the reality that there are a lot of older D-SLRs that lack this self-cleaning feature. Heck, only one of my cameras has it, so people who are tired of dust spotting need LensPen's (www.lenspen.com) SensorKlear Loupe that I saw demonstrated at PMA. Most importantly, unlike other sensor cleaning solutions, SensorKlear's illuminated 6x loupe lets you see what you're cleaning and then lets you clean it without having to remove the loupe from the camera. Two bright LEDs provide for clear viewing and LensPen includes the three 1.5v batteries that power them. A slot in the side of the loupe allows you to insert a SensorKlear II cleaning pen for safe, effective results even if, like me, you're timid about sensor cleaning. The whole megillah costs less than $80, which is less than a professional cleaning, and there's no lost time in shipping the camera and waiting.

Future PMA Shows
Instead of coming back to Vegas in 2013, I would like to humbly suggest that PMA move that year's event to New Orleans, the site of their '98 show. Let's face it, Las Vegas doesn't care if the photo industry has its convention in its city or not but New Orleans needs all of our help, will appreciate us much, much more, and will host a better and more memorable event than Vegas. It's something to think about. How about it PMA?

LATEST VIDEO

SPONSORED VIDEO
Testing Tamron's SP 150-60mm G2 lens while capturing birds and alligators in Apalachicola, Florida.