A Digital View Of PMA '09; An Overview Of Hardware And Software
"I'm not dumb. I just have a command of thoroughly useless information."—Bill Watterson
The first PMA show I attended in 1982 was also held in Las Vegas. A lot has changed since then, but photography has clearly changed the most. Here are some of the highlights for digital photographers I saw at this year's edition:
The D-SLR announcements were few but I did get to hold a working prototype—don't call it preproduction—Leica S2 and if the company's commitments to delivery ("this summer") and pricing (an un-Leica "competitive") are correct, it will be a formidable and game-changing D-SLR. The 37.5-megapixel S2 feels as large as a Canon EOS-1D Mark III but is more lithe and Porsche-like in its styling and ergonomics. It has slots for CompactFlash and SD cards and will shoot raw files using Adobe's DNG format.
© 2009, Joe Farace, All Rights Reserved
© 2009, Mary Farace, All Rights Reserved
Olympus announced the E-620, a smaller sibling to its E-30 D-SLR that I reviewed in the April 2009 issue of Shutterbug. Olympus claims this 12.3-megapixel camera is the world's smallest D-SLR with in-body Image Stabilization but that's only half of the story. The E-620 offers the same built-in Art Filters and multiple exposure features found in the more expensive E-30 and includes wireless flash capability, too. With a body only price of $699.99 or $799.99 with the Zuiko Digital ED 14-42mm f/3.5-5.6 lens, it's going to be popular.

Panasonic's Lumix DMC-GH1 is a soon-to-launch ILDC camera that features the ability to record High Definition (HD) video clips. The Lumix DMC-GH1 comes with a newly developed G Vario HD 14-140mm f/4.0-5.8 Optical Image Stabilized interchangeable lens specifically designed to support HD movie recording and features a silent motor and continuous autofocusing capability; two features which differentiate the Lumix DMC-GH1 from D-SLRs that offer HD video recording capabilities.

Finally, Samsung announced a proposed series of ILDC cameras called NX that they prefer to call a hybrid but only time will tell if that moniker will stick. It utilizes an APS-C-sized image sensor but does not feature a mirror box while decreasing the distance between the lens and image sensor by approximately 60 percent compared to traditional SLRs. It uses the now ubiquitous electronic viewfinder and has Live View functionality. I will be amazed if it lacks video capture. Will the lens be a K-mount, Four Thirds, or (oh no, Mr. Bill!) proprietary? Samsung's not talking and neither were any of the teddy bears I interviewed at the booth.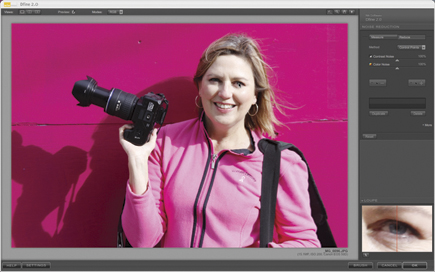 © 2009, Joe Farace, All Rights Reserved
Stop The Noise
Nik Software's (www.niksoftware.com) Dfine 2.0, a Photoshop-compatible plug-in, was inadvertently omitted from my story on noise reduction software in the March 2009 issue. In addition to an improved user interface, the newly updated Dfine 2.0 provides control over how much and where to apply noise reduction, making it easy to eliminate noise in your photographs while maintaining detail and sharpness. The software performs automatic camera profiling so you won't have to purchase profiles and fine-tune the plug-in's noise reduction engine to produce the best results for your specific camera. Nik's insanely cool U Point-powered Control Points let you reduce noise only where it's needed, maintaining details everywhere else.

You can download a 15-day free trial version and test it with your own photographs. In other Nik news, at PMA the company announced Lightroom 2 support for its Viveza plug-in and will be rolling out Lightroom compatibility to all of their other products in the near future. The update is free to current Viveza owners.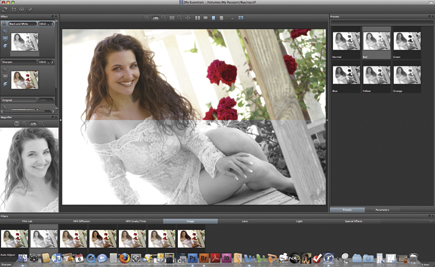 © 2009, Joe Farace, All Rights Reserved
Digital Filters That Are Real Filters
If there's one company that personifies the word "filters" it's Tiffen (www.tiffen.com). Their new Dfx Essentials software for Mac OS and Windows users costs $59.95, and is a selective version of Tiffen's professional Dfx Creative Digital Effects software. Dfx Essentials is a stand-alone program that features 37 filters and effects along with hundreds of built-in presets and the ability to create and save custom versions to repeat a favorite look. Dfx Essentials offers the ability to create multiple filter and effect layers, color, clone and redeye removal tools, all with nondestructive crop, rotate, and scaling. It includes an easy-to-follow video tutorial to make the process painless for new digital filter users. An intuitive interface with thumbnail previews lets you evaluate an effect before applying it to any photograph. Dfx Essentials is compatible with a wide range of image file types, including raw, and the enhanced photographs can be output in either TIFF or JPEG formats. If you need more filters, Dfx Essentials owners can upgrade to Tiffen's more comprehensive Dfx Digital Effects Stand-alone version.
A Classic Bag Gets Better
I bought the first camera bag Jim Domke designed for my first visit to photokina in '78. Over the years these bags have retained their classic styling and simple rugged construction, making them favorites of many photographers, myself included. Domke, a division of The Tiffen Company, introduced its new Limited Edition Waxwear line that includes the F-2 Shooter's Bag, F-803 Satchel, and F-5XZ Large Shoulder Bag. The Waxwear bags feature high-quality, tough cotton canvas that's treated with special environmentally-friendly waxes, making them resistant to inclement weather. The special formula allows the fabric to breathe while the waxes produce a unique distressed patina. Refinishing oil is included so the bags can be maintained to their original finish. Domke bags are rugged, roomy, lightweight, and have a well-padded interior to protect lenses and LCD screens from scratches. Interior and exterior pockets offer additional storage for accessories. The flap and oversized YKK zipper provide quick and easy access while tough steel hardware secures the shoulder strap. Two high-friction rubber tracks are woven into the thick cotton-webbing strap so it clings to your shoulder.
Travel Photo Storage
Argraph's (www.argraph.com) compact (5.6 oz) MemoryKick MediaCenter lets you see, share, and store image files directly from your digital camera, camcorder, MP3 player, USB flash drive, or external hard drive. Its built-in multi-card reader accepts SD/SDHC, CompactFlash, MMC, xD, MS, and other card types with an adapter. Yes, it supports High-Capacity cards. The built-in hard drive is available in 30GB, 60GB, and 120GB capacities. In addition to copying to the MemoryKick, you can copy files to other memory cards so images can be shared with friends, family, or even clients. The screen, while small compared to some, is part of the unit's overall compact design, making the entire package 1⁄3 the size and weight of an Epson Multimedia Photo Viewer. The intuitive software lets you organize photo, music, or other media files into libraries and albums that can be accessed from the home screen. You can create slide shows and music playlists for playback and the MemoryKick has an A/V out (connecting cable is optional) feature for listening to music or watching photo slide shows on your TV or LCD screen. The unit is NTSC and PAL compatible.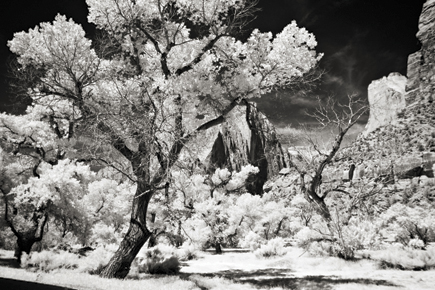 © 2006, Joe Farace, All Rights Reserved

LATEST VIDEO

SPONSORED VIDEO