Digital SLRs
Gang Of Four Thirds
Almost four years ago, Olympus announced its Four Thirds system at a press conference that was greeted, to be polite, with mild apathy. At a packed press conference at this year's PMA, Olympus proved me wrong by announcing a Four Thirds system alliance supported by products from Panasonic, Sigma, and Leica.

Their spotlight product is the EVOLT E-330, which allows live viewing of the image on the flip-out 2.5" LCD preview screen, a first for digital SLRs. Developed with Panasonic, the 7.5-megapixel imager that Olympus calls Live MOS is actually NMOS technology that combines all of the advantages of CCD with those of CMOS. (See "PMA Buzzwords.") The Live View sensor makes the E-330 a perfect choice for underwater photography, so Olympus offers a PT-E02 Underwater Housing for protection down to a depth of 196 ft (that's 60 meters for our overseas/underseas readers). Don't let the name fool you; the E-330 is mucho different from the E-300. Nonetheless it carries over all the good stuff, including Olympus' Supersonic Wave Filter that produces 35,000 vibrations a second to remove dust from the camera sensor every time you turn the camera on.
Looking oh-so-Leica-like in styling, Panasonic showed the prototype of their Four Thirds SLR, the Lumix DMC-L1. It uses the 7.5-megapixel Live MOS sensor but incorporates Matsushita's Venus Engine III image processing to improve picture quality and performance. The DMC-L1 incorporates a Supersonic Wave Filter dust reduction system and has a 2.5", high-resolution, 207,000-pixel LCD preview screen. Analog controls include a shutter speed dial on the camera body's top and a family of lenses that will have an aperture control ring, in addition to focus and zoom rings, for direct aperture setting. Like all Lumix models, the DMC-L1 is compatible with Secure Digital memory cards.
The Lumix DMC-L1 will be delivered with a Leica D VARIO-ELMARIT 14-50mm f/2.8-3.5 ASPH lens that incorporates Mega OIS (Optical Image Stabilization). That's right, kiddies; it's a Leica lens with built-in Image Stabilization that will fit any Four Thirds compatible camera. The Leica D VARIO-ELMARIT 14-50mm lens uses 16 elements in 12 groups, including two aspherical elements to minimize distortion and peripheral vignetting at the wide end of the focal length range. While Leica did not announce an SLR body to attach to this new series of D lenses, given past collaborative efforts between Leica and Panasonic, I'll be amazed if one is not available in the future. Having a series of Leica D lenses working with a Leica digital SLR fills in the gap in their product line.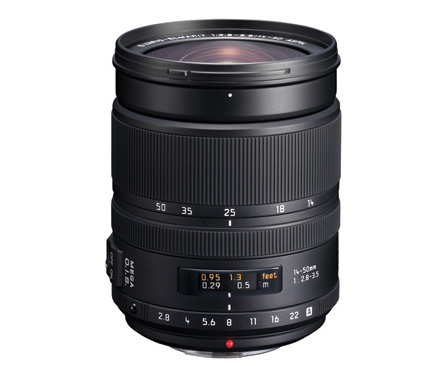 Leica D VARIO-ELMARIT 14-50mm f/2.8-3.5 ASPH
To complement this growing family of Four Thirds SLR bodies, more lenses are always a good thing which is why Sigma was at the press conference announcing several new lenses, including the awesome APO Macro 150mm f/2.8 EX DG HSM for Four Thirds mount. (See Peter Burian's coverage of SLR lenses for more details on Sigma's new Four Thirds format lenses.) Where is Tamron in all this? Later during the show I asked a company representative who told me that the gang of four announcements has caused them to "reevaluate the market for Four Thirds mount lenses."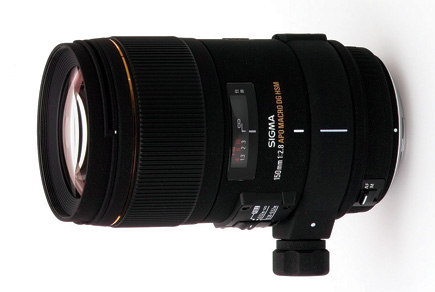 Sigma APO Macro 150mm f/2.8 EX DG HSM
What this series of new products says loud and clear is that Leica and Olympus along with Panasonic will not go quietly into the night that has already devoured other camera manufacturers and if it takes the adoption of the Four Thirds system to do that, count me in as a fan.
Samsung, Yes, Samsung
Samsung Camera entered the digital SLR market with two cameras co-developed with Pentax Corporation. The Samsung GX-1S is a 6-megapixel SLR featuring Schneider optics and a 2.5" LCD. In addition to center-weighted and spot metering, the GX-1S features 16-segment multi-pattern metering, 11-point AF sensor, and choice of AF Single or AF Continuous modes. The camera offers several white balance settings and a variety of automatic shooting modes, including Portrait, Landscape, Moving Object, and Macro. The GX-1S includes a high-speed shooting mode of up to 2.8 fps (frames per second) up to eight frames in JPEG shooting and up to 5 fps when capturing in Raw mode. The big news is the availability of an 18-55mm Schneider D-XENON lens that will be available in a bundle, although the GX-1S accepts any Pentax KAF2 and KAF mount lens.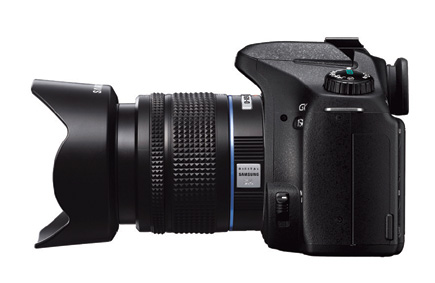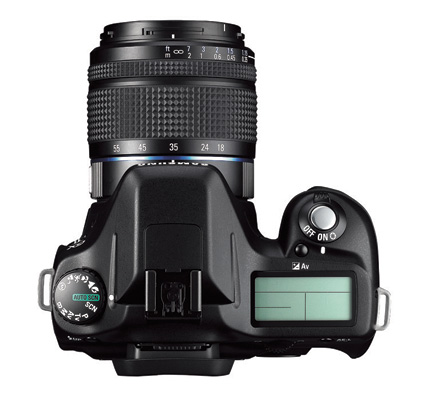 Canon EOS D30, 30D?
Surely to be the cause of some confusion, Canon who had previously launched an EOS D30, announced the new EOS 30D. I would have called it the EOS 20D N because that's what it really is, but nobody asked me. Changes from the EOS 20D include a new shutter rated up to 100,000 cycles; 2.5" LCD monitor; and a spot metering capability covering approximately 3.5 percent of the viewfinder area while maintaining the EOS 20D's 35-zone metering sensor. The ISO can be set from 100 to 1600 in 1/3 stop increments and pushed to 3200 with ISO expansion. You can now also see the ISO setting in the EOS 30D SLR's viewfinder.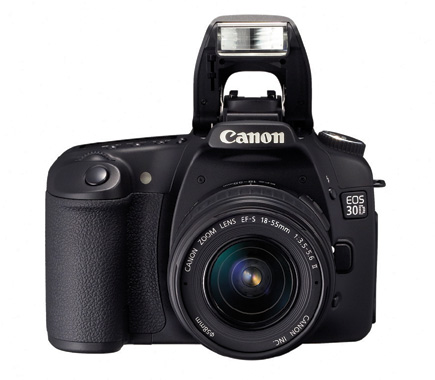 At long last, Canon improved folder management on these semi-pro cameras, providing manual folder creation and raising the number of images in each folder from 100 to 999. My favorite addition is the availability of the Picture Style found on the EOS-1D Mark II N and EOS 5D. Picture Style is similar to selecting the film type in order to achieve a desired result. The EOS 30D offers six built-in choices (Standard, Portrait, Landscape, Neutral, Faithful, and Monochrome)--with three more currently available by download (www.canon.co.jp/Imaging/picturestyle/index.html). Oh yeah, the body costs $1399, which is $100 less than the EOS 20D digital camera at its introduction.
Shown under glass at PMA 2006 but expected for photokina launch were two new digital SLRs from Pentax. The company confirmed it would unveil a yet-to-be named 10-megapixel digital SLR camera body, tentatively scheduled for launch in autumn. Hey Pentax, lets name it something cool, OK? Certainly the sleek Porsche-like design deserves it.

Pentax also previewed the 645 medium format digital SLR camera. Offering a professional-quality, 18.6-megapixel Kodak-developed CCD image sensor, the camera uses the Pentax 645AF lens mount to maintain compatibility with existing SMC interchangeable lenses.
Pentax 645 medium format digital SLR camera
Sony's highly anticipated digital SLR was a no-show, even under glass. Sony's camera is expected to be available in Japan this summer, before rolling out into other markets. The camera was originally developed with Konica Minolta who transferred all of its digital SLR-related technologies to Sony as part of the their departure from the photo business. Sources close to the company report that the Sony SLR is being announced in the "June time frame" and I was told to "expect availability around that time, as well..."
Expect the Leica Digital M at photokina, too. Although long rumored in the press and the source of much speculation on the Internet, Leica officials would only confirm that the long-rumored camera should be at this year's show.
PMA Buzzwords
Everybody knows what CMOS is but what about its siblings? The 7.5-megapixel imaging chip Olympus installed in the EVOLT E-330 uses NMOS (Negative-channel Metal Oxide Semiconductor), which is a type of semiconductor that is negatively charged so its transistors are turned on or off by the movement of electrons. By contrast, PMOS (Positive-channel Metal Oxide Semiconductor) works by moving electron vacancies. NMOS is faster than PMOS, but is more expensive to produce, not that you would notice in the E-330's under-$1000 price tag.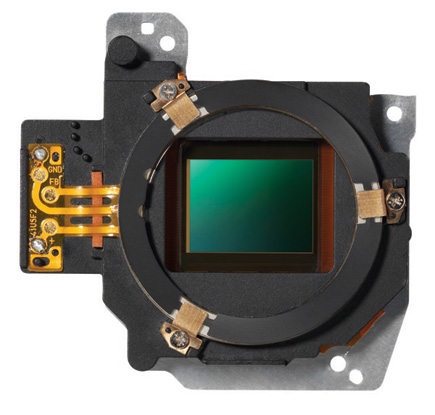 Upgrade Your Fuji S3
Want to improve your FinePix S3 Pro's performance? Fuji Photo Film U.S.A., Inc. (www.Fujifilm.com/FinePixS3Pro) is offering a hardware upgrade that will improve the camera's continuous shooting capabilities, as well as other performance enhancements. The hardware upgrade doubles the camera's internal buffer capacity (from 128MB to 256MB), increasing its continuous frame shooting capabilities. When shooting in raw format at the widest dynamic range setting, the FinePix S3 Pro's continuous shooting frame rate increases from three frames to eight frames. The upgrade, which costs $379.95, includes a "wake-up" feature for the camera's vertical shutter release.
photokina Preview?
Just after PMA 2006 in Florida, Mamiya launched the ZD digital SLR at the Focus On Imaging show in Birmingham, England. As I reported in the 2005 Shutterbug Photography Buyer's Guide, the 22-megapixel Mamiya ZD has a 36x48mm sensor and is compatible with the full range of the Mamiya 645AF interchangeable lenses. The camera has a 1.8" preview screen and stores 12-bit color images onto either CompactFlash or Secure Digital cards.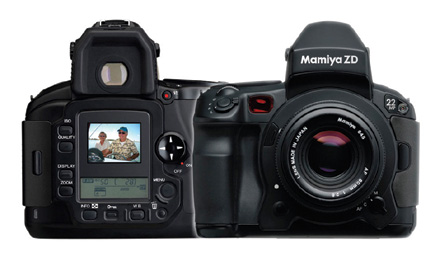 Face The Music
At PMA 2006 NuCORE Technology (www.nucoretech.com) showed their SIP-2290 digital image processor that offers in camera redeye elimination; anti-blur image capture at high (greater than IS0 400) ISO sensitivity, enabling OEMs to deliver double or quadruple the usable ISO settings on a camera; and video frame rate face detection permitting detection of up to six faces, allowing optimal focusing and exposure whether capturing video or still pictures, thus eliminating the lag typical with software-only face detection solutions.

Nikon announced seven new Coolpix cameras with an "Exclusive Feature System" that includes Face-Priority AF that automatically finds and focuses on a person's face within the frame, wherever the subject is positioned in the frame. Maybe these capabilities will be built into your next digital SLR?
Manufacturers/Distributors' addresses can be found on page 174.

FEATURED VIDEO