Digital Print Display
Digital Print Display
Best Practices For Mounting, Matting & Framing
by Jon Canfield
After all the effort you've made to take a great photo and make a beautiful print, you want it to have immediate impact on the viewer. Whether it will hang in your home or if you're planning to enter it into a competition or a gallery showing, matted and framed images are far more impressive and durable than "bare" prints. Here are some tips gleaned from printmakers, conservation framers and gallery owners.

1. Choose A Mount Board.
Theoretically there are a lot of things that you could use as a backing for your prints. Some commonly used materials are cardboard, various foam board products, 2 ply mat board, mounting boards, and self-adhesive boards.
Cardboard backing is included with many pre-assembled frames and is generally the least expensive of all the backing materials. Avoid it! It has a high acid content which means the acid is likely to discolor your print rather quickly. Cardboard is readily affected by changes in humidity so it is not uncommon for cardboard to bow or warp particularly with larger prints.

Foam Boards are the most commonly used backing material but vary tremendously in thickness, quality and construction. Most foam boards have a center made of polystyrene foam and a paper or plastic outer covering. The most popular thicknesses for mounting photographs are 1/8" and 3/16" and are available in both archival (acid free, pH neutral coverings and core) and non-archival forms as well as black or white. In addition, to being relatively inexpensive foam boards are easy to cut. Only use the archival type boards.

Two ply mat boards or mounting boards can also be used as a backing material. They are thinner, but denser than foam boards and though slightly more expensive are readily available in lignin and acid-free types. The best material for truly archival mounting is a cotton rag mounting board. This is because the lignin in regular paper eventually breaks down and forms an acid that can yellow not only the backing but also your print.

2. Mount Your Prints.
Conservation Mounting requires that all the mounting materials be acid free, lignin free, pH neutral, and that your print is completely removable with minimal, if any, exposure to adhesives. In addition to the advantages of being able to change the mounting for esthetic reasons, not having the print permanently attached means that the print can move slightly as it expands or contracts with changes in the environment. Traditionally it was believed that this reduced the chances of the print buckling or warping within the mat.
There are two main approaches to conservation mounting. One uses mounting corners (#1) and the other uses hinges. Using mounting corners is much easier in my experience, but you have to choose your corners carefully. Photo corners can be made from a variety of materials, some of which are not archival due both to the adhesives they use as well as the material used for the corners. For example, paper corners, unless made from acid free, buffered materials, could break down over time and damage your photo.
My preference is for the MaxiView Corners. Instead of being the traditional triangular shape which may cover a substantial amount of your photo, these corners are cut to cover only a small portion of your picture—just enough to hold it securely in place. The adhesive they use is a permanent acrylic adhesive that is 100 percent water based. Note that your photos never come into contact with the adhesive.

The more traditional approach is to create hinges to attach the print to the backing. This is a carry over from mounting artwork such as watercolor paintings. Advocates of this approach recommend making the hinges using Japanese papers because they're strong and don't discolor or weaken over time. Japanese papers are available under a variety of names, but to be certain the paper is conservation quality make sure it's made from 100 percent kozo fibers.

Unfortunately, some of the Japanese papers marketed for hinging contain wood pulp and are therefore not archival and not suitable for conservation mounting.

The basic approach with hinging is to attach the hinge to the print using a starch paste as the adhesive, and then attach the other side of the hinge to the backing board using more starch paste. Detailed instructions for making the hinges as well as rice or wheat starch paste are available on the Internet. Search for "Japanese paper hinge" or "how to do conservation mounting."

3. Mat Your Prints.
Matting serves various purposes:
• It separates your photo from the environment around it to make it a focal point of interest.

• If the print is also framed the mat separates the picture from the frame to create a space that encourages the viewer to focus on the image. This gives the piece a stronger presence.

• Practically speaking it physically separates the print from the glass if it is framed. This is important because inkjet prints that are pressed against glass tend to deteriorate more quickly and spots and/or fogging may occur on the glass.

• Matted prints are simply more marketable since they're ready to be hung or framed and look more impressive.
Mat boards are available in varying thicknesses called 2 ply, 4 ply, and 8 ply. The 4 ply mats are the most common. The 2 ply mat board is quite thin and lacks some of the impact, although it can be used when double matting a picture. However, even most double mats use 4 ply boards. The 8 ply mat board is quite a bit more expensive and can be more difficult to cut, but gives your picture a very elegant appearance. The extra thickness of the mat allows the 45? bevel edge to become more prominent which is a nice finishing touch.

Colors for your mat must be selected carefully because it's quite easy to overwhelm your photo with strong colors (#2, #3 and #4). Many people prefer to use black or some shade of white—you'll be amazed at how many shades of white mat board are available and how some look wonderful with your piece and others are quite drab. If you prefer to use a color there are two approaches that are often successful. One is to choose a color that appears in your photo that you wish to accentuate. Often it's a good idea to go just a bit lighter than the actual color in the photo because there is a lot of surface area in the mat and the greater area can make the color appear overwhelming if you're not careful. An alternate approach is to select a color that is the opposite of the main color in your image.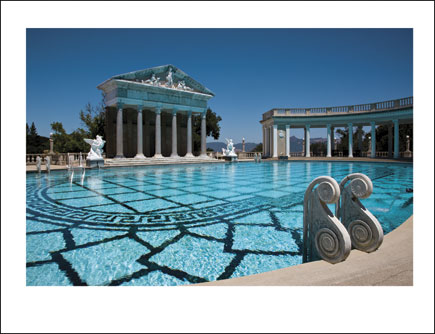 #4
Image #2, #3 and #4: Different color mats can create a very different feel to your photograph. Some aspects of a picture may be drawn forward while others recede. Be sure to select a mat color that complements your print.
Cutting the mat demands precision and for most people, it takes awhile to become proficient. In fact, it's common for people to ruin quite a few mats when they first begin cutting them. Being just a 1/8" off on one cut will ruin the entire mat. Tools are available that make the process considerably easier and more reliable, but the better ones are expensive. For those who only need an occasional mat, it's easy to become frustrated and for this reason pre-cut mats are quite popular.

Pre-cut mats are available in an amazing array of sizes, styles and colors in archival materials. Visit arts and crafts stores such as Aaron Brothers or Michaels or your local photography store and you're likely to find quite a few pre-cut mats in a variety of standard sizes.

Once you have a piece of mat board cut to the exact external dimensions you need, it's time to cut the window. You can do this with tools as basic as a straight edge and a razor blade (#5) or with the aid of a more expensive mat cutter.
Image #5: On the backside of the mat board that you have cut to the desired dimensions, mark off the borders. It's a good idea to use a sharp pencil and make as precise a line as possible. It's actually the corners that are the most important areas to mark.
A basic mat cutting set up such as the Altos 4501 (www.altosezmat.com) uses simple adjustments and allows for straight or beveled edges. It can handle any length mat since it is open ended and adjusts in 1/8" increments up to 6" wide for the borders.

If you're going to cut a lot of mats, you may want to consider investing in a more sophisticated mat cutter such as the Logan Framer's Edge (#6) (www.logangraphic.com) or the Fletcher 2200 (www.fletcherviscom.com). The more expensive units have features that prevent bowed cuts, simplify repeat cutting of mat borders, and have stop systems to prevent you from making over cuts (or under cuts) that can ruin your mat. If you only need a few mats occasionally, get yourself over to a custom frame shop, or simply buy the pre-cuts.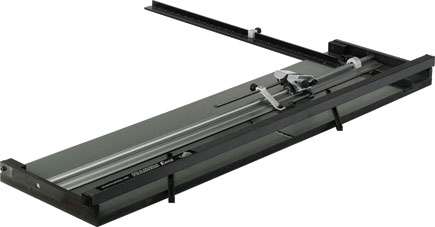 Image #6: If you're planning to cut a quantity of mats, it's worth investing in a quality mat cutter. Features like stops to prevent over and under cuts, will help prevent you from ruining numerous mats.
4. Frame Your Prints.
In most cases if it's worth it to mat the picture it's worth framing as well. The extra protection offered by the frame and the glass will add to the durability and longevity of your print. Ink jet prints are subject to fading and color shifts not only from UV light exposure but also from common pollutants in the air. Framing under glass significantly reduces the potential damage from these environmental hazards.

As with mats, you can go to your local craft, home décor, photo or framing store to find a selection of pre-assembled frames. If your matted print is a standard size, it can be more economical to use these pre-assembled frames if you like the style.

If you don't like the style or have prints that are not a standard size another option is to order custom cut mouldings and assemble the frames yourself (#7). These frame pieces are available online in a variety of materials and styles. Those from Nielsen & Bainbridge (www.nbframing.com) and similar suppliers are generally good quality.
Image #7: Ordering metal frames by segments and assembling the hardware is quite easy and only requires a simple screwdriver.
You order these frames in segments, and normally the price listed is for two pieces at each length. The frames are easy to assemble using hardware that you may have to order separately. Online sources such as www.framingsupplies.com and www.lightimpressionsdirect.com offer a wide variety of choices.

One thing you must take into consideration when selecting a frame style is the thickness of your matted piece—that is the combined width of the backing board, the print, the mat and the glazing material, whether glass or acrylic. Generally it's not a problem to select a deeper frame, although they tend to be slightly more expensive, because you will use spring clips to hold your matted piece securely into the frame (#8 and #9).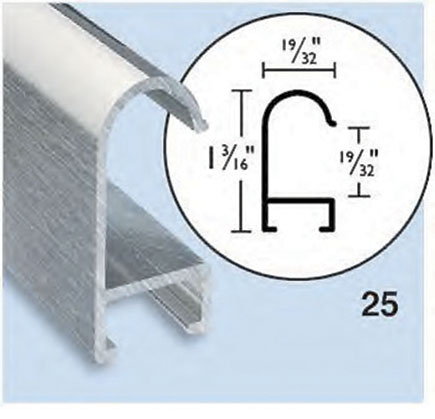 Image #8: The "rabbet" or thickness of the frame is an important dimension to check to make sure that the frame is thick enough to hold the glass or acrylic, the mat, your print, the mounting board and a spring hinge. In this diagram, the rabbet is 19/32".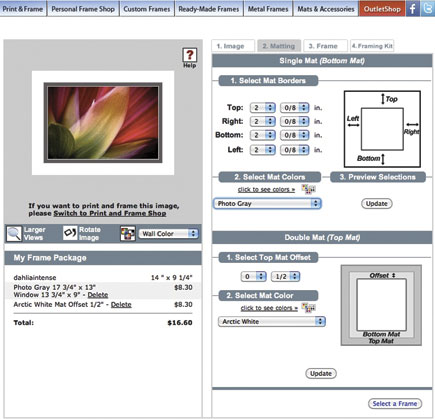 Image #9: Graphic Dimensions Ltd. (http://pictureframes.com) has an online tool, the "Personal Frame Shop" that lets you see on screen what your print will look like with various mats.
5. Choose Glass Or Acrylic.
Glass or an acrylic is used as a protective barrier in most frames to prevent environmental contaminants from reaching and slowly destroying your artwork. Glass was the default choice for many years and is still commonly used. It's available in clear as well as anti reflective styles and in a variety of thicknesses and grades. Normally you want the thinnest glass commercially available because glass is quite heavy, but you may want to consider museum grade or non-glare glass. Some glasses, particularly those with an anti reflective coating on them, have a slight color cast which can be an issue.

Acrylic is a popular alternative to glass for various reasons. It is much lighter than glass, and particularly in large prints—those over 16x20"—this can be quite helpful. A 24x36" print framed using glass would not only be quite heavy to move, it would be quite heavy to hang and require special hardware on the wall. For pictures that need to be shipped to other locations, acrylic makes the process safer by reducing the chances of breakage, as well as more economical due to its weight. Acrylic is available in clear as well as anti reflective styles that block up to 97 percent of the ultraviolet light.
Canvas
One of the most popular methods of printing these days is the canvas print. Printing directly onto a suitable canvas media, the print is then stretched over a wood frame just like a painting would be. Canvas prints should be sprayed or coated with a protective varnish. There are new options available for mounting canvas that greatly simplifies the process. Both Hahnemühle (www.hahnemuehle.com) and LexJet (www.lexjet.com) have frame kits (Figure A) that give you good results without the need for extra equipment.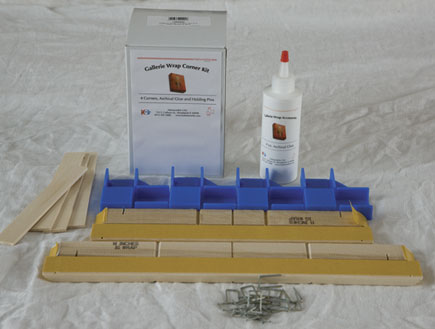 (Figure A): Kits from Hahnemühle and LexJet make it easy to mount your own canvas without buying additional tools.
Protective Sprays
Protective sprays are another approach to protecting your print from scratches, moisture, UV fading and environmental damage. The sprays create a surface barrier that makes the print more durable. Unfortunately many of them create a coating that changes the texture and appearance of your print. Moab Desert Varnish (http://moabpaper.com) and PremierArt Print Shield (www.premierimagingproducts.com) both provide protection from light, water, moisture, airborne contaminants and even fingerprints while maintaining the surface texture of your print (Figure B). It works well on glossy paper as well as matte papers.
(Figure B): Protective sprays such as PremierArt Print Shield and Moab Desert Varnish offer protection from environmental contaminants without changing the surface texture of your print.
While sprays are easy to apply, a good varnish, like Hahnemuhle's Masters Varnish or LexJet's Sunset Varnish will give you the most protection. Best applied with a roller, it's easier to get a smooth coat on the material. These varnishes are available in matte and gloss finishes. While it's tempting to grab some varnish from the hardware store, these will yellow and crack with exposure to sunlight and should not be used on prints. Tip: For canvas prints, you should spray or varnish prior to stretching.
How Large Should The Mat Be?
The first thing to know is that there are no hard and fast rules and a lot has to do with personal preference. Generally the larger the print, the larger you make the border. For example if your print is 8x12", a 2" border around most sides will look nice. You may want to weight the bottom edge and make it slightly wider—perhaps 2½". The same print printed 12x18" will look better with borders 2½" or 3" wide. In most cases you won't want to go beyond 5" unless you are seeking to create a special dramatic look. Ironically a very small print—for example a 4x6" will gain new importance and prominence when placed in a quite oversized mat—perhaps one that has 5" borders around it (Figures C and D).
(Figure C): Border widths are a matter of personal preference but a reasonable starting place is 2-3" for a print about 10x15". Weighted bottoms can add impact. When matting pictures for a gallery show, larger mats may make the picture have more impact.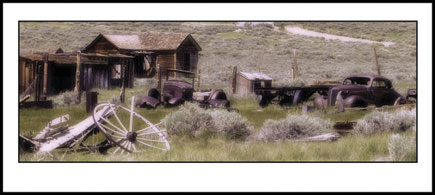 (Figure D): Using narrower side borders on a panorama or picture that has unusual dimensions can help give a sense of balance to the piece by changing the aspect ratio of the finished piece.
Border width is a personal preference but generally a width of 2-3" is a good starting place.
Conclusion
The bottom line is that the final presentation of your print should reflect your personal taste as well as enhancing the image itself. Properly mounting, matting and framing your photograph will add years to its life and increase its impact on those who view it. Ultimately they'll perceive you as a better photographer since your work is presented so professionally.

FEATURED VIDEO