Digital Innovations
Photo CD Vs. Picture Disc: It's Not A Competition
Agfa's new SnapScan Touch scanner features a landscape design with six different colored handles and a USB interface. Agfa's ScanWise software makes it a snap to make a good scan the first time.
Photos © 1999, Joe Farace, All Rights Reserved
In addition to a bunch of new digital imaging products, including an update to Adobe Photoshop and an impressive new ink jet paper from Ilford, this month's column includes a response to a reader's fears that Eastman Kodak had discontinued the useful and eminently practical Photo CD format.

In a recent e-mail about the Photo CD format, a reader informed me that "Kodak is no longer supporting it." I immediately called Mark Dreher at Mile High Photo who does all of my Photo CD processing. "News to me," he said, "especially after all the money I've spent on equipment." When I told him the reader's e-mail stated that the CDs he received included "image files in JPEG format, at about half the resolution of the highest quality PCD image," Dreher reminded me that the reader probably got a Picture CD--not a Photo CD. Sound journalistic practice dictates at least two sources to confirm a fact, so I then contacted Don Pillittere, Kodak's worldwide product manager for Photo CD, who verified that the Photo CD format is alive and well--and supported.
A casual glance may not indicate that this Photo CD image, taken on a drizzly morning on London's Sloane Street, is using the latest version of Adobe Photoshop. A closer glance shows the "Jump" icon at the bottom of the tool palette that allows you to move between Photoshop and Adobe's ImageReady 2.0 web graphics application that's bundled with the program.
To be sure, there are some similarities between Picture CD and Photo CD: They both are digitizing processes that place image files onto an optical disc. After that, everything's different. Photo CDs use Kodak's ImagePac file format that writes five different file sizes (and five different resolutions) onto the CD ranging in size from 192x128 to 3072x2048 pixels. In addition to 35mm, Pro Photo CD accepts images from medium format roll film and 4x5 sheets and offers a sixth resolution image of 6144x4096 pixels. Picture CD files use the JPEG (Joint Photographics Experts Group) file format with images having a single resolution of 1536x1024 from 35mm film and 1536x864 from Advanced Photo System film. A Photo CD disc can typically hold about 100 five resolution files. A Picture CD holds images from one roll of film and the discs are made only at the time of processing. The reason for this lower capacity is that Picture CDs add digital imaging software to the disc. (I'll get to that in a moment.)

Picture CD is mostly designed for Windows based computers, while Photo CD disc's image files can be read by Mac OS and Windows computers. I say "mostly" because the Picture CD disc itself is recognized by Mac OS computers and all of us Macheads can open the JPEG images through any one of our favorite image-editing programs. What Mac users cannot do is access all of the software that Kodak has added to the Picture CD. Picture CD is the first joint product from Kodak and Intel, which perhaps explains the Windows-centric nature of its design.
October's plug-in of the month is Extensis PhotoFrame 2.0, which not only lets photographers add frame shapes to their images but also control other aspects of the edges including color, size, drop shadow, as well as texture.
In The Eye Of The Beholder. Kodak sees Photo CD as a product that is "much more highly used by the profession," while Picture CD is clearly aimed at the amateur photographer just getting involved in digital imaging. As you can see, the differences between Picture CD and Photo CD have more to do with their intended audiences than anything else. As part of the design of Picture CD, each disk holds images from a single roll of film and relies on the familiar retail-based photographic processing method: Ordering is as simple as checking a box on the film-processing envelope provided by your photofinisher. After processing, which can vary from one hour to two days, depending on retailer, consumers receive their prints along with a Kodak Picture CD and index print in the CD's sleeve in the same envelope.

Picture CD is an autoloading CD-ROM disc that incorporates your digitized photographs along with software that will help you work with those digital images. When you drop the disc into the CD-ROM drive of any newer PC, the software launches and pictures automatically appear on your monitor. Through use of a magazine-style format, on-screen instructions guide users through the CD's options. The disc's key features are displayed in a table of contents, while a pop-up window displays your entire roll of pictures within a slide show format.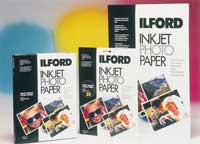 Ilford Ink Jet Photo Paper is available in 15 sheet envelopes or 50 sheet boxes and the output quality matched the best ink jet papers that the author has tested so far.
The software found in the initial versions of Kodak Picture CD lets you view and tweak your images. You can rotate them as well as add text or captions. The bundled software also lets you create full-screen slide shows that allow you to customize timing and transition effects between images. You can print single or multiple pictures as well as "package print" a single image in different sizes and quantities. You can copy one or more of your pictures onto to your hard drive; then, using any e-mail program, attach those images to a message. Through participating retailers, the pictures can also be uploaded to personal Internet accounts with Kodak PhotoNet Online. The cost of Picture CD varies per retailer with prices in the $8.95 and $11.95 range. You can find more information about Picture CD at Kodak's web site at: www.kodak.com.

Seattle FilmWorks has always offered a Pictures On Disk service that originally placed medium resolution compressed images onto floppy disks at the time your color negative film was processed. In the not too distant past, they switched to delivering higher resolution images on CD, although they still call the service Pictures On Disk--not disc. (See section "Is it a Disc or a Disk?") Recently, Seattle FilmWorks introduced an enhanced version of Pictures On Disk CD. Called "Hi-Res Pictures On Disk," 35mm images are scanned at 1.5Mp (approximately 1500x1000 resolution), four times higher than their current Pictures On Disk resolutions which means significantly sharper images for use on your computer. The cost to digitize a 24 exposure roll is $4.95 in addition to normal processing and printing charges. For more information visit their web site at: www.filmworks.com.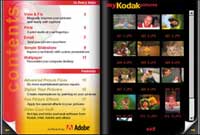 Kodak's Picture Disk includes not only JPEG compressed digitized versions of your images but also useful software that allows you to manipulate and have fun with your photographs.
Plug-In Of The Month. In the July issue of Shutterbug, Howard Millard showed readers how to use plug-ins to add creative edges to their digital images. Such is the nature of computer software--especially Photoshop-compatible plug-ins--that one of them was recently upgraded. Extensis PhotoFrame 2.0, which may be the world's first Internet aware plug-in, offers photographers over 1000 image frames to choose from, in addition to those available for downloading from a companion web site. This site, in partnership with Dynamic Graphics, can be reached from within PhotoFrame and provides access to new frames and borders. You have the option of subscribing to a monthly service offering new content as well as the ability to download additional frame files from a continually expanding selection of professionally designed frames. Users can also build their own custom frames and edges from scratch or by adapting existing frames, providing for lots of versatility and creativity. PhotoFrame 2.0 lets you enhance image edges by adding a variety of special effects including drop shadows, glows, bevels, textures, blur, noise, opacity, and blends. The new version offers real-time previews and a new interface adds dockable palettes to maximize usable screen area. Like Extensis Intellihance Pro 4.0, any combination of settings can be saved, assigned a preset name, and accessed from Photoshop's menu bar without even launching the plug-in. Mac OS and Windows versions of PhotoFrame 2.0 cost $199.95 and are compatible with all versions of Photoshop starting with 4.0 and up to 5.5. For more information about Extensis' plug-ins, visit their web site at: www.extensis.com.

In Print. For some time, traditional darkroom product companies have been introducing digitally oriented consumables, especially photo quality paper. Ilford's new Ink Jet Photo Paper has a smooth, high-gloss white surface and the heft and feel of a really fine quality photographic paper. Ilford states the paper has a neutral base tint but compared to other glossy papers I've tried I would say it leans toward the ever so slightly warm side. The paper is designed for quick drying and easy handling and my own tests show it to be dry to the touch after printing photographs. The paper is supposed to be water fast and has the ability to withstand wet smudges--the curse of many ink jet papers--or spills. Images printed on the paper are designed to be stored in albums, even under the kind of high humidity conditions that cause some ink jet papers to leech ink onto the surface. If you want to make catalog sheets or greeting cards, you'll be glad to know you can also print on the back of each sheet. The acid test is how do images look when printed on the paper? My test image (see my article on fine art printing in last month's issue) was output at a quality that matched the best papers I have tested up to this time. Ilford Ink Jet Photo Paper will initially be available in 8.5x11" and 11x17" sizes in 15 sheet envelopes or in 8.5x11" in 50 sheet boxes. For more information, visit their web site at: www.ilford.com.

Snap My Scan. Agfa's new SnapScan Touch is a USB (Universal Serial Bus) scanner that breaks with tradition by offering a landscape orientation and shipping with six different colored handles to match Apple's iMac and G3 or even a generic PC. The SnapScan Touch has an optical resolution of 1200x600 pixels per inch which can be interpolated up to 9600ppi. The USB interface means the SnapScan Touch works with Mac OS and Windows computers and comes with all of the coolness you would expect from an USB-based peripheral. Emphasizing that coolness is a bear paw shaped cluster of program-mable buttons on the scanner's top that let you e-mail, fax, or copy directly from the scanner by just pushing one of the buttons. The ScanWise software Agfa bundles with the scanner includes an interface that guides you through the creation of a scan depending on how you plan to use the digitized images. Based on a demonstration of the software that I saw, even if you've never used a scanner before, you should be able to make picture perfect scans using the software's "Guide Me" mode. A tabbed menu walks you through the process from determining what kind of original is to be scanned and whether you want to make automatic or manual color changes. Agfa also bundles Mac OS and Windows Optical Character Recognition (OCR) and image-editing software with the scanner, which has a list price of $129. For more information about Agfa's SnapScan scanners visit their web site at: www.agfahome.com.

The Wild Wild Web. The best way that Windows computers can prepare images for the Internet, including e-mail, is to use Ulead System's Smart-Saver. Originally part of the company's PhotoImpact program, it is also available as a separate Photoshop-compatible plug-in called SmartSaver Pro that can be installed inside your favorite image editor. SmartSaver Pro drastically cuts the fat out of web graphics--sometimes by as much as two-thirds. The plug-in features image slicing, HTML map tags, flexible batch processing, background blending, and one click switching between conversion for GIF, JPG, and PNG formats. You can slice up large "signature" images so visitors to your web site are given a fast preview of your site's main graphics. One of the plug-in's most practical features are the side by side "before and after" preview windows combined with powerful optimization that make it not only one of the best ways to prepare graphic image files for the Internet, but also one of the easiest. SmartSaver Pro carves these larger images into different segments, then generates the HTML table code for you. You can also create photographs with "Image Map" clickable hot spots for easy web site navigation. Hot spot information is output direct to HTML code, too. Ulead SmartSaver Pro is available for online purchase for $59.95 and you can download a free 15 day trial at: www.ulead.com.

Photoshop Hits The Double Nickel. At PC Expo, Adobe System announced Photoshop 5.5, which now also includes a copy of ImageReady 2.0, web production software that interacts with Photoshop software eliminating the need to use multiple applications. Photoshop 5.5 includes a set of advanced features for optimizing and compressing web graphics, such as JavaScript rollovers, animation, and image slicing, and a "jump to" button that quickly transfers the image into ImageReady. Multiple LiveView panels let you find the best compression options, translating into shorter image download times and higher quality web graphics. A new Lossy GIF feature dramatically reduces file size, as much as 10-50 percent smaller than previously possible, with minimal loss of image quality.

Photoshop 5.5 also addresses the tedious and time consuming task of image masking with its new Background Eraser and the Extract Image command. Users can create transparency with these tools' color decontamination capabilities so they can be composited on another background, saving hours of working with complex selections. A new Art History Brush allows users to create entirely new images by interactively applying realistic paint strokes. Photoshop 5.5 has an approximate street price of $600. Users of Photoshop 5.0 or ImageReady 1.0 can upgrade for the promotional price of $129 (after rebate) until May 2000. For more information, call (800) 492-3623 or visit www.adobe.com/prodindex/photoshop/main.html.

In The Lab. There are many exciting digital developments going on in professional photo labs all over the country and I will use this space to periodically update you on new products and services you can look for in your local or mail-order labs. Hicks Equipment company recently announced that its patented photographic image ordering system called ProShots is now capable of producing digital output using Kodak's Professional Imaging System or KIPS for short. ProShots is a system pioneered by Hicks that enables professional photographers to submit their exposed film to compatible labs and receive back digital images that are electronically matched to the original film. Using a standard PC, studios can use these digitized images for sales presentations, order processing, cropping, album arrangement, and other functions. Finished orders can be placed directly to the lab via the Internet, eliminating the boring, time consuming process of "pasting up" negatives on aperture cards. Software produced by Impossible Solution now gives Kodak labs the ability to produce traditional silver-based prints as well as enhanced digital output that will be useful for wedding and special events photographers. This will include photographic composites as well as images that combine text and numeric data. In addition, pro shooters will be able to specify digital retouching and use images in other, different ways to increase their profit potential. For more information, visit Hicks on the web at: www.proshots.com.
Is It A Disc Or A Disk?
Those round, flat platters spinning inside a CD-ROM drive use laser-based technology and are properly called discs. Magnetic media drives, on the other hand, use the kind of technology that hard disks have used since they were introduced by IBM. This technology, originally called "Winchester" after IBM's design that used two 30MB disks, uses thin disks coated with magnetic material. When saving a file, a read/write head writes files, or images, directly onto the disk. On playback, the same head can read the magnetically encoded data and display the files on your monitor. These round objects inside the drive are called disks and that terminology has been applied to all magnetic-based media, including floppy disks and removable media such as Iomega's Zip and Jaz disks.

FEATURED VIDEO